What customers have to say about our Bedding
July 21, 2018
VERY HAPPY with the results once again!
"One of my "go to" wedding gifts is a duvet with a custom cover! These always turn out well. Not recommended to ignore their warnings but.... I often get the warning icon that my photo will not look exceptional on my gift. I STILL keep going because on a huge blown up queen bed the pictures look MARVELOUS anyway; doesn't matter if NOT perfect. Each recipient of this personalizes gift is always in awe!"
"I bought two of these and they are great. Picture quality is great and also the material quality!!"
April 24, 2018
It's absolutely beautiful! I love how soft it feels!!!
"Well worth it!! I highly recommend it ! !!"
April 23, 2018
Better than expected
"Excellent quality sham with beautiful photo prints. No complaints and would buy again without reservations."
April 16, 2018
I would purchase from them again
"Luv my comforter very detailed and great quality."
Capture Your Personality with Custom Bedding
Your bedroom should be your happy place. The perfect way to accent your sanctuary is with custom bedding from Shutterfly. Whether you want to turn your favorite photograph into a personalized pillow or a custom duvet cover, Shutterfly has 70 different ways to design the perfect piece for your bedroom.
Design a Bed You Truly Love
Perhaps you want to feature photographs you have taken of sunsets. Maybe you want to display images of your happily ever after or simply create a comfy Disney themed big kid bed for your little one. Shutterfly has plenty of great options to make your bed feel just right, whether you are finishing the master suite or decorating the guest bedroom.
Most duvet options are available in twin, full/queen and king sizes. They feature a zipper closure and ties on the inside to hold the duvet in place. Duvets are printed on high-quality breathable microfiber fabric and many have matching shams available (separately). Duvets from Shutterfly are washing machine safe and just need to be washed separately in cold water on the delicate setting.
A custom pillow is a perfect way to complement your personalized duvet. Upload your favorite photos to Shutterfly for a pillow that will make you remember your favorite memories as you drift off to sleep. Just like the duvet covers, the pillow covers are machine washable and made of the same high-quality material.
Great Ideas for the Bedroom
You and your loved ones will sleep better if you feel warm and snug at night. Shutterfly can turn your favorite photographs and designs into a custom fleece blanket that will warm your heart. A personalized woven blanket is another great statement piece for your bedroom set. Don't forget the walls. Custom canvas prints are elegant and soft ways to help decorate your sanctuary as you surround yourself with your favorite memories.
Your bedroom should be your favorite place. It should reflect your personality and it should look the way you want it to look. Shutterfly has everything you need to turn your sanctuary into a luxurious, comfortable and happy retreat. Custom bedding from Shutterfly is the perfect way to decorate your room.
Related Products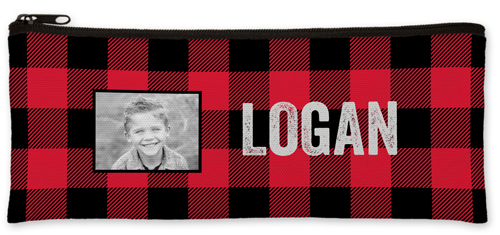 Adventure Buffalo Plaid Pencil Case by Shutterfly. Customize a pet bed to create the perfect place for your pet to lounge.
Emoji Hearts Monogram Pencil Case by Shutterfly. Customize a pet bed to create the perfect place for your pet to lounge.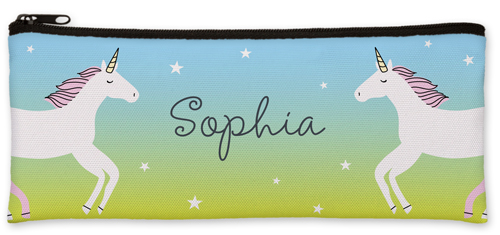 Emoji Ombre Unicorn Pencil Case by Shutterfly. Customize a pet bed to create the perfect place for your pet to lounge.