What customers have to say about our Duvets
July 21, 2018
VERY HAPPY with the results once again!
"One of my "go to" wedding gifts is a duvet with a custom cover! These always turn out well. Not recommended to ignore their warnings but.... I often get the warning icon that my photo will not look exceptional on my gift. I STILL keep going because on a huge blown up queen bed the pictures look MARVELOUS anyway; doesn't matter if NOT perfect. Each recipient of this personalizes gift is always in awe!"
April 24, 2018
It's absolutely beautiful! I love how soft it feels!!!
"Well worth it!! I highly recommend it ! !!"
April 16, 2018
I would purchase from them again
"Luv my comforter very detailed and great quality."
March 12, 2018
The best duvet cover ever!
"I made this duvet cover using my best pictures from a recent trip to Cuba, and it is amazing! Sharp, colorful, bright & cheery, everyone ooohs and aaaahs when I show them the duvet. One of the best products on Shutterfly!"
February 20, 2018
Love this product
"The colors came out very vibrant and it is the perfect addition to my daughter's room. I haven't washed it yet."
Custom Duvet Covers Offer Stylish, Comfortable Bedding
Here we go, everyone! We are now entering the realm of "things you didn't even know could be customized that are now blowing our minds." At Shutterfly, we've taken home and apartment décor to a new level with soft, washable duvet covers that can be personalized just the way you want. Not only are our custom duvet covers perfect for your special home, they also make a unique gift option most people would never have dreamed of. Plus, our designs are so cool and classic, we are sure you'll find one of our personalized duvets to be the perfect complement to the rest of your décor.
Duvet Cover Designs
Personalized duvets can elevate the sanctuary-like feel of your bedroom. Whether you choose a classic monogram or create a collage of special photos, custom duvet covers will bring a smile to your face as you slip into bed each night. Here are some of our template options:
• Monogram: Pick a timeless pattern and then personalize it with up to three initials.
• Art gallery: Choose from among our beautiful art prints or add your own special photograph.
• Text happy: Many of our design backdrops can be customized with your own clever words, heartfelt sentiment or favorite quote.
• Disney: Bring the magical kingdom into your home with one of our Disney-themed personalized duvets.
Details About Duvets
All of our custom duvet covers come in twin, full/queen or king. Not only do you get to choose the front design, there are also four designs for the back to decide on. For your convenience, each comes with a zipper closure and interior ties to hold the duvet in place. The soft microfiber fabric is perfect for hot and cold sleepers alike, and it is completely machine washable.
Caring for Your Duvet
Speaking of washing, caring properly for your duvet can help extend its life. Of course, the first step is keeping it covered, which we are here to help with. Down comforters should be dry cleaned to prevent damaging the feathers and down inside. Duvets filled with other materials sometimes can be washed in a machine, but you should definitely check the care instructions before deciding on a cleaning method.
Start Designing Now
Designing a custom duvet cover, whether it is intended for your home or for a gift, is a fun and personal endeavor. You can get started today with the simple process. Just choose your template, add your personal touches and get ready to enjoy your custom cover!
Related Products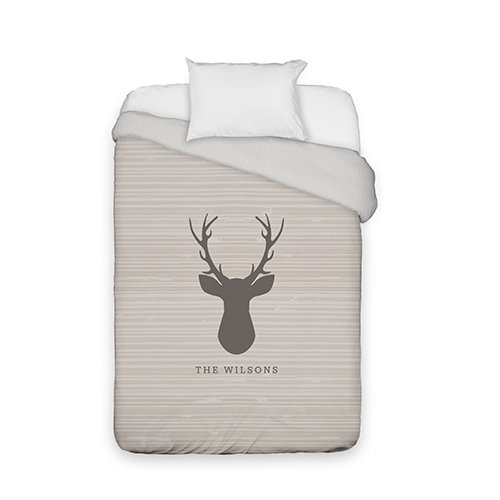 Deer Silhouette Duvet Cover | Bedding | Home Décor. Cozy up to a Duvet Cover with your favorite photos. Choose your background and layout.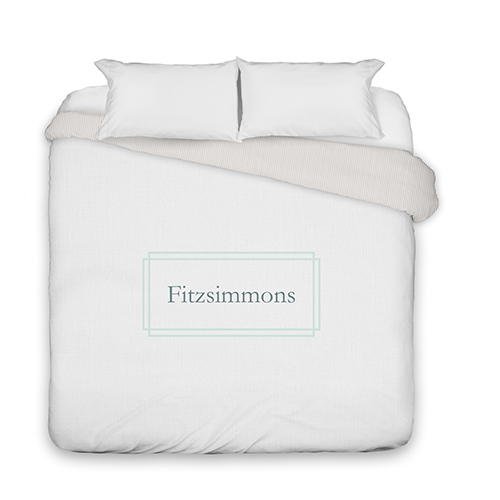 Double Border Duvet Cover | Bedding | Home Décor. Cozy up to a Duvet Cover with your favorite photos. Choose your background and layout.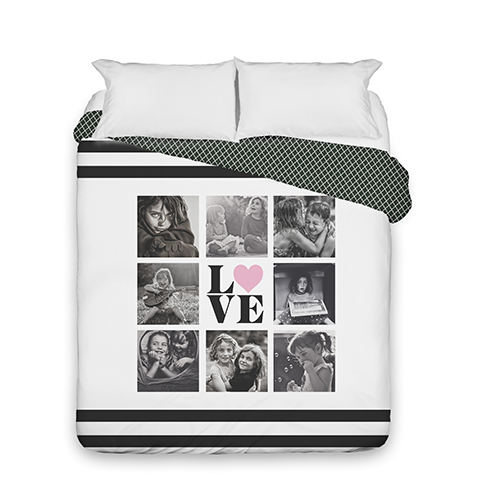 Double Stripes Love Collage Duvet Cover | Bedding | Home Décor. Cozy up to a Duvet Cover with your favorite photos. Choose your background and layout.