What customers have to say about our Bedding
July 21, 2018
VERY HAPPY with the results once again!
"One of my "go to" wedding gifts is a duvet with a custom cover! These always turn out well. Not recommended to ignore their warnings but.... I often get the warning icon that my photo will not look exceptional on my gift. I STILL keep going because on a huge blown up queen bed the pictures look MARVELOUS anyway; doesn't matter if NOT perfect. Each recipient of this personalizes gift is always in awe!"
"I bought two of these and they are great. Picture quality is great and also the material quality!!"
April 24, 2018
It's absolutely beautiful! I love how soft it feels!!!
"Well worth it!! I highly recommend it ! !!"
April 23, 2018
Better than expected
"Excellent quality sham with beautiful photo prints. No complaints and would buy again without reservations."
April 16, 2018
I would purchase from them again
"Luv my comforter very detailed and great quality."
Kids Bedding
Bedding is more than just a way to keep warm at night. A personalized bedding set is a great way to cozy up with some favorite memories and express your personality, especially for kids who are eager to show off their budding sense of style.
Whether your not-so-little one is looking to update their bedroom décor with personalized items that reflect their grown-up style, or you want to surprise him or her with a new duvet for an upcoming occasion, custom kids bedding from Shutterfly is a perfect choice.
Fun Bedding Designs for Every Kid
Choose from a range of personalized duvet covers and shams for bringing one-of-a-kind style to your kid's bedroom. Find a bedding set that suits any kid with themes and styles that include:
Animals: From your kid's favorite woodland friends to make-believe creatures like unicorns, find an animal-themed duvet cover or sham that captures his or her personality.
Patterns: Plaid, stripes, chevron and other chic patterns are timeless and versatile for a kids bedding set they won't soon outgrow. Depending on the design, add a monogram, name, photos or a custom message.
Sports: No matter what sport your kid plays, appeal to their favorite pastime with bedding themes such as football, baseball, soccer, basketball and more.
Quotes: From "Love you to the moon and back" to "Hello Beautiful" and "Dream On," you'll find a range of unique quotes that inspire your little one and encourage him or her to have a wonderful day.
Outdoors: Show off your kid's adventurous or nature-loving side with designs that include flowers, mountains and more.
Vehicles: Make a bold impact in a younger kid's room with bedding that showcases their favorite things that go, from colorful cars to rocket ships.
Cuddle Up in Personalized Style
Each of these modern bedding designs can be personalized to suit your kid's bedroom décor and personality. Display a monogram, custom message, favorite photos and your kid's name for a duvet cover, sham or complete bedding set that's uniquely theirs.
Some options can be customized with our Custom Color Palette, which makes it easy to find a specific hue that matches your kid's bedroom colors, along with eye-catching images from our Art Library.
Pair your personalized kids bedding with other stylish and cuddly gifts from the Shutterfly Kids collection, including personalized pillows, fleece blankets, bean bag chairs, and nightlights.
Related Products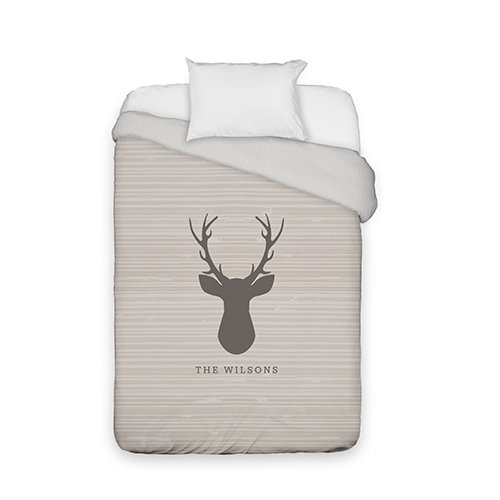 Deer Silhouette Duvet Cover | Bedding | Home Décor. Cozy up to a Duvet Cover with your favorite photos. Choose your background and layout.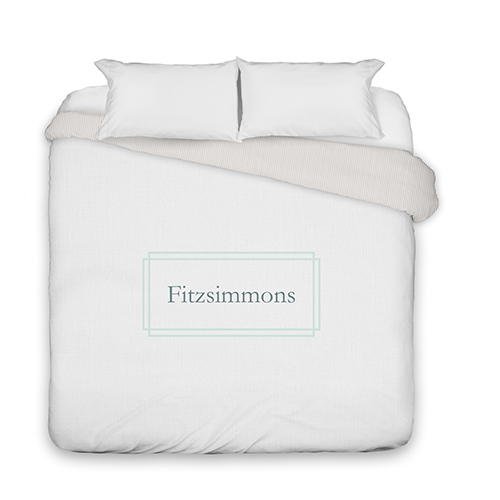 Double Border Duvet Cover | Bedding | Home Décor. Cozy up to a Duvet Cover with your favorite photos. Choose your background and layout.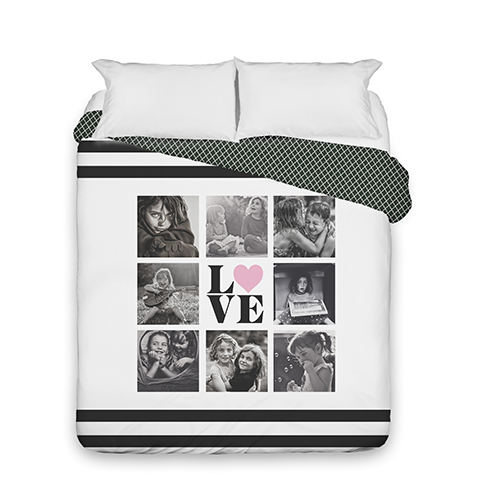 Double Stripes Love Collage Duvet Cover | Bedding | Home Décor. Cozy up to a Duvet Cover with your favorite photos. Choose your background and layout.