Stylized Border Monogram Duvet Cover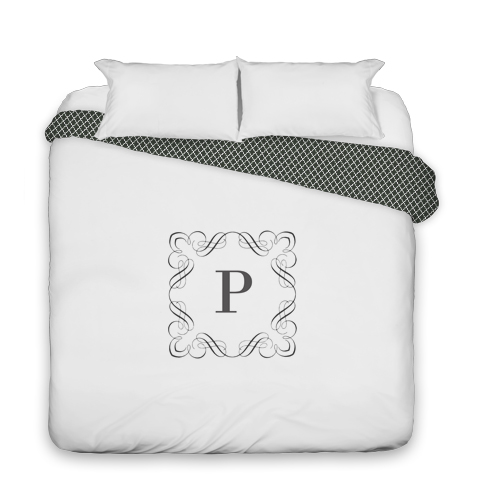 Stylized Border Monogram Duvet Cover
Your bedroom is your sanctuary where you can express your style in every detail. Complete your space with a truly unique, personalized duvet cover.
Product Details
Available in Twin, Full/Queen and King
Zipper closure
Ties on inside hold duvet in place
Ultra-soft, breathable microfiber fabric
Body temperature and moisture management properties so that warm sleepers stay cool and cool sleepers stay warm
Coordinates with our personalized shams (sold separately)
Wash separately in cold water, delicate cycle. Do not bleach. Tumble dry, low-heat setting
Choose Size:

Full/Queen

King
Choose back of duvet style:




Custom Color Palette
Click Personalize and choose your colors for this design.
Duvet Cover pricing
Item
Price
Full / Queen Duvet Cover w/ Black Lantern Back
$164.99
King Duvet Cover w/ Black Lantern Back
$184.99
Duvet Cover pricing
Item
Price
Full / Queen Duvet Cover w/ Grey Damask Back
$164.99
Duvet Cover pricing
Item
Price
Full / Queen Duvet Cover w/ White Back
$159.99
King Duvet Cover w/ White Back
$179.99
Duvet Cover pricing
Item
Price
Full / Queen Duvet Cover w/ Taupe Ticking Stripe Back
$164.99
King Duvet Cover w/ Taupe Ticking Stripe Back
$184.99