Ceramic Tiles
What customers have to say about our Ceramic Tiles
January 16, 2019
Very nice
"Small but beautiful! looks nice on my corner coffee table."
January 14, 2019
LOVE IT!
"I used this product for some vacation photos. It is beautiful as well as the included easel."
January 14, 2019
Ceramic Tile
"It's lovely. Very good quality and beautiful on my bedside table."
January 13, 2019
Fabulous!
"That's all I can say! I love my tile photo collage. It fit perfectly to my college."
January 12, 2019
I would buy this product again
"I am very satisfied with my order and Shutterfly. I received my order but when I took it out of its box and wrapping I noticed it was chipped. I immediately sent Shutterfly and email and pictures showing where it was chipped. That same night I received a reply and a re-order email of my item. I received my re-order with in 5 days. My new tile looks exactly how I pictured it and now I'm enjoying my purchase."
Custom Ceramic Tiles
Design your own personalized ceramic picture tiles with Shutterfly. Have you got a corner of the kitchen that is crying out for a decorative element but you don't know what to put there? Do you need a creative gift idea for a special friend but can't figure out what to buy? At Shutterfly, we are all about solutions, and that's why we offer personalized ceramic tiles. These customizable tiles are the perfect canvas for any number of designs, and the classic display easel that accompanies each order will truly take your gift to the next level. Perfect for any tabletop, our collection of decorative ceramic tiles are perfect for showcasing your favorite photos and memories in any room. Whether it'll live on your kitchen counter, on your desk in your home office, or as beautiful bedroom decor, photos on tile make elegant home decor and keepsakes you'll want to hold onto forever.
Ceramic Picture Tile Gift Giving Ideas
Choosing a unique, personalized gift can be challenging. Depending on how familiar you are with the recipient, it might be difficult to know what he or she would like. With our custom tiles, all you need are some kind words or a few personal photographs that will be meaningful to the giftee and you are ready to go. Use our templates to create a one-of-a-kind picture tiles — with photo collages, black and white images, special quotes, and more. Here are some great ways to use custom ceramic tiles as gifts:
Create a photo collage for a pet owner who is mourning the loss of his or her faithful companion.
Give the grandparents a stylish display featuring a favorite photo of all the grandchildren.
Use tiles as durable birth announcements that close family and loved ones will cherish.
Highlight words of inspiration that can be displayed for everyone to enjoy.
Design a tile for a newlywed couple to display in their first home together. Present it during the housewarming party.
Give a tile to a high-school graduate so he or she can take shots of family members along to college. Add their monogram for an extra special touch.
How to Display Personalized Ceramic Picture Tiles
Our tiles come in two sizes: 6 inches by 6 inches or 8 inches by 8 inches. A 9-inch easel accompanies the smaller tile, and an 11-inch easel will be delivered with the larger tiles. That means that the tile and easel together make a substantial and attractive display piece. There are plenty of options when it comes to ways to show off your custom photos on tile. Your photos will look elegant on the hearth or mantle. An unused corner of your kitchen will get an upgrade with a personalized ceramic picture tile. Your nightstand in the master bedroom or a bookshelf in the library or hallway are the perfect spots for your new piece of home decor. Whether you work in an office or in a home office, place a custom ceramic tile on your desk so you can see your favorite memories as you're working.
Have Fun Personalizing Ceramic Photo Tiles
Customizing the perfect ceramic photo tiles is easy. In addition to our two sizes, you also get to choose a glossy or matte finish for your tile. Each one features a black felt backing to prevent damage if dropped. Choose a ceramic picture tile template and start personalizing it to make it your own. Play with the number images featured, the text on the design, and background colors and designs. When you're done with your creation, design more custom home decor and wall art with custom photo wall tiles, canvas prints, metal prints, and more.
Related Products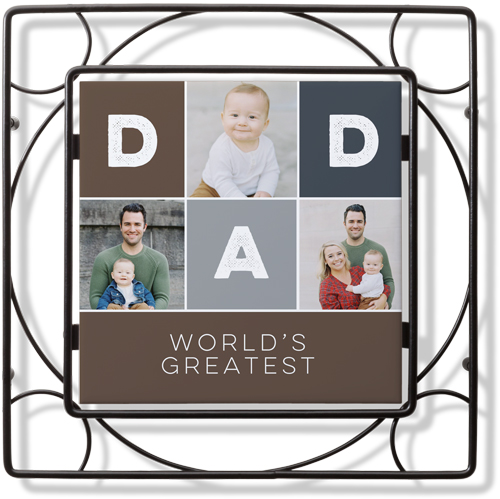 Dad Color Blocks Trivet by Shutterfly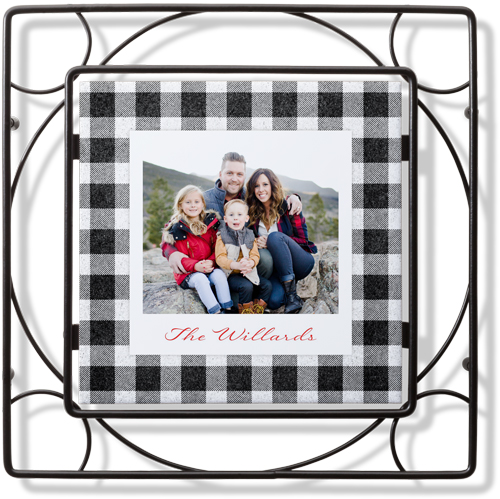 Gingham Trio Collage Trivet by Shutterfly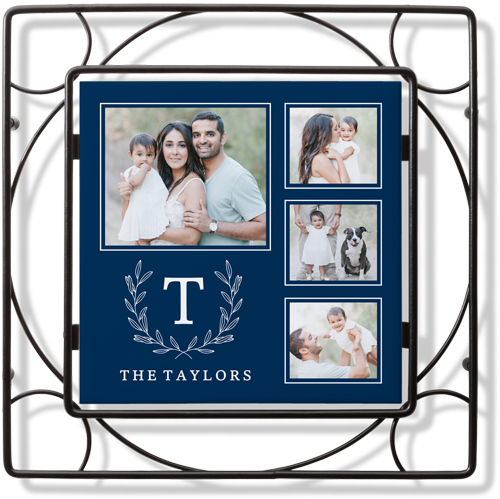 Laurel Wreath Monogram Trivet by Shutterfly