Filmstrip Heart Framed Magnetic Board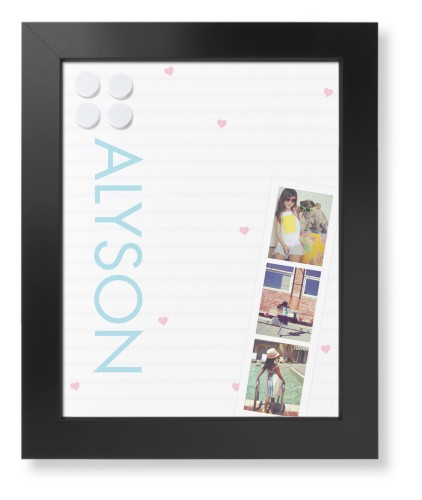 Filmstrip Heart Framed Magnetic Board
Create a fun and unique way to display photos, artwork and notes with a custom framed magnetic board - your favorite photos and sentiments create a one-of-a-kind backdrop. Perfect for your kitchen, office or as a memorable gift.
Product Details
Canvas Backing
Includes set of four magnets
Ready to hang with saw tooth hanger on back
WARNING: CHOKING HAZARD. Contains small parts. Keep out of reach of children and pets.
Choose Size:

11x14

16x20

20x30
Frame Color:

White
Black

Metallic

Rustic
Framed Magnetic Board pricing
Set
Price
11X14 Contemporary Framed Magnetic Board

$99.99

Total

$99.99
Framed Magnetic Board pricing
Set
Price
11X14 Contemporary Framed Magnetic Board

$99.99

Total

$99.99
Framed Magnetic Board pricing
Set
Price
11X14 Modern Framed Magnetic Board

$99.99

Total

$99.99
Framed Magnetic Board pricing
Set
Price
16X20 Contemporary Framed Magnetic Board

$139.99

Total

$139.99
Framed Magnetic Board pricing
Set
Price
16X20 Contemporary Framed Magnetic Board

$139.99

Total

$139.99
Framed Magnetic Board pricing
Set
Price
16X20 Modern Framed Magnetic Board

$139.99

Total

$139.99
Framed Magnetic Board pricing
Set
Price
20X30 Contemporary Framed Magnetic Board

$199.99

Total

$199.99
Framed Magnetic Board pricing
Set
Price
20X30 Contemporary Framed Magnetic Board

$199.99

Total

$199.99
Framed Magnetic Board pricing
Set
Price
20X30 Modern Framed Magnetic Board

$199.99

Total

$199.99