Mother's Day Framed Prints
What customers have to say about our Framed Prints
January 26, 2019
I will definitely buy more of these!
"Absolutely superb product. The quality is exceptional."
January 24, 2019
Beautifully done!
"Although my order came incorrect, Shutterfly was proactive in ensuring it was corrected. Excellent customer service and I am very pleased with the result!"
January 23, 2019
Fabulous!!!
"Bought this for a gift and person loves, loves, loves it!!!"
January 15, 2019
So lovely
"I love this picture so much, I'm searching through my photos to create a wall full of them!"
January 15, 2019
Loved this
"It's now the centerpiece of our bedroom and we love it. I got it as an anniversary gift and it came out perfect. I couldn't be happier!"
Mother's Day Framed Prints
Show Mom how much she means to you by gifting her with an elegant, personalized Mother's Day framed print. With Shutterfly, you can celebrate the amazing mom, grandma, wife, or other special mom in your life by creating a beautiful custom print to beautify her home – one she'll love looking at every day. When she receives this Mother's Day gift that was specially made just for her, which features many of the favorite moments you've shared together, she'll be overfilled with joy. Framed photo prints make the best keepsakes and Mother's Day gift ideas. They're the perfect way to spruce up her home decor while showcasing all of her favorite photos. Create a photo collage or highlight just one photo to make custom Mother's Day framed prints for your mom.
Customize Your Framed Pictures for a Mother's Day Gift
Shutterfly offers a great selection of framed photo prints perfect for creating an artistic masterpiece made up of your most cherished photos with mom. Browse our collection to find the design that best captures your mom's personality and style and then have fun making custom framed prints. Uploading your family photos for wall art prints will make your Mother's Day gift truly unique, and you can even add style and personality alongside your own memories with our customization options and collection of free images and artwork in the Shutterfly Art Library. Make your design even more sentimental by adding names, dates, and custom messages or quotes, such as "Thank You for All the Ways You Love Us" or "Best Mom We Could Ever Ask For."
How to Create Framed Photos for Mother's Day
Shutterfly makes it easy to order prints online and design a unique layout to frame and gift as wall art. First, choose the Mother's Day prints you'd like to use. Choose Mother's Day photos from holidays past or group family photos that include everyone. Next, choose your photo layout and frame. You can organize your picture prints as focal photos with a simple mat and beautiful frame. If you can't decide which photos to use, choose a picture frame collage with multiple photo prints throughout the year. Your high-quality framed print will become a special personalized Mother's Day gift that will make her smile when every time she sees it.
Mother's Day Gift Ideas
Want to give mom a few more personalized gifts to go with the gorgeous framed print you designed? Then you'll want to check out the other stylish products we have available. Along with Shutterfly prints, you can also gift a few classic items that will go beautifully with your frame. Consider gifting jewelry, wine glasses, glass prints, canvas prints, and much more. Our wide selection of products ensures you'll find Mother's Day gifts for all types of moms, no matter their interests, style, and personality. When you shower your mom with such thoughtful gifts, you'll show her just how much she means to you. With Shutterfly you can also design the best photo books for your mom to highlight all of her most cherished memories. After you have the perfect gifts for mom taken care of, don't forget to design a unique Mother's Day card with photos and a custom message to top her gifts with!
Related Products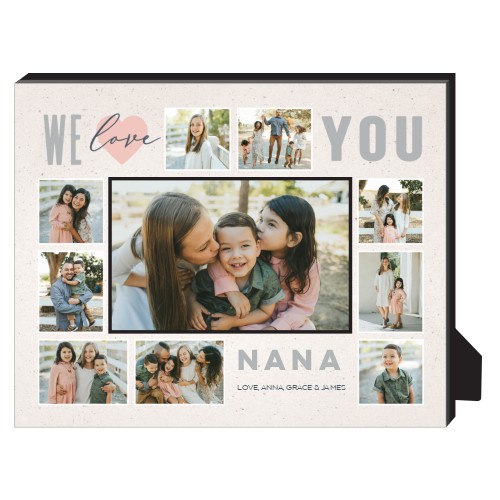 Love Heart Collage Personalized Frame by Shutterfly. "Choose from a range of printed designs","Includes keyhole hanging slots and an easel back for easy display","8x10 frame fits 4x6 print","Made with durable high-gloss hardboard"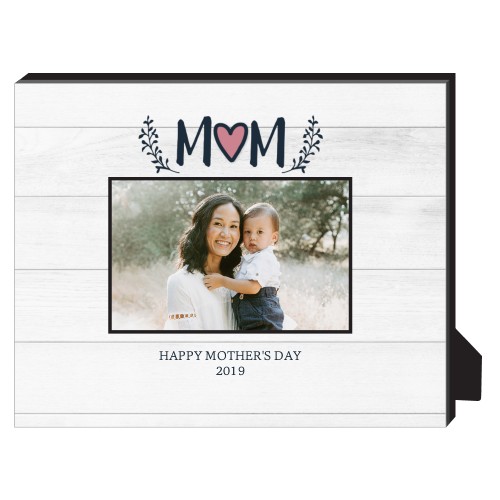 Rustic Mother's Day Personalized Frame by Shutterfly. "Choose from a range of printed designs","Includes keyhole hanging slots and an easel back for easy display","8x10 frame fits 4x6 print; 11.5x11.5 frame fits 5x7 print","Made with durable high-gloss hardboard"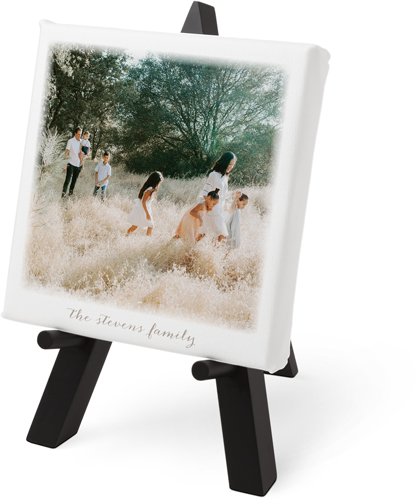 Bokeh Frame Tabletop Canvas Print by Shutterfly. Add artistic flair to your décor with our decorative tabletop canvas print. Digital printing on true artist white canvas, with matte black wooden easel makes it easy to display in an office or ...