What customers have to say about our Personalized Frames
January 6, 2019
Great Parent Gift
"Perfect gift for after the wedding."
January 4, 2019
As Expected
"Just as expected / pictured. Very nice gift."
January 3, 2019
Easy to customize
"Great product for my mother as a new grandmother"
January 2, 2019
Nice product great value
"What a great way to share all graduation pictures."
January 2, 2019
Beautiful Frame
"Love the construction and coloring of this frame for my nieces engagement photo for them....."
Show Off Special Pictures With Personalized Photo Frames
Framing photographs allows you to turn special memories and beautiful scenes into home and office decor, but frames can be more than just holders that keep a picture on display on the wall or a tabletop. The right photo frame can make the colors of a picture pop and add a special finishing touch to the image. With personalized photo frames, you can design one especially with your image in mind and end up with something one-of-a-kind to show off. Custom picture frames are a wonderful addition to your home decor and can become a special piece of wall art you will always cherish as a keepsake.
Custom Frames for Every Photo
With more than 30 custom frames to choose from, Shutterfly can help you display every picture perfectly. Use the menu at the left to refine your options and find the ideal personalized picture frame fast. You can search by size and focus only on the options that will work with a certain printed photo or fit on your wall or desk. Search by number of photos to find frames for one, two, three or more pictures. It's even possible to search for custom photo frames by color or style to get the right match for your home decor. Custom picture frames make the perfect gift for loved ones. Whether you're shopping for gifts for a bridal shower, newlyweds, or Valentine's Day, you can make a personalized photo frame as a special keepsake for your friends and family. They will love your custom gift made with their favorite photos.
Personalize the Perfect Picture Frame in Minutes
Once you have found the ideal option from our selection of personalized photo frames, the fun begins. You can personalize our custom frames in just minutes and let your creativity shine. Upload the photo you intend to frame to see how it looks and then add your text. If you wish, you can choose a different font or color and align the text in a different way. If you're designing a wedding picture frame, you can include the wedding date or a piece of your vows in the custom text. If you're designing a baby photo frame, include the little one's name along with the best photos of your family's newest addition. Designing your own frame for a loved one makes a memorable gift they can hang as wall decor and will cherish forever. Our design tool can even check the spelling for you to make sure your finished custom picture frames are error free. Our 100% happiness guarantee ensures that you'll love the frame when it arrives, and we're always here to help if you have questions when it comes time to design.
Gift Them With Personalized Photo Frames
Planning to give a framed photo to someone for a birthday, the winter holidays, a wedding present or another special occasion? Make the picture extra special by presenting it in one of our personalized photo frames. Whoever you're shopping for will be touched that you took the time to have something created especially for them. When searching for the perfect graduation gift, consider showcasing their best celebratory photos with a personalized graduation frame. Just don't forget to have that special photograph printed to go in the frame. You can purchase photo prints, canvas prints, and personalized picture frames at the same time, so you can finish your gift shopping in no time. Make your special photos truly shine. Order personalized photo frames and display them in the perfect way. Find the best coupons and free shipping offers for picture frames on our Shutterfly deals page.
Related Products

Double Frame Border Wind Chime by Shutterfly. Turn a quiet breeze into soothing harmony with a personalized wind chime. Personalize the windcatcher with a favorite photo or message to create a unique decoration in your yard.

We Love You Frame Wind Chime by Shutterfly. Turn a quiet breeze into soothing harmony with a personalized wind chime. Personalize the windcatcher with a favorite photo or message to create a unique decoration in your yard.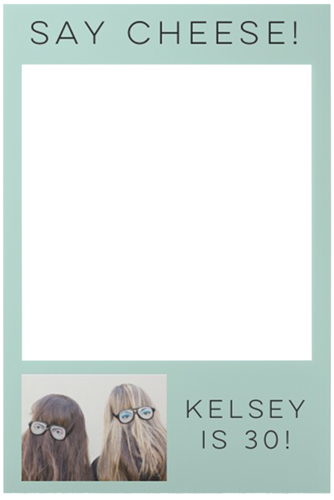 Gallery of One Selfie Frame by Shutterfly. Make any party a success with this selfie prop. Personalize the life-size frame with details about your event and fun designs, so that guests can pose for photos. The frame makes a great ...