Valentine's Day Personalized Frames
What customers have to say about our Personalized Frames
January 6, 2019
Great Parent Gift
"Perfect gift for after the wedding."
January 4, 2019
As Expected
"Just as expected / pictured. Very nice gift."
January 3, 2019
Easy to customize
"Great product for my mother as a new grandmother"
January 2, 2019
Nice product great value
"What a great way to share all graduation pictures."
January 2, 2019
Beautiful Frame
"Love the construction and coloring of this frame for my nieces engagement photo for them....."
Valentine's Day Personalized Frames
Create a beautiful Valentine's Day personalized frame from Shutterfly to say "I love you" in a truly thoughtful way. We offer a variety of ways to personalize your frame, making it a perfect gift option that will make your loved one feel extra special on this holiday that celebrates love. Our personalized frames are a beautiful way to display your most cherished photos with your significant other. Give a personalized picture frame as a Valentine's Day gift and you'll be giving your loved one a gift that will be displayed and treasured for many years.
Customize Your Valentine's Day Picture Frames
Design a truly one-of-a-kind personalized frame for that special someone in your life when you customize it with favorite photos, names, important dates, personalized messages and more. Our beautiful designs will add style and beauty to any space of your home. Shutterfly offers a great selection of personalized picture frames that are ideal for showcasing your most precious memories with your significant other. Browse our collection to find the design that best captures your personality and style and then have fun making it truly unique to you and your loved one. Once you've uploaded your photo, enjoy getting creative using our online customization options to choose your favorite colors, font styles and more. Make your design even more personal and thoughtful by adding names, dates and custom messages or quotes to make a Valentine's Day picture frame you'll want to treasure forever.
Valentine's Day Cards and More Valentine's Day Gift Ideas
If you're looking to pair your Valentine's Day custom frame with some of our other personalized gifts, we offer a great array of items that are perfect for this special occasion. Some of our popular Valentine's Day gift options include jewelry, wine glasses, wall art, and more. For even more gift-giving inspiration, check out our post on the best creative Valentine's Day gifts. If you're looking for other personalized Valentine's Day gifts, check out our collection of gifts for her and gifts for him. And for your little Valentines, browse the Shutterfly Kids Collection. Valentine's Day is the perfect opportunity to send some love to all of the special people in your life and our personalized Valentine's Day cards are a beautiful option for doing so. Your loved ones will be surprised and delighted to receive a unique Valentine's Day card from you for this special holiday.
Related Products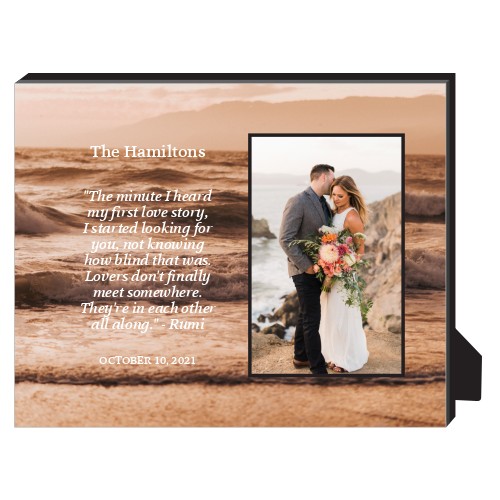 Photo Gallery Landscape Personalized Frame by Shutterfly. "Choose from a range of printed designs","Includes keyhole hanging slots and an easel back for easy display","8x10 frame fits 4x6 print","Made with durable high-gloss hardboard"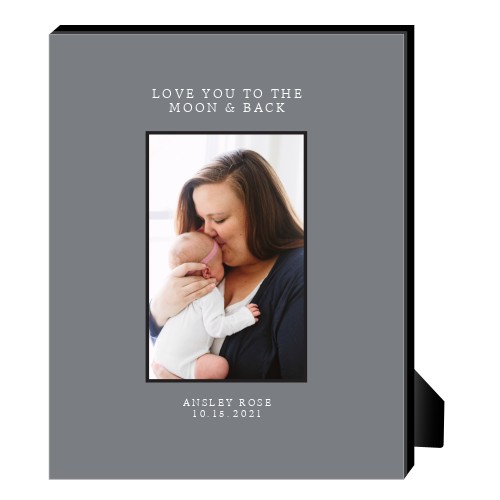 Photo Gallery Custom Picture Frames. Placed in our personalized frame, a favorite photograph gets the special attention it deserves. You can choose from a wide range of designs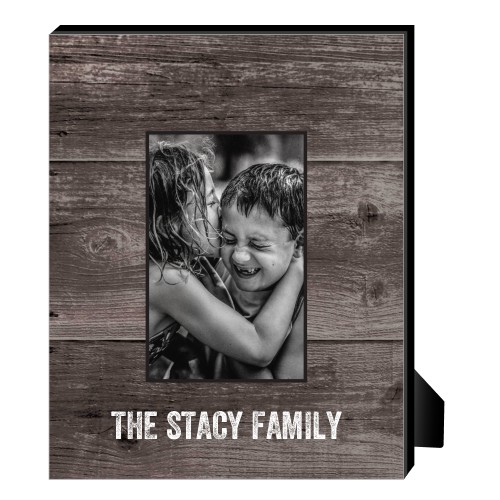 Printed Woodgrain Personalized Frames. Placed in our personalized frame, a favorite photograph gets the special attention it deserves. You can choose from a wide range of designs