What customers have to say about our Woven Photo Blankets
January 26, 2019
100% Satisfied
"Have ordered 3 woven blankets over the past few years and have been 100% Satisfied and so have the recipients."
January 23, 2019
Wonderful Gifts
"I love these blankets! The first blanket was a Christmas gift for my son. He's been away, working on his Master's degree but misses his dog. I had a blanket made with a pic of his pup wearing her pirate costume for his dorm room. He loved it. My daughter also was impressed with how well it turned out and asked for one with a pic of her boyfriend with her Cavalier King Charles Spaniel. Again, very impressed with how well her's turned out, I ordered one of my pup. It just arrived yesterday and is sooo super cute that I went ahead and ordered another with my other pup. That one hasn't yet arrived but will post it when it does. The only con is that they are kind of stiff feeling but I suspect the material will relax in time. I am very happy with this purchase!"
January 15, 2019
Beautiful
"I bought this for an anniversary present for my husband . He loves it so much!!!! The picture came out beautiful. Thank you!!!"
January 8, 2019
Best Christmas Gift that I could have ever given my father!
"Blanket is perfect great size and very comfortable"
"Got this for my dad for Christmas and he loves it! The blanket is great quality and the photo looks amazing on it"
Custom Woven Photo Blankets to Keep You Warm
Create your own woven photo blankets with Shutterfly. Are you looking for a unique way to display your favorite photos to the world? Do you want a personalized keepsake that can keep you warm and be used as great decor in your dorm or home? If so, these woven photo blankets may be exactly the item for you. Wrap up in a soft, cozy custom photo blanket adorned with one of your very own photos or pieces of art. Design your personalized blankets with vibrant colors, unique themes, and add your favorite photos, names, messages, and special dates. Woven photo blankets make both practical and personalized gifts and keepsake for your loved ones. Customize a one-of-a-kind throw blanket for a housewarming gift or unique gifts for baby showers, anniversaries, weddings, anniversaries, and any special occasion. Share the love and snuggle with a photo blanket you can treasure for years to come.
Woven Photo Blanket Themes and Designs
Our woven photo blankets come in a variety of colors and styles, from the rustic and folksy to the elegant and classic. However, they all have one thing in common: They put your photo front and center. While the image that you choose is the focal point of all our photo blankets, you have the freedom to decide which border or background design most enhances its natural appearance. Try a country-style frame to give your picture a homespun, folksy appearance, or go elegant by adding a monogram to your picture blanket. The choice is up to you. Perfect for snuggling, these machine-washable photo collage blankets make the perfect gift or keepsake for anyone in your life.
How to Design a Custom Photo Blanket
Customizing woven photo blankets with your favorite photo or image is easy. Our interface allows you to upload the desired image directly from your computer, or select one from your social media account. Once you have a photo chosen, you can crop, resize and make other minor tweaks to ensure it looks perfect. Our personalized photo blankets come in two sizes: 54x70 and 60x80 so you can get the right amount of coverage. Woven blankets come in a number of different styles, some of which have unique borders that frame your photo. If you prefer to keep things simple, you can also choose a photo blanket with no border that ensures nothing distracts from your chosen photo. The right border can make a huge difference in how the photo you choose for your blanket is perceived. Romantic photos look even better in an elegant frame while a picture of kids might deserve a colorful or playful border.
Give a Personalized Blanket as a Great Gift for Loved Ones
With our personalization tools, it's easy to design a custom photo blanket to gift friends and loved ones. It's a unique way to commemorate a special occasion or send family photos. Keep your friends and family cozy with a custom photo blanket. Choose from our woven, sherpa, and fleece photo blanket templates and choose the one that's perfect for your recipient. Whether you're searching for Mother's Day gifts, gifts for kids, or something special for your significant other, you can design this unique photo gift for any personality and style. Along with personalized blankets, complete the gift with custom pillows. Personalized pillows make a wonderful choice to showcase special memories and add more comfort to your home decor.
Related Products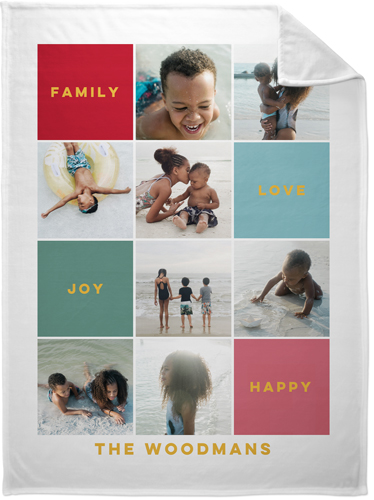 Colorblock Sentiments Grid Fleece Photo Blanket by Shutterfly. Cozy up to a fleece blanket with your favorite photos. Choose your background and layout.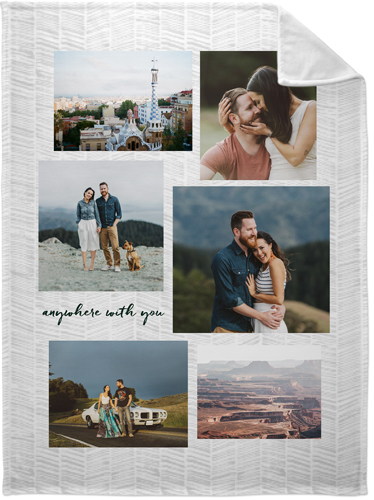 Gallery Collage of Six Portrait Fleece Photo Blanket by Shutterfly. Cozy up to a fleece blanket with your favorite photos. Choose your background and layout.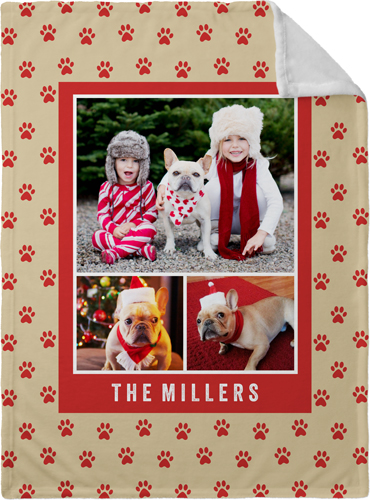 Holiday Paws Monogram Fleece Photo Blanket by Shutterfly. Cozy up to a fleece blanket with your favorite photos. Choose your background and layout.