Birthday Gifts
What customers have to say about our Birthday Gifts
January 19, 2019
truly, would do again
"for family at Christmas"
January 19, 2019
Perfect Gift for a Grieving Parent
"I purchased this for my father who is grieving after the loss of his soul mate of 68 years."
January 16, 2019
Love the look of this item
"Simple sleek and very eye catching"
January 16, 2019
Would definitely buy again.
"My son's dog sustained a severe injury and had to be put down at age 5. He so loved this dog and it was so hard to let her go. I sent Shutterfly 4 pictures of Sophie and a personal quote, all to be put on a mug. I purchased 2 mugs, one for at home, and one for him to take to work so that Sophie is always with him. Shutterfly got them completed and sent out ahead of the date that was originally stated. Tears rolled down my sons face as he unpacked the mugs. He loves them. Sometimes, its just the little things that we can do that will make the biggest difference. Thank you Shutterfly Bob"
January 15, 2019
SUPER CUTE !
"A FREE OFFER from Pillsbury and Betty Crocker really paid off ! This mug turned out so cute ! ALL OF SHUTTETFLY'S PRODUCTS ARE SUPER QUALITY !"
Personalized Birthday Gifts
Create one-of-a-kind personalized birthday gifts with Shutterfly. Is there a special birthday coming up? Whether it's for your child, spouse, parent, friend or another important person in your life, putting in a little bit of extra time and effort to create a personalized birthday gift is a great way to show how much you care. At Shutterfly, we make it easy to create gifts as unique as the recipient, offering a wide range of items to suit every personality, interest and style. Browse our collection of personalized birthday gifts to find the perfect birthday gift for your loved one. Your birthday present is sure to bring a smile to their face the moment it's unwrapped.
Thoughtful Personalized Birthday Gifts for Any Recipient
Whether it's a big milestone birthday or not, celebrate your loved one's special day with a personalized birthday gift created just for them! Go beyond generic, store-bought presents when you choose from our selection of custom birthday gifts that will live on as treasured keepsakes. If you need a few ideas, below are some of our favorite personalized birthday gift ideas:
Does mom love jewelry? Engraved bar necklaces are always the best birthday gifts that your mom will treasure. Available in 3 finishes—silver, gold and rose gold—you can choose to customize the front or both the front and back with a memorable date, initials or a custom message. You can even make her a keepsake jewelry box with her favorite photo on it as a custom birthday gift.
Our custom candles make great gifts for anyone who loves home décor items that look stylish and create a warm, cozy feel. Scents include Fireside Spice, Grapefruit Blossom, Ocean Breeze and Unscented, so there's a candle for everyone.
Is your dad, grandfather, father-in-law or husband a whiskey lover? Then he'll be thrilled to receive a stylish, personalized flask to add to his home bar. These unique birthday gifts are available in matte black, copper and stainless steel, he'll love having his very own flask with an etched monogram.
The Best Birthday Gift Ideas
Need more personalized birthday gift ideas for a special person in your life? If you're looking for kids gifts, you'll make his or her birthday even more memorable when you give a personalized gift from the Shutterfly Kids Collection. You'll find personalized gifts for all ages, including story books, school gear and supplies, room décor and accessories, toys and games, kitchen items and more. Picture frames, throw pillows, tote bags, and jewelry make the best birthday gifts for women. Gift your best friend with custom wall art for their home, a person who loves to cook will adore a personalized cutting board, and a person always on-the-go will love a water bottle or travel coffee mug. With Shutterfly, you can create the perfect gift, and birthday cards, for all of your loved ones' birthdays.
Related Products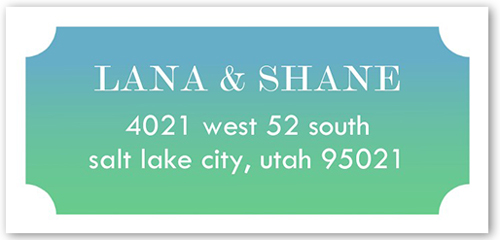 Address Label by Petite Lemon. Address your envelopes with stylish address labels. Corresponding invitations, gift tags and thank you cards are also available.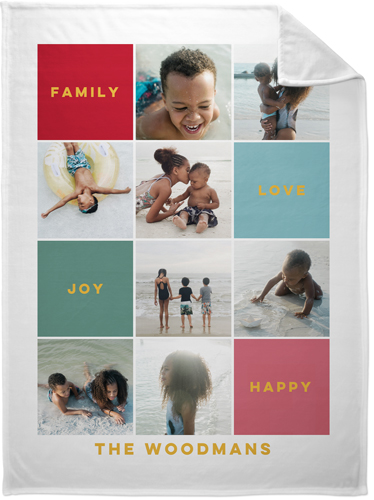 Colorblock Sentiments Grid Fleece Photo Blanket by Shutterfly. Cozy up to a fleece blanket with your favorite photos. Choose your background and layout.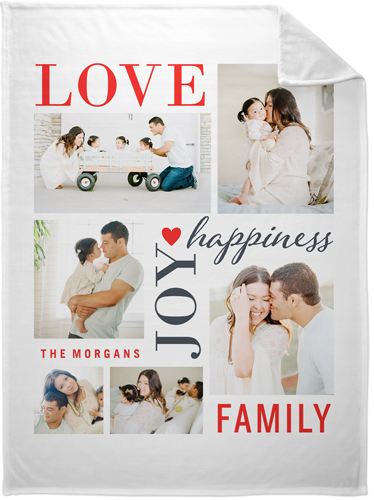 Joy Love Laughter Fleece Photo Blanket by Shutterfly. Cozy up to a fleece blanket with your favorite photos. Choose your background and layout.