Canvas Tote Bags
What customers have to say about our Canvas Tote Bags
June 24, 2018
Special gifts for special BFF occasion
"I had 4 of these tote bags (red) identically monogrammed with all the first initials of each of my girlfriends and myself for our 50th birthday vacation/trip. It was a hit! The tote bags are great quality and it is the perfect size. The shoulder straps, snap closure and medium size really take this beyond the usual canvas beach tote... this bag can be used as a cute summer handbag or travel tote. Love it!"
June 11, 2018
Yes, I would buy it again
"I purchased 6 canvas bag with names for a 8th grade graduation party. Big hit, stuffed them with towels, sun screen a had and sun glasses. This product was perfect and sturdy. They will have this giddy bag for years and years, love it."
June 7, 2018
I would buy this for a friend or myself if I needed another
"This bag is made of really heavy, sturdy canvas and it has 2 pockets! I didn't realize there is a small inside one with a zipper and a small outside one without a zipper. That is perfect for slipping in keys, name tags, etc. Little things you don't want to get lost in the bag. Very happy with this. If I had seen this earlier, I wouldn't have bought the messenger bag I bought. I like this style much better for what I use it for."
May 19, 2018
Excellent quality!
"I was very surprised by the sturdiness & quality of this bag when I got it. I can see this bag lasting years! Pros: 1. Very sturdy construction 2. Outer & (small) inside pockets 3. Design 4. Size - This tote will hold a lot & I can see it being used to carry many items. It's even big enough to use at the beach or to take items for a picnic, etc. Cons: 1. It would be nice if there were more thread color options."
May 15, 2018
Canvas Tote bag
"I bought this tote bag as a gift. It is a very high quality item. Love the bag!"
Customize Your Own Canvas Tote Bags
Create stylish custom canvas tote bags with Shutterfly. These days, more and more cities are banning plastic bags—but you are in luck. Instead of those boring reusable bags you can get from your local grocery store, personalize your own embroidered canvas tote bag to make your next shopping trip a little more stylish and a lot more eco-friendly. Now, thanks to Shutterfly it is easier than ever to make your very own unique cotton canvas tote bag.
Stylish, Durable Canvas Tote Bags
Canvas tote bags are one of the most useful products you can own. Personalized tote bags are an environmentally-friendly way to get your groceries—but they have many more uses besides shopping! You can make canvas tote bags to share your business with the world. Custom canvas tote bags are a great way to keep all your children's things together on a road trip. Take your cotton canvas tote to the park for a picnic or to the beach for a day of fun in the sun. Have your little one make their own to use for keeping all their sporting clothes and accessories together as they travel between home, school, and the game.
Create Personalized Tote Bags as Gifts
Don't know what to give a person who has everything? Why not give them a bag to put it all in? Embroidered canvas tote bags make great gifts for any occasion and any recipient. Browse through our collection of unique reusable canvas tote bag templates and choose the one that's perfect for your recipient. You can add a photo, custom text, and more to make a high-quality cotton canvas bag that's perfect for your friends or family members. Give Mom or Grandma one as Mother's Day gifts. Create one for your teen daughter's birthday. Get one for a friend for Christmas. Custom cotton totes also make great kids gifts, baby shower gifts, or gifts for graduations. Teenagers can use them as book bags and parents can use them when they go grocery shopping. Your recipient will love their personalized gift and how it's perfect for on-the-go. With Shutterfly, designing a custom present is easy.
Custom Tote Bags and More Personalized Gifts
This year, be more creative with your gift-giving. Along with your custom canvas tote bags, Shutterfly has so many unique gifts to offer. Shutterfly really makes it easy to create one-of-a-kind presents that are not only personal but make the receiver smile every time they get used. For the soccer mom (or sibling enthusiast) who has to sit on the sidelines in all types of weather, photo blankets are a unique way to keep warm while showing your team spirit. Custom drinkware like coffee mugs is another fun and memorable gift. Personalized jigsaw puzzles make outstanding gifts for birthdays, wedding gifts and graduation commencement. Your bags and your gifts have no more excuses to be boring. Shutterfly has hundreds of options to create personalized presents for your loved ones (and yourself as well). If the world is looking at your canvas tote bag, shouldn't it reflect the uniqueness of you?
Related Products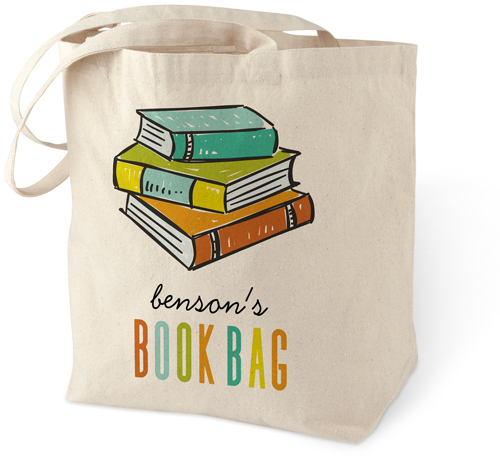 Bookbag Rainbow Cotton Tote Bag by Shutterfly.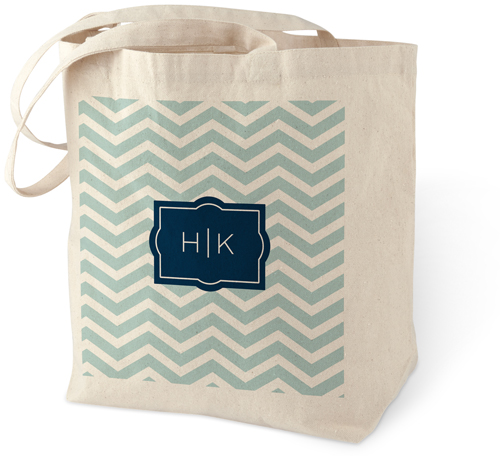 Chevron Monogram Cotton Tote Bag by Shutterfly.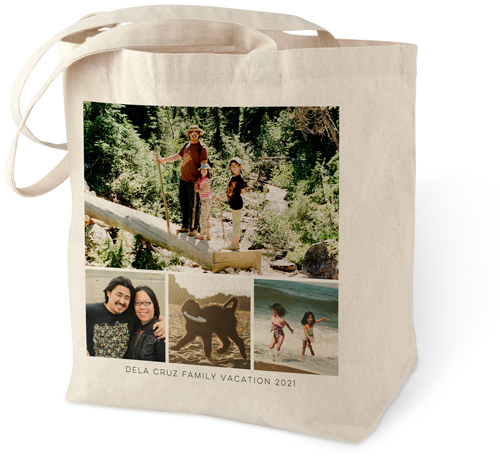 Gallery of Four Grid Cotton Tote Bag by Shutterfly.