What customers have to say about our Christmas Gifts
"Came out perfectly!"
January 19, 2019
Very nice, perfect for my needs
"I wanted to give every household a picture of our family from Christmas Day. I was going to order prints but then I decided on these plaques. I added "Family 2018" on the bottom and they came very nice. The only issue I had was editing the photo to make it fit properly. It wasn't easy in the app. I got lucky that this pic fell into place. If I could've , I would've moved it a bit but it looks ok. I found a free shipping code because shipping came to $34 and there was no way I would pay that. I know shipping costs and these are very light. So, a good purchase!"
January 18, 2019
yes I would get this again
"Yes I love the plate I have used it and it was great and I've cleaned it and it's perfect the pictures are still on it"
January 18, 2019
I love this magnet ornament!
"I love this magnet. I put pictures of my grandchildren on it! What a beautiful keepsake!"
January 18, 2019
Very beautiful
"I absolutely love my mug 😊"
Personalized Christmas Gifts
Finding thoughtful gifts for everyone on your list can be difficult. One way to ensure the gifts you're giving are meaningful and will be cherished for years to come is to get your recipients personalized Christmas gifts. When you give a gift that has been personalized to match the recipient's personality, style and interests, it shows them you care and makes them feel extra special. Shutterfly's diverse selection of personalized Christmas gifts lets you customize the right present for each person on your list, every time. So, no matter whom you're shopping for (yes, even the most hard-to-shop-for person on your list!), you'll be able to create Christmas gifts sure to be a hit this holiday season. Shop our selection of personalized Christmas gifts to create the perfect custom presents you'll be excited to give to your family and friends.
Design Custom Christmas Gifts
Browse our wide selection of Christmas gifts to find exactly what you need. Whether you're looking for the perfect stocking stuffer or a charming wrapped gift, you won't have any trouble finding it here. You'll find personalized Christmas ornaments, candles, mugs, picture frames, wall art, custom calendars, glassware, home decor items like blankets and pillows, and more. Once you've selected your items, it's time to add those extra special personal touches. Our free, online customization tool makes it quick and easy to add your favorite photos, names, monograms and special messages to each holiday gift. And our preview technology enables you to watch your item transform into a truly one-of-a-kind gift as you select your customization options. You'll find you can easily make changes throughout the design process until you get the look and feel just right. With our quick turnaround time, your personalized Christmas gifts will arrive quickly, giving you more time to enjoy all the fun the holiday season brings and not needing to stress about gift shopping.
Unique Christmas Gift Ideas for Everyone on Your List
Finding the perfect gift for your loved ones can be overwhelming. With Shutterfly, it's easy to make a personalized Christmas gift that your recipient will adore. When you're looking for something unique to leave under the Christmas tree, make a personalized gift that perfectly complements your family members' personalities. Gifting a wine love? Design a stemless wine glass made just for them. Looking for a sentimental Christmas present for grandma? Create a custom photo book filled with her favorite pictures that will live on as a keepsake for years to come. If you need a Secret Santa gift for a friend or coworker, personalize a practical gift like a candle or photo mug that they can keep at their desk. This year, make Christmas shopping fun when you make each holiday gift yourself. For an extra special touch, make a photo Christmas card to share with your friends and family to make them smile.
Best Christmas Gifts for Kids
For the little ones on your list, check out our personalized Christmas gifts for kids like plates, cups and placemats. Be sure to also browse our extensive Shutterfly Kids collection. We offer a wide array of gifts kids of all ages love, from monogrammed backpacks for kids, kids fleece blankets, photo puzzles, and school gear to kids room decor, kids tableware and toys and games. You won't have any trouble finding special gifts the kids in your life will adore.
Related Products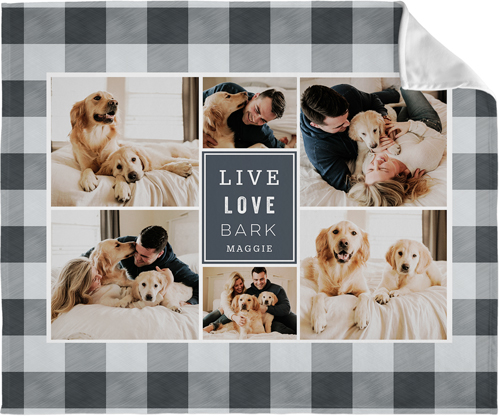 Best in Show Buffalo Plaid Collage Fleece Photo Blanket by Shutterfly. Cozy up to a fleece blanket with your favorite photos. Choose your background and layout.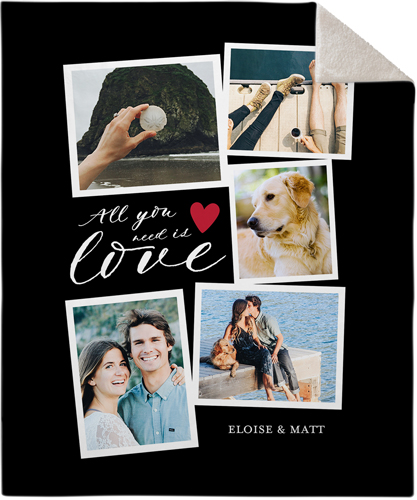 Love Script Collage Fleece Photo Blanket by Shutterfly. Cozy up to a fleece blanket with your favorite photos. Choose your background and layout.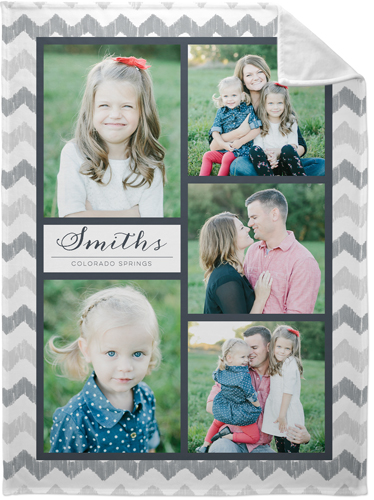 Love Joy Family Fleece Photo Blanket by Shutterfly. Cozy up to a fleece blanket with your favorite photos. Choose your background and layout.