Copper Flask
What customers have to say about our Flask
January 9, 2019
Groomsman Gifts
"We purchased 5 Personalized Flasks for the Best Man and Groomsmen for gifts from us."
December 14, 2018
I would buy this product again
"I bought this as a gift. Looks way better in person! I would have liked to put a picture on it. The person I bought if for lives deer so it's perfect anyway."
December 10, 2018
I would buy this gift for many if I knew more drinkers
"These will be gifts for my husband's golf buddies! They can't wait to use them!"
December 9, 2018
This was an awrsome gift for my hubby !!
"It is the perfect size!"
November 18, 2018
Awesome
"Love it"
A Custom Copper Flask for Every Occasion
Sip your favorite spirits in style from a custom copper flask. Purchased for yourself or a loved one, a copper flask makes a meaningful addition to any bar. Rustic and elegant, this flask features a high-shine finish and stainless steel cap. Slim enough to slide into a pocket, this copper holds eight ounces of fluid.
Choose a design from the gallery that complements your style. Shutterfly makes it easier than ever to add monograms, graphics, names and initials to a copper flask. Men and women alike will appreciate receiving this item to honor an occasion.
Copper Flasks Make Great Gifts
Are you looking for the ideal gift for a groomsmen, friend, or family member? Start by selecting a copper flask that personalized for them. They will love having a flask they can identify at a tailgate or party. This item arrives in a sleek gift box for a great presentation. An attached screw cap on top allows you to pour without fear of losing the cap. Wash the copper flask by hand to keep it looking great for many years to come.
Make it a Mule
Introduce a new drink to an old friend by creating a gift basket with a copper flask as the centerpiece. Vintage-inspired drinks such as the Moscow mule made a comeback in recent years. Treat your loved one to a gift basket designed for this tasty beverage.
Start by arranging a copper flask and custom mug in the center. Surround these items with mini bottles of vodka, a few limes, and ginger beer. A bundle of fresh mint completes the contents of the basket. Wrap the basket in cellophane and offer it as a housewarming, birthday, or anniversary gift.
Personalizing a Copper Flask in Minutes
Shutterfly makes it easy to transform a copper flask into a custom bar accessory. Browse the selection of designs to find one that expresses your style. Each design takes a few prompted steps to personalize. Some designs even allow you to add text to the back. Go through the step-by-step process to add names, dates, monograms, and initials. The professions at Shutterfly take the information and etch it onto the surface of the copper flask. This method provides allows for detailed graphics. Which design will you choose?
Related Products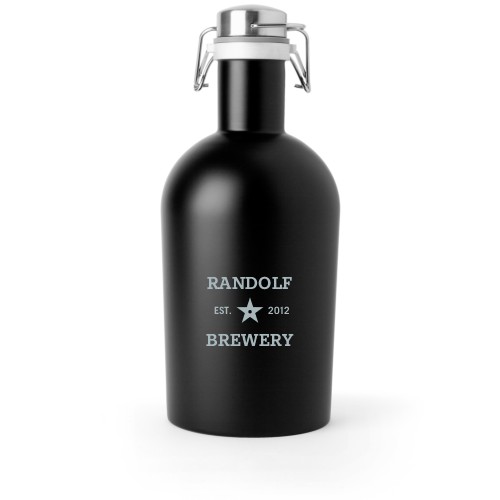 Star Brewery Personalized Growlers by Shutterfly. Keep beer fresh with a stainless steel growler etched with your signature touch.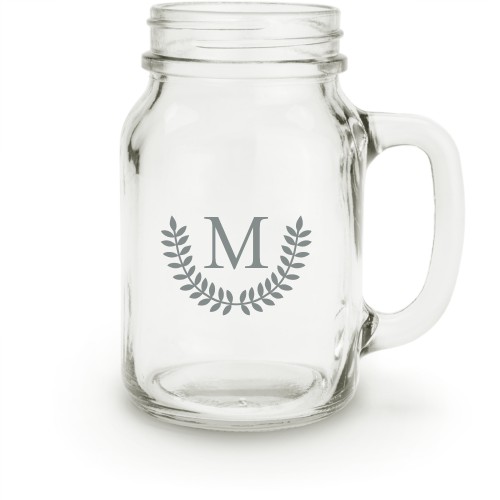 Leaf Monogram Mason Jar by Shutterfly. "Etched personalization", "Holds 16 oz.", "Perfect for hot or cold beverages","Sold individually","Dishwasher and microwave safe"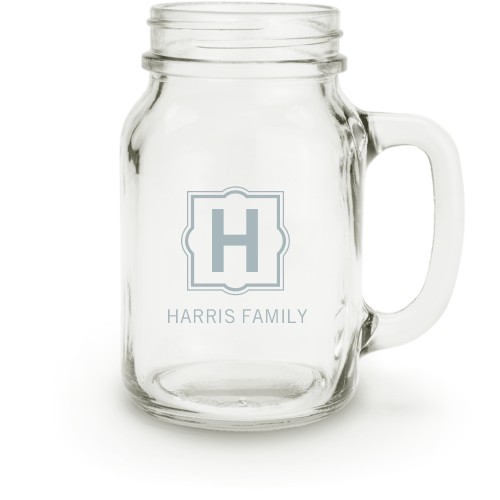 Stylized Monogram Name Mason Jar by Shutterfly. "Etched personalization", "Holds 16 oz.", "Perfect for hot or cold beverages","Sold individually","Dishwasher and microwave safe"