Flask
What customers have to say about our Flask
January 9, 2019
Groomsman Gifts
"We purchased 5 Personalized Flasks for the Best Man and Groomsmen for gifts from us."
December 14, 2018
I would buy this product again
"I bought this as a gift. Looks way better in person! I would have liked to put a picture on it. The person I bought if for lives deer so it's perfect anyway."
December 10, 2018
I would buy this gift for many if I knew more drinkers
"These will be gifts for my husband's golf buddies! They can't wait to use them!"
December 9, 2018
This was an awrsome gift for my hubby !!
"It is the perfect size!"
November 18, 2018
Awesome
"Love it"
Custom Flasks Let You Sip in Style
A custom flask is a great bar accessory whether you're mixing drinks at home or bringing your own beverage to a party or picnic. With an engraved flask, you can add your monogram, personal logo, or fun illustration that makes the flask stylish and unique. Customized flasks also make great gifts and party favors for friends and loved ones.
Easily Design a Personalized Flask
Custom flasks from Shutterfly are premium 8-ounce hip flasks with a classic, sleek style. Made out of stainless steel, the flasks are engraved, durable and will remain free of rust for life, so they can be used again and again. The cap connects so you will not have to worry about losing the lid. Designing custom flasks only takes a few minutes with our easy-to-use design tool. You can choose from more than one dozen styles and select a black flask or one with a copper finish. Choose the wording that you wish to have engraved right into the metal and preview everything online. When you're satisfied, we'll produce your order just for you. With a variety of designs, it's easy to create flasks for men whether they're looking for a golfing flask or one to bring out to concerts and events. For the ladies, they'll also love a customizable flask that includes their name or initials. A monogram flask is a great idea if you're looking for a modern, personalized touch.
Custom Flasks for Weddings
Planning a wedding? Personalized flasks are the perfect way to say thank you to the groomsmen, best man, maid of honor and bridesmaids. You can give wedding flasks with a graphic that you create for the occasion or engrave a flask for each member of the wedding party with their name. If you're looking for wedding fits for the happy couple, create a personalized flask for him that says groom and a flask for her that says bride. Adding the wedding date to a date flask as well so it can be a long-term keepsake. If one of your attendants prefers beer over spirits, we also offer custom pilsner glasses and personalized growlers.
Give Engraved Flasks as Gifts
As you're shopping for gifts for any occasion, there's no need to wonder where to buy a flask that looks great and unique. Custom flasks are the perfect keepsake gift for anyone who savors fine spirits. Surprise Dad with one for Father's Day or give the college graduate a graduation flask that they can use to toast their many successes. Flasks don't have to be just for people who enjoy spirits all the time. Even your friends and family who don't drink often will appreciate something they can use for those moments when they do. A flask is especially great because you can bring it with you to events and parties where you may only want to drink a certain beverage instead of choosing something there. With so many design options to choose from, you can make flasks for everyone on your gift shopping list. Stand out from the crowd with an engraved flask that's truly one of a kind.
Related Products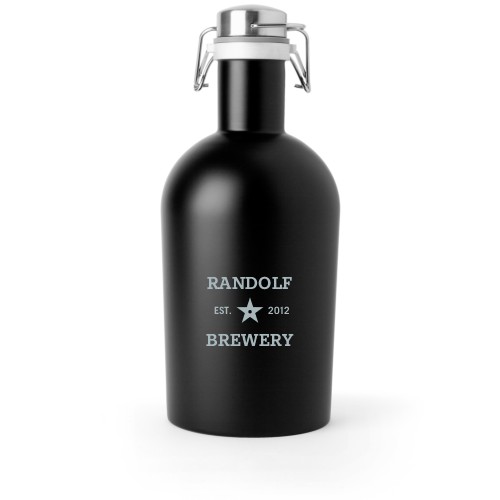 Star Brewery Personalized Growlers by Shutterfly. Keep beer fresh with a stainless steel growler etched with your signature touch.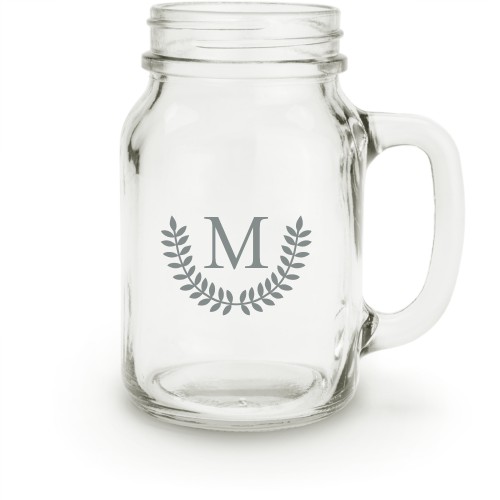 Leaf Monogram Mason Jar by Shutterfly. "Etched personalization", "Holds 16 oz.", "Perfect for hot or cold beverages","Sold individually","Dishwasher and microwave safe"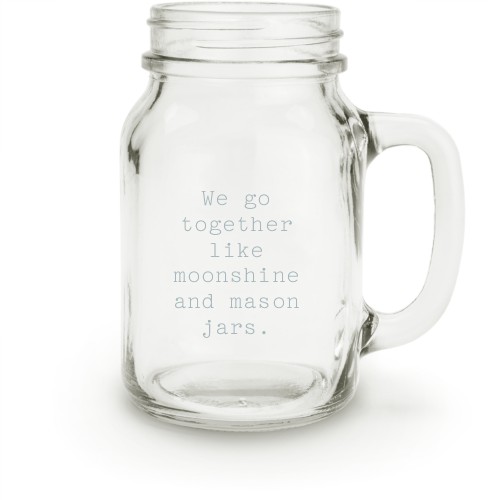 Open Quote Mason Jar by Shutterfly. "Etched personalization", "Holds 16 oz.", "Perfect for hot or cold beverages","Sold individually","Dishwasher and microwave safe"