Pins
Custom Pins and Photo Buttons
Make your own custom photo buttons with Shutterfly. Want to add some pizazz to an outfit for a special event, like a birthday party? Do you need unique, personalized favors to give guests at an upcoming celebration? Or do you want to add an extra special touch to a gift you're giving your mother or grandmother for Mother's Day? Shutterfly's creative and stylish custom pins are ideal for all of these occasions and more. Our photo pins can be customized to suit your personal style or that of a recipient, as well as the theme of an upcoming celebration, making them great memorabilia. Photo buttons are a great way to show off pictures of your most favorite things like your pets, children, grandchildren, and all your most cherished memories.
How to Get the Most Out of Custom Pins
Custom pins can be used for numerous reasons. You can design your personalized photo buttons to feature anything you want. From special occasions to holidays, our collection of custom pins are high-quality. These wonderful photo gifts make the best keepsake for yourself or someone special. They make unique favors for any special occasion, including weddings, christenings, graduations, birthday parties, family reunions, bridal showers and baby showers. Personalized photo buttons make fun gifts to give to friends and family members for holidays - or just to let them know you're thinking of them! They're a charming way to introduce a newly engaged couple, announce the birth of a child or grandchild or let loved ones know about a high school or college graduation. Custom photo buttons are perfect for showing off your personal style. They're an inexpensive way to add flair and color to your outfits, hats, jackets, scarves and bags. Photo pins can serve to market your company at a tradeshow or get the word out about your organization's cause when you and fellow colleagues or employees wear them at events or give them out with marketing materials. Whatever you're getting custom pins for, they're guaranteed to get noticed and will make fabulous conversation starters.
Designing Custom Photo Buttons and Personalized Pins
Shutterfly's collection of custom pin designs enables you to easily create pins to give as a gift, incorporate into a celebration as party favors, use as marketing materials or simply to add a fun accessory to an outfit or bag on any given day. Choose from our wide variety of cool photo button designs, including a super happy smiling face, yummy donuts, colorful rainbows and much more. Once you've selected the design that best suits your personality and style or your event theme or company's brand, add a custom message, quote or saying and, if desired, upload a photo. You can even upload your own images, artwork or logos. Whether you're buying a custom pin for yourself, to give as a gift or are making a bulk purchase for a special event or cause, your personalized photo pin is sure to be a hit. Shop our collection of personalized gifts featuring custom backpacks, Check out our beautiful selection of color changing mugs, phone card holders and custom invitations to get the word out about your upcoming personal or business event!
Related Products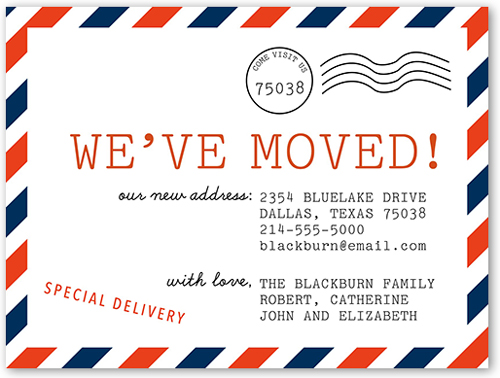 We've Moved Postcard 4x5 Moving Announcement Cards. Show your favorite picture in this elegant moving announcement. "Home sweet home" is superimposed on the photo along with your new address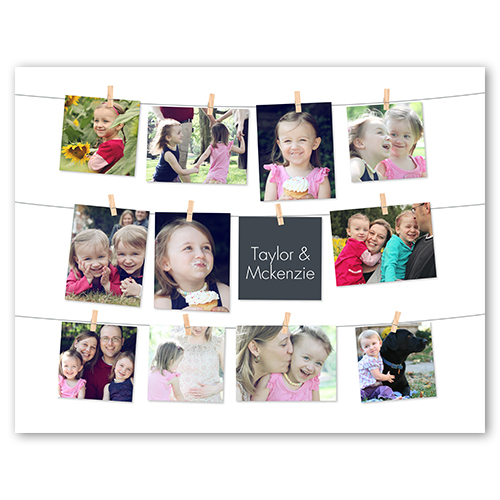 Clothing Pins Collage Poster Print by Shutterfly. Upload your own photos and easily customize templates to create a unique piece of wall art. Create photo collage posters out of your favorite memories and images.