15oz Mugs
What customers have to say about our Mugs
January 27, 2019
Wonder Gift
"I purchased 2 mugs with pictures of my granddaughter and her best friends. They opened at Christmas. They were both so surprised and happy. FUN GIFT!"
January 27, 2019
Love it!!
"Love my coffe mug"
January 26, 2019
Perfect thank you gift
"We made a large coffee featuring a photo of us wearing a hand knitted gift and sent it to the friend who knitted our nose warmers. Delivered to US in less than a week. Double the Facebook posts and fun."
"Love these mugs!"
January 26, 2019
Once again, I am satisfied with the quality
"The image was perfect on the mug. Job very well done"
Fuel Your Passion for Coffee
If you're someone who isn't truly awake until you've had that morning cup of coffee, or you live for your daily dose of caffeine, sugar and cream, you can make your morning ritual even better if you treat yourself to a special mug. Instead of that boring ceramic mug that came with your first dish set, try making your own unique mug that makes a statement. You can customize it with your favorite sayings or photos to show off your personal style or favorite moments from your life. You can fuel your enthusiasm for coffee by designing your own 15oz mugs or larger to give yourself that caffeine fix.
Create a Special Mug
The routine at the office is not always the most exciting part of your day. You can bring a little bit more joy to your work by tweaking your office coffee mug. Trade in that plain standard coffee mug for a photo mug. Upload your favorite picture of your travels across the globe, and relive a special moment while you sip your cup of coffee. You can break up that boring routine just a bit and get a few moments of bliss when you go back to that moment in your photo. Then, when you've finished your drink, your coffee cup will never be mistaken for another worker's cup and misplaced.
Make Your Mug Unique
For the drive home, you can continue to keep your favorite drink flowing, whether it's coffee or a warm cup of tea. Pick a travel mug, and personalize it with pictures of your best memories. Make your daily commute a little more tolerable with a drink that stays hot no matter what. While everyone is fighting traffic or sitting in a backup, you can just revisit a special moment or place in your mind when you look at your mug's photograph. That way, when you get home, things may be a little more relaxing and a little less stressful.
Related Products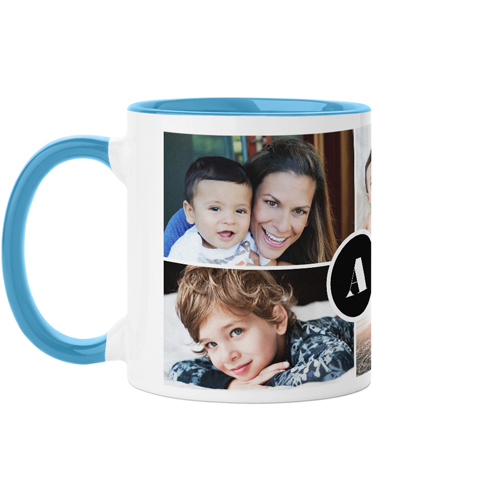 Circle Monogram Ceramic Mug by Shutterfly. Indulge the chocolate lover with a photo mug filled with premium Ghirardelli chocolates. Personalize a mug for yourself or someone special with your favorite photos in a stylish, exclusive design. Chocolates arrive wrapped in ...
Gallery Monogram Latte Mug by Shutterfly. Indulge in an extra-large cup of your favorite coffee or tea with a latte mug personalized with unique designs, favorite photos or a custom message. Great for cereal, soup, dessert and more. Perfect for ...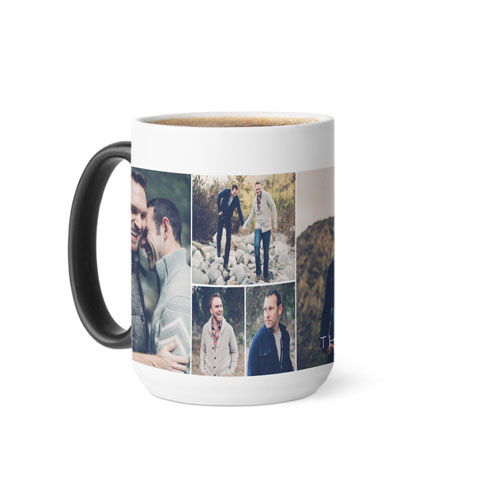 Gallery of Five Color Changing Mug by Shutterfly. Pour your hot beverage into this ceramic mug and watch your personalized image or message magically appear. This heat-sensitive mug changes color when hot and returns to matte black when cold.