What customers have to say about our Pillows
January 27, 2019
Very happy!
"Shutterfly never disappoints! I am always happy with the results!"
January 26, 2019
Beautiful
"It turned out exactly as I wanted it Thank you Shutterfly"
January 26, 2019
Excellent job
"Turned out beautiful I absolutely love it"
January 25, 2019
Turned out Great!
"This is a nice product, full pillow in the picture came out right and clear. I would order this again!"
January 24, 2019
This was the best purchase I could have chosen!
"This was a 100th birthday present for my grandmother. She will enjoy this present for a long time!"
4 Photo Pillows
Looking for a unique home décor item to add warmth to a room in your home? Need a thoughtful, personalized wedding gift or housewarming gift to give to your favorite couple? Our custom 4 photo pillows will make a lovely addition to any room in your home or the home of a loved one. Shutterfly's custom pillows come with a machine washable cover, making it convenient to clean. Available in an array of classic and elegant styles, you'll find it easy to find a pillow design you love. Custom pillows that lovingly showcase favorite memories will bring personalized style and coziness to any space.
Designing Your 4 Photo Pillow
Shutterfly's pillows feature a few different backing materials to choose from: 1) Poly weave, with an ivory or black backing, 2) A plush pillow design with an ultra-soft front and back, for ultimate comfort, and 3) A Sherpa pillow design featuring an extremely soft front and a cozy Sherpa backing. Once you've selected the material for your pillow, select your pillow size. Our pillows are available in 12x16, 16x16 and 18x18. Then choose from our wide array of customization options to make your pillow truly one-of-a-kind. Choose from our stunning color palette, upload 4 favorite photos and add special details such as names, a monogram, a date and a quote or custom message.
More Thoughtful Home Décor & Gift Ideas
After you've designed your custom pillow, browse the variety of other home decor items we carry, including personalized blankets, custom wall art and more. Our unique home decor items are stylish and will bring beauty and joy to your home for many years to come. Many of these items also make perfect wedding and hostess gifts - anyone who loves to host will be happy to showcase personalized home décor items and use custom home items when entertaining. For even more inspiration and ideas for custom wedding gifts, browse our gorgeous wedding gifts and keepsakes collection. Get additional home décor inspiration from Shutterfly's full assortment of charming additions that can be personalized to make any space special.
Related Products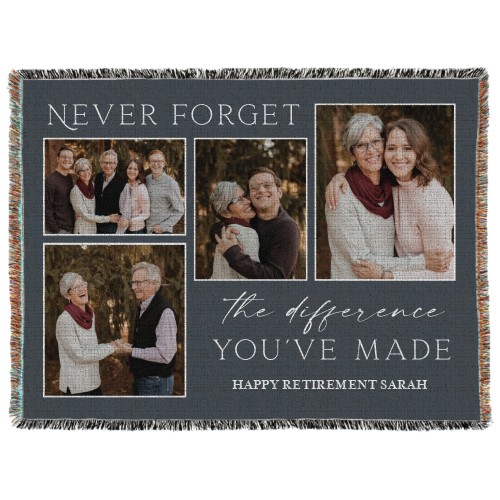 Contemporary Retirement Collage Woven Photo Blanket | Home Décor|. Turn a favorite photo into a soft, woven blanket-makes a great conversation piece and gift. Designed in soft cotton.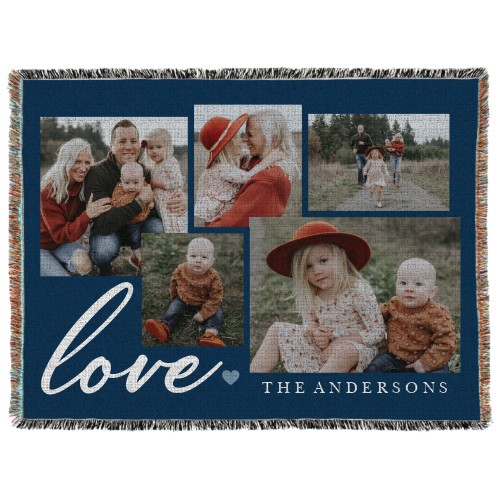 Script Love Collage Woven Photo Blanket | Home Décor|. Turn a favorite photo into a soft, woven blanket-makes a great conversation piece and gift. Designed in soft cotton.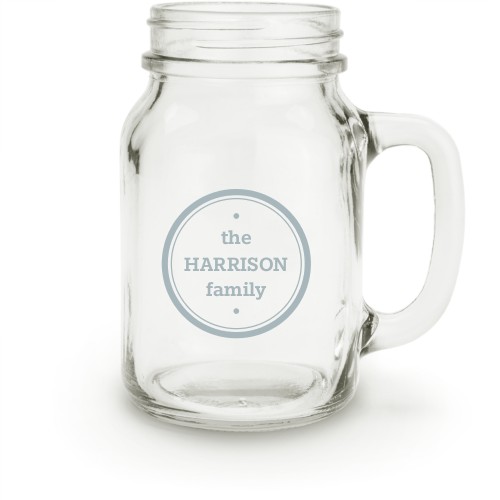 Circle Family Seal Mason Jar by Shutterfly. "Etched personalization", "Holds 16 oz.", "Perfect for hot or cold beverages","Sold individually","Dishwasher and microwave safe"