What customers have to say about our Puzzles
January 26, 2019
Excellent gift!
"I designed a 500 piece puzzle for my daughter's 14th birthday. I had her text me a bunch of photos of her and her friends, and I made a collage. Where the single "monogram" letter was on the template I instead reduced the size and font until it said "FRIENDS 2018-19." She really liked it. Also, I bought a big, inexpensive black frame she can use to hang the puzzle in her room once she's put it together!"
January 26, 2019
Shutterfly is Awesome!!
"i have been using shutterfly for years now for various photo projects and can't say enough about how much i appreciate the company, products, and services. unless something goes very haywire, i plan to remain a customer for life! -matt, portland OR"
January 26, 2019
Fun For Families
"My grandson is learning how to put together puzzles. He enjoys seeing a picture of himself."
January 26, 2019
Fun puzzle
"Family likes puzzles and this is one of my pictures"
January 26, 2019
My Photo Puzzle
"I enjoyed putting my puzzle together. I love it. Wasn't too happy cause I also ordered 2 8x10 Photos it said I could get 3 free gifts & was Charged for the 2 photos."
Custom 520-Piece Photo Puzzles
A personalized 520-piece photo puzzle from Shutterfly is the ultimate activity to recreate special moments, stunning photographs and unforgettable memories. Enjoy designing one for yourself or to give as a special heartfelt gift to a loved one. Personalized photo puzzles also make for a fun kid's game.
Celebrate Special Occasions with a Photo Puzzle
Let us help you celebrate all of life's exciting milestones, holidays, vacations, everyday moments and more. To make it easy to find the right style of puzzle for your needs, we sort our puzzles into convenient categories including number of photos, colors and special occasions. Find the right photo puzzle layout and style to match events like Valentine's Day, weddings, Mother's Day or Father's Day. You can also find categories that include children and pets for a personalized photo puzzle celebrating your everyday moments.
520-Piece Puzzle Photo Gift for Kids
When it comes to kids and games, a customized photo puzzle will keep them busy for hours. Looking for a memory game for your child to help with their development? Look no further as you can create photo puzzles that make for excellent animal memory games, moon and stars planets memory games, and more. Photo puzzles also make for a great gift for all ages.
Choose from our many chic and stylish layouts, add favorite photos, check out our designer backgrounds and colors, and add any desired personal text. Want some fun tips on how to personalize your puzzle? Check out Make Your Own Custom Puzzle from a Picture.
520-Piece Puzzle Photo Gift Features
Our personalized photo puzzles come with many customizable features. With so many options to choose from, designing your very own puzzle is easy and fun. Check out these special features:
A matching photo box for convenient storage and a professional finish
Multiple layouts that allow you to include as many as 10 of your favorite photos
Upload your own design feature to easily upload children's artwork or your own graphic designs
A wide assortment of text options that include multiple fonts, sizes and colors
Related Products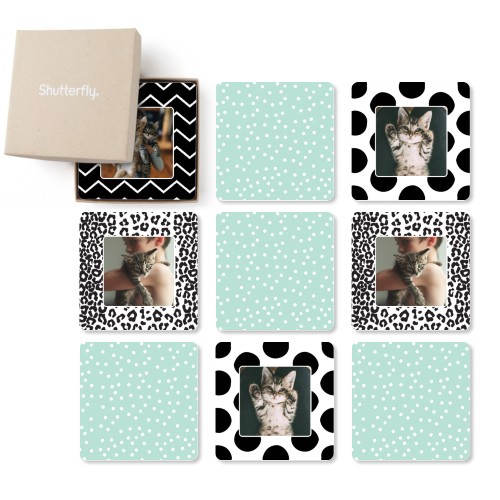 Simply Chic Patterns Memory Game by Shutterfly. "24 cards","3x3 square cards with rounded corners","Heavy paper stock","Matte or Glossy finish available","Arrives ready to gift in storage box"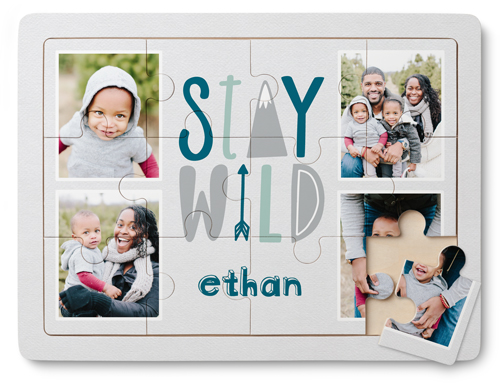 Adventure Stay Wild Toddler Puzzle by Shutterfly, Thick wooden pieces keep a toddler engaged with this fun 12-piece puzzle. Packaged in a wooden tray for easy assembly and convenient storage.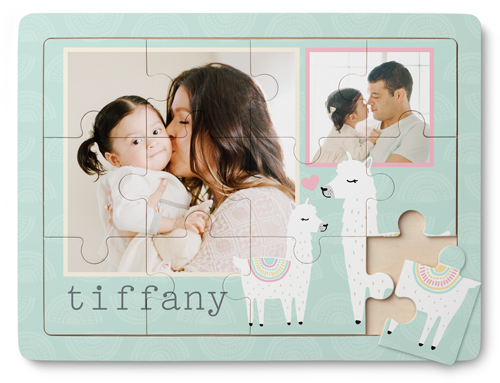 Desert Adventure Llama Toddler Puzzle by Shutterfly, Thick wooden pieces keep a toddler engaged with this fun 12-piece puzzle. Packaged in a wooden tray for easy assembly and convenient storage.