What customers have to say about our Fleece Photo Blankets
January 27, 2019
Beautiful blanket
"The blanket turned out amazing!! Very happy with the project!!"
January 26, 2019
Love this blanket
"Bought this blanket for my three sons. They love it so much we are going to make one for each of them with pictures of them and their brothers 🤗"
January 26, 2019
Can't wait to order again
"Had a blanket made from a photo and the quality of the print on the blanket was outstanding. Very easy to upload a photo and design a product. By far the best online service I've ever used for anything."
January 25, 2019
my family loves the blankets
"My daughters absolutely love the blanket. Definitely will order again in the future. thank you"
January 24, 2019
Just Beautiful
"It was for my mothers' birthday and she was moved to tears when she saw her whole family together on this beautiful blanket. Thank you Shutterfly."
Small Fleece Blankets
When the weather turns chilly, wrap yourself up in a warm, cozy blanket that also matches your personal sense of style! Small fleece blankets from Shutterfly are available in soft, micro-fiber fleece, plush fleece or even luxe Sherpa! Measuring 30 x 40, these blankets are perfect for throwing over your shoulders on chilly evenings, wrapping around your child or even decorating the back of your favorite chair! Make your fleece blanket even better when you personalize it with some of our fun optimization options.
Personalize Your Small Fleece Blanket
Our special fleece blankets can be customized so they complement your stylish home décor. Plus, our soft blankets are machine washable—so you can keep them fresh and fluffy all year long. Use your new blankets in your home, on your bed or even outdoors for concerts or picnics. Really make your fleece blanket your own when you add:
Photos: Add all your favorite memories to your soft and cozy blanket when you upload your digital photos to the Shutterfly website. With a large selection of style and layouts to choose from, your photo can fit edge-to-edge of the entire blanket, or you can make a chic and contemporary collage with up to nine different photos.
Name & Personalized Messages: Add your family's name, initials, the year or a favorite quote, song lyric or message to your small fleece blanket. We also offer several blanket styles with messages already included like: "let's sleep under the stars," "sail away with me" and "the world is yours to explore."
Graphics & Patterns: Add flair to any room when you choose a fleece blanket with chic graphics and patterns. Graphics include desert horses, colorful dinosaurs, race cars, watercolor mermaids, ocean friends, hearts and elegant florals. Patterns include modern geometric shapes, camouflage, chevron, leopard print and Buffalo plaid.
Disney-Themed: These blankets are made for the young and the young at heart! Disney-themed fleece blankets let you add your photos and text onto blankets featuring some of Disney's most popular characters. Choose a blanket that includes these characters: Mickey Mouse, Disney princesses like Belle, Ariel, Elsa, Cinderella, and Aurora, Buzz Lightyear and Sheriff Woody and Lightning McQueen.
Pet-Themed: Design a fleece blanket that celebrates your beloved pet! Upload all your adorable pet photos and add them onto the blanket's background featuring paws and dog bones. Finish your pet-themed blanket with a heartfelt message like: "paws and enjoy the good life," "live, love, bark" and "rescued is my favorite breed."
Take a moment, when you've finished creating your new fleece blanket to look at some other personalized home décor items we offer like: pillows, candles and ceramic tiles.
Related Products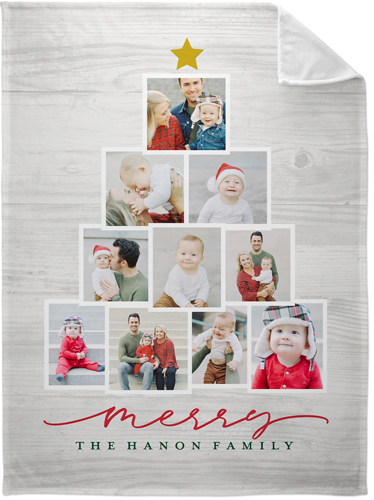 Christmas Tree Collage Fleece Photo Blanket by Shutterfly. Cozy up to a fleece blanket with your favorite photos. Choose your background and layout.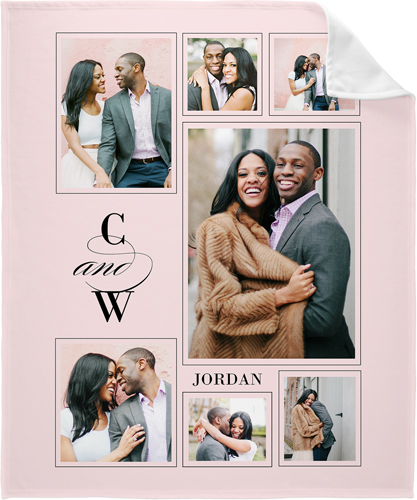 Couple Monogram Vertical Collage Fleece Photo Blanket by Shutterfly. Cozy up to a fleece blanket with your favorite photos. Choose your background and layout.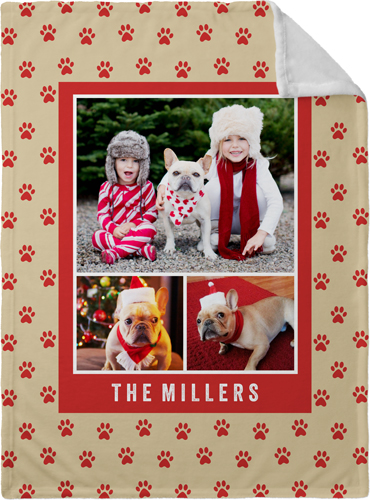 Holiday Paws Monogram Fleece Photo Blanket by Shutterfly. Cozy up to a fleece blanket with your favorite photos. Choose your background and layout.