Blue Coasters
What customers have to say about our Coasters
January 17, 2019
Excellent Printed Quality
"I've been purchasing these with my artwork on them for the past 8 months now and have had no issues. EXCELLENT print quality and my customers love them."
October 31, 2018
COASTERS... BUT...
"It is toooo pretty to be a coaster. I got these four small coasters but as soon as I saw the pictures with it, I don't want to use it anymore. LoL! It just too cute to use. Satisfied!"
August 28, 2018
Very Nice!
"Beautiful vivid colors on a nice substantial coaster. Excellent!"
August 16, 2018
Much better than Expected
"These turned out way better than expected. They are for gifts, and I do not expect them to be used as "coasters" so much as a memento, so I can't talk to the quality as a "coaster". I will say that the pictures came out way better than I thought- often when I get gifts with pictures, I find that the image I upload is of less quality than I should use- but in this case they came out great. And people complained about losing a bit on the edges- I wasn't sure how much would be lost, but I simply planned for more dead space along the outside. No big deal. Very pleased. I ordered twenty and may do it again for future events!!"
July 24, 2018
I would buy more of these
"Prevents water rings on furniture"
Put Blue Coasters Under Your Favorite Drinks
Who doesn't love a tall glass of lemonade on a hot afternoon or a piping hot cup of tea at the end of the day? And almost everyone around the world starts their morning with a big mug of coffee. Make your favorite drinks a ritual with a beloved latte mug and a set of blue coasters that you designed yourself. You can make them all your own when you add photos you select and personalize them with your name or a loving message or reminder.
Coasters Protect Your Furniture
Coasters are more than just a decorative touch, though. They help keep your furniture safe from those pesky rings that appear when you let your drinks rest on tabletop surfaces or counters. Wood, melamine, and other furnishing surfaces can be ruined forever if they end up marked from hot or cold cups. That's why you should always keep a set of coasters handy at home, anywhere you like to relax and enjoy beverages. When your custom coasters are nearby, you'll never forget to grab one and place it between your drink and your furniture.
Entertain with Class with Custom Coasters
Whether friends pop over casually or you decide to throw a party and send invitations to the whole crowd, having coasters for your guests is a special touch that lets them know you're always ready to entertain. It makes them feel welcome and shows them you care about hospitality. Anyone can put down napkins, but custom coasters help them feel comfortable accepting drinks from you, so they can sip or place their cup down to settle into a good story with you.
Coasters for Housewarming
When you get a moving announcement from a friend, personalizing a set of coasters for them is a thoughtful, easy gift they'll love. Blue coasters frame your cool-toned images beautifully, whether they're from fun times together or you've chosen pics of just them over the years you've known each other. If you're connected on social media, you can grab images they've shared over the years to make a set that is uniquely about them and their good times, too.
Related Products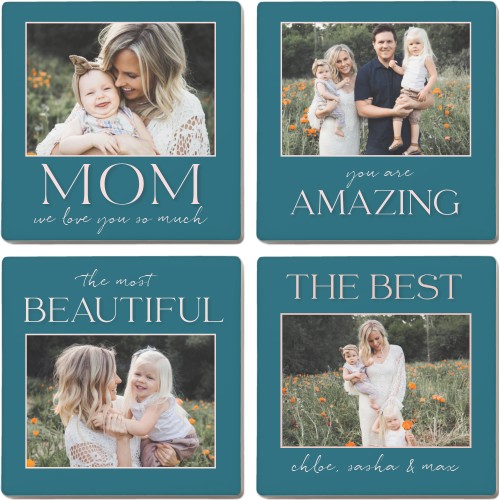 Classic Mom Sentiments Set Ceramic Coasters by Shutterfly. Protect tabletops from scratches and moisture with this set of four custom ceramic coasters. Use your favorite photos, initials or quotes to personalize all four with one design or make each one ...