Brown Pet Bowls
What customers have to say about our Pet Bowls
November 13, 2018
cat food bowl
"Loved the bowl. It was tiny enough that my cat went to eat in it right away. I realized the other bowls I had been feeding her with were too big. Thank you!!!!!!!! Janice"
"Bought two of these and they are so nice! The quality is exceptional and I love how they turned out. Another great product from Shutterfly!"
August 22, 2018
Shiny and Solid Standout
"I love the look and feel of this bowl. It is great quality ceramic. The finish is sleek and my graphics look beautiful. We are using it as a prize at an animal shelter event paired with a pet place mat. Everyone is impressed with how nice it looks."
March 28, 2018
I have been talking about this for weeks
"This bowl is awesome. I got the larger size and boy did I get big! I was surprised how big it came! Usually personalized items are too big. Anyways, I am very happy with the design, color and especially the quality!"
March 13, 2018
Great item
"It was perfect size for my pet."
Brown Pet Bowls for Proud Pet Owners
You love your companion animal, and he or she loves you back. There is pride to be had in maintaining such a loving relationship. Flaunt your affection for each other with a brown pet bowl. It will be stately in appearance because it'll be printed with Shutterfly's help. It will also feature pet-themed details and built with quality.
Designs That Win Major Points
Choose from a range of designs for your brown pet bowl in Shutterfly's design studio. From playful to natural templates, you're bound to find what you're looking for. Choose a bowl that matches the tone of the room your pet will be dining in, such as the laundry room or the kitchen floor. A pet bowl that's easy on your eyes is likely to be easy in everyone else's eyes, too.
Personalized Bowls for Big Personalities
Companion animals are like their people: they're all different! It's important to personalize your brown pet bowl to suit your pet and his or her needs. For example, make sure you choose a bowl size that suits your companion. Sometimes you've got a wee dog to feed, and sometimes you've got a Great Dane. Shutterfly's pet bowls come in varied sizes to suit your family's needs.
You'll need to customize your pet bowl with your furry friend's name, to make it clear who'll be eating out of it. Shutterfly wouldn't want anyone to get confused. This feature helps to keep things organized when you're feeding multiple companion animals. Personalized turquoise pet bowls and Disney pet tags come in perfectly handy and add a celebratory touch when you're inviting a new member into the family.
Coordinate Your Pet's Bowl With His or Her Placemat
Have you ever noticed that your pet bowl moves around on the floor when your companion eats out of it? This kind of movement can damage the interior of your home. This is an excellent opportunity to coordinate your pet bowl with one of Shutterfly's matching pet placemat templates. A placemat protects your floor and offers a stickier surface for your pet bowl to sit on, so your buddy can lap and snack without chasing the bowl halfway across the floor. Everybody wins.
Related Products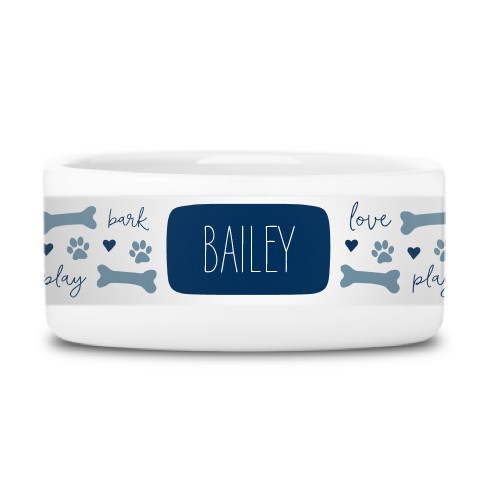 Rustic Love Play Paw Print Pet Bowl by Shutterfly.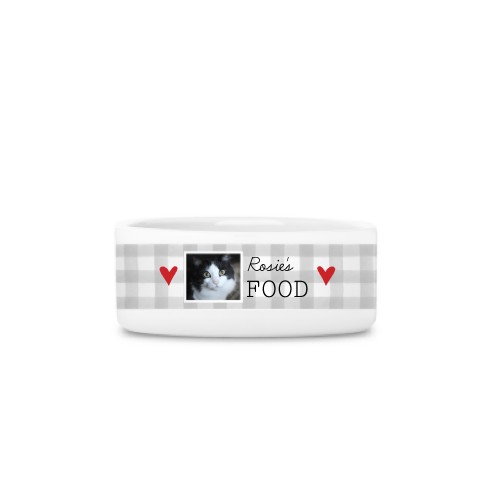 Simply Chic Gingham Pet Bowl by Shutterfly.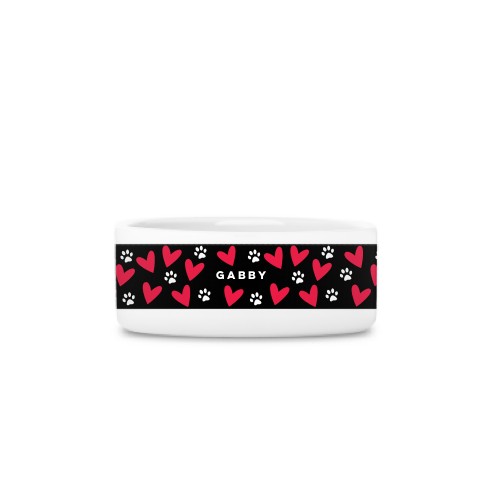 Simply Chic Heart Print Pet Bowl by Shutterfly.