Ceramic Photo Coasters
What customers have to say about our Coasters
January 17, 2019
Excellent Printed Quality
"I've been purchasing these with my artwork on them for the past 8 months now and have had no issues. EXCELLENT print quality and my customers love them."
October 31, 2018
COASTERS... BUT...
"It is toooo pretty to be a coaster. I got these four small coasters but as soon as I saw the pictures with it, I don't want to use it anymore. LoL! It just too cute to use. Satisfied!"
August 28, 2018
Very Nice!
"Beautiful vivid colors on a nice substantial coaster. Excellent!"
August 16, 2018
Much better than Expected
"These turned out way better than expected. They are for gifts, and I do not expect them to be used as "coasters" so much as a memento, so I can't talk to the quality as a "coaster". I will say that the pictures came out way better than I thought- often when I get gifts with pictures, I find that the image I upload is of less quality than I should use- but in this case they came out great. And people complained about losing a bit on the edges- I wasn't sure how much would be lost, but I simply planned for more dead space along the outside. No big deal. Very pleased. I ordered twenty and may do it again for future events!!"
July 24, 2018
I would buy more of these
"Prevents water rings on furniture"
Custom Ceramic Coasters
Upgrade your home decor with custom ceramic coasters designed with photos of all of your favorite memories. Instead of choosing to display all of your photos in picture frames, think outside the box with personalized coasters that add a special touch to any room. Whether you're hosting a party or simply having guests over for dinner, our custom photo coasters make great conversation starters and will wow friends and family members. Not only do they make great gifts for loved ones, but ceramic coasters designed with your photos are a fun and unique way to showcase what's important in your life. Made with no-slip cork backing, Shutterfly's ceramic coaster sets make the perfect personalized gifts for housewarming parties, weddings, baby showers, and more.
How to Make Custom Coaster Sets
It's simple to make custom ceramic coaster sets with Shutterfly. Available in sets of four, our photo coasters give people a place to set their drinks down, so why not personalize their individual coasters with memories that'll spark conversation? Whether you choose your favorite photos of your pet, shots from a beautiful vacation, or adorable pictures of the kids, your custom ceramic coasters are sure to get attention and will look fantastic on your coffee table. To create your personalized coasters, choose from several colors, add your photos, and customize fonts and more. Feel free to use the hundreds of photos in our featured Art Library if you don't want to use your own. Express your creativity with photo coasters that'll protect your tabletops from water stains, all while displaying life's captured moments for all to see. Not only are our ceramic beverage coasters great for cocktails and hot drinks, but they're also perfect for creating a theme, such as highlighting vacations, favorite seasons, school photos, and more. There's no limit to what you can showcase in this fun and simple way with our photo coaster templates.
Give Photo Coasters as Personalized Gifts
Custom square coasters are great gifts for loved ones that are memorable, fun, and unique. Give a set of four (or multiple sets) as a wedding gift and include a bottle of wine or champagne for extra measure. Celebrate with wedding photos as your unique design or choose inspirational and motivational quotes from our Art Library. Custom drink coasters aren't just a great gift for wedding ceremonies, but for birthdays, graduations, holidays, and more. Photo coasters can be transformed into a high-quality work of art designed as a special memento or unique party or wedding favor. To celebrate Mom or Dad, ceramic coasters make the best Father's Day gifts and Mother's Day gifts. Add borders, sayings, dates, names, and more for a ceramic coaster that oozes personality and style.
Upgrade Your Home Decor With Ceramic Coasters and More Drinkware
Put your personalized photo coasters to good use by pairing them with custom drinkware. Choose a favorite pilsner glass, beer stein, or both. Relax and enjoy your preferred beverage knowing our photo coasters will protect your tabletops. With a custom frosted beer stein, you can upload photos or design your own mug for a perfectly casual and classic gift. For something a bit more elegant, our pilsner glasses can be etched with dates, monograms, and names. Create a cohesive theme by coordinating your custom coasters with your pilsner glasses, and beer steins. Your custom drinkware and ceramic coaster sets will be home decor items you'll hang onto as special keepsakes and treasure for years to come.
Related Products
Laurel Wreath Monogram Ceramic Bowl by Shutterfly. Indulge in your favorite soup with a ceramic bowl personalized with unique designs, favorite photos or a custom message. Great for cereal, soup, dessert and more. Perfect for gifting too.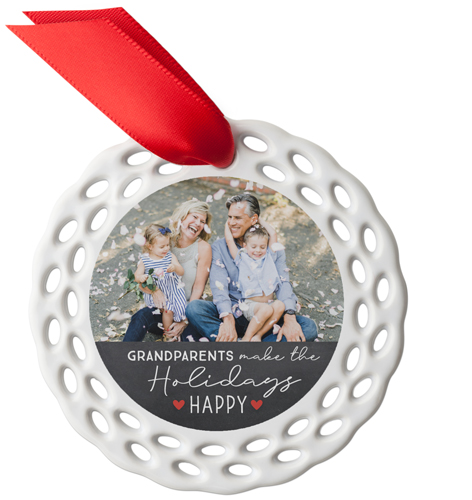 Happy Heart Holiday Ceramic Ornament by Shutterfly. Create a true heirloom with this elegant ceramic ornament. Available in round and square styles, each ornament can be printed with a favorite photo or memory. Both sides can be personalized, and the ...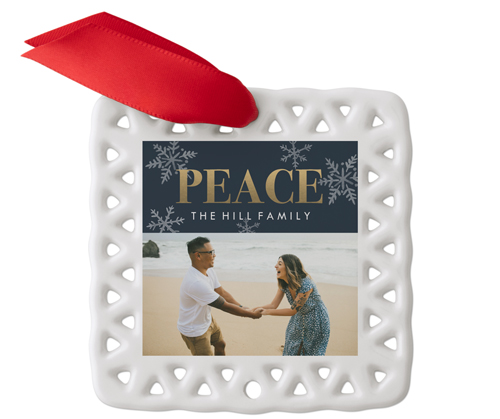 Peace Snowflakes Ceramic Ornament by Shutterfly. Create a true heirloom with this elegant ceramic ornament. Available in round and square styles, each ornament can be printed with a favorite photo or memory. Both sides can be personalized, and the outer ...