Cube Ornaments
What customers have to say about our All Ornaments
January 27, 2019
Going to be a great gift!
"It's great. My niece and family are going to love this. Going to give it to them for Christmas 2019."
January 27, 2019
Love Making Personalized Items
"I love making personalized items for my family and friends. And they love getting them."
January 27, 2019
I buy these every year.
"Each Christmas, I use a holiday picture and make one of these ornaments. Each one I have gotten over the past 5 years has been great quality. I look forward to ordering and receiving mine each year."
January 26, 2019
Ornamental Memories
"Shutterfly strives to make beautiful memories into tangible items that we will not forget!"
January 26, 2019
Looks great
"Gift to daughter and her family"
Show Off Your Style With a Cube Ornament
If you want holiday ornaments that are unique, fun, and a little offbeat, then you're in the right place. A cube ornament is a perfect way to personalize your decorations while adding some modern flair to old traditions.
Giving Gifts
These modern ornaments make excellent gifts for your friends and loved ones. You can upload your own pictures to create a montage of the grandkids, a collection of your favorite memories with your best friend, or a commemoration of all the time you've spent with your significant other. When given as a gift, these ornaments are a great way to show your love and create a unique present.
Fun Keepsakes
Alternatively, you can make one of these ornaments for yourself, creating a collection of all your favorite memories or showcasing the people you love most. Even better, you can order multiple ornaments, creating a matching set, so you can keep one for yourself and give the others to friends or relatives.
Staying Square
So what makes a cube ornament different from other types? First of all, a cube ornament has a standard rectangle shape, which means you can use a wide variety of Christmas photos without having to worry about what will be cropped off. You don't have to play it safe by using only headshots and up-close photos.
Extra Space
A cube ornament has six sides that you can decorate instead of only two. Not only does this offer you more faces to work with, but they're large enough that you can add multiple pictures to a side. Whether you want to show off two images or twenty-two, you can design a cube to suit your needs. If you're using fewer photos, then we also have a variety of fun patterns and textures that can fill out the design as well as the option to add text.
Décor Ideas
These cubes stand out when they're placed on a tree, contrasting with traditional round ornaments and creating an exciting, edgy dynamic. Even better, these ornaments can be used in a wide variety of ways—you aren't limited to hanging them on your tree. Use them in centerpieces or on desktops both during the holiday season and all year round.
How to Start
If you want to order one of these durable wooden cube ornaments, then browse our selection today to find a design that matches your style—or create your own pattern from scratch. Whether you want to create a personal gift or design the perfect addition to your tree, a cube ornament can help you show off your style.
Related Products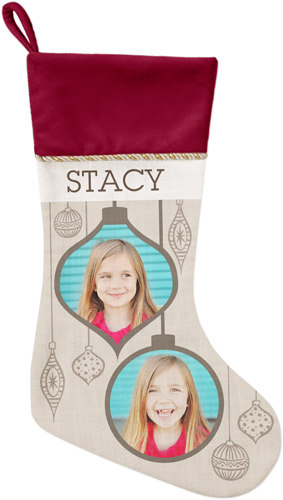 Stylish Ornaments Personalized Christmas Stockings by Shutterfly. Decorate your wall, or fireplace and mantel, with a lovely stocking that you created. Start now!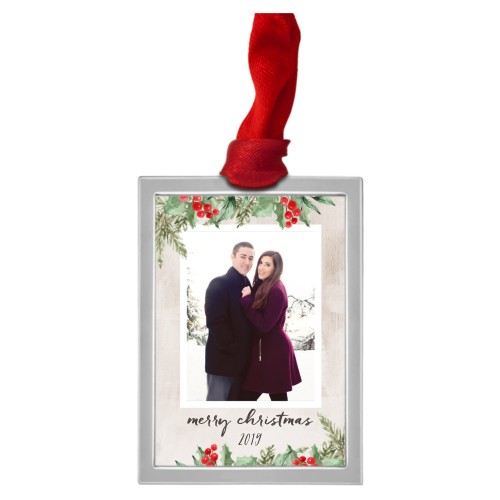 Botanical Foliage Frame Pewter Ornament by Shutterfly. Make a personalized ornament for yourself or someone special with your favorite photos on an exclusive design.
Christmas Heart Wooden Ornament by Shutterfly. Add a rustic vibe to your Christmas tree or holiday hearth with our elegant wooden ornament. Available in square and circle shapes with front photo space on both.