What customers have to say about our Magnets
January 27, 2019
Mini Magnet
"One of the better items. The magnets always come out great!"
January 27, 2019
Great way to remember
"I have bought these and other magnets each time a grandchild was born. Great way to commemorate a special occasion in your family. Formatting the magnet is easy and fun. Good quality gift for family & friends at a good price. Customer service was very helpful when I needed to order more than the ordering template allowed."
"It can be put almost anywhere."
January 27, 2019
Perfect for Instagram photos!
"I got a bunch of my favorite photos printed on these to use at my office. They magnetize to my metal desk frame. They look more organized and stay nicer than a paper photo and I dont need frames. So cute!!"
January 27, 2019
Love these magnets!
"I'm very happy with the quality of these magnets. I bought them to get my young grandchildren for Valentine's Day. They have photos of various family members so the kids can remember everyone better while they stick the magnets on the refrigerator or just hold them and look at them."
Decorate Your Fridge with Personalized Disney Magnets
Showcase your little one along with their favorite character by ordering custom Disney magnets from Shutterfly. From pretty princesses to Disney classics, there are designs that every child in your family will love.
Magnets are a fun and functional way to display favorite family photos. The entire back is one large magnet that sticks to your refrigerator, dishwasher, filing cabinet, and other metal surfaces. The rounded corners help enhance the durability and provide a contemporary finishing touch.
Customizing Disney Magnets
Shutterfly's step-by-step design process turns everyone into a graphic designer. The design you chose determines the prompts you'll receive. Follow each one to upload your favorite images, crop them to size, and arrange them within the spaces allotted in the design. Finish off the magnet with a name, monogram, or initial. The process takes a matter of minutes and produces incredible results.
Disney Magnets Make Fun Gifts
Are you looking for a fun way to share your favorite photos of your child with a loved one? Custom magnets make a great way to spread a little love in the mail. It will go from the envelope to the refrigerator in a few minutes and decorate the refrigerator of an Aunt, grandmother, or close friend.
Coordinate Magnets with Other Disney Favorite
Bring the magic of Disney into other areas of your home with custom Disney plates, placemats and bedroom decor offered by Shutterfly. The same guided process helps you create melamine plates, cups, mugs, sheets, duvet covers, and pillow cases featuring their favorite Disney characters. Check out the rest of the Disney collection to find fun and whimsical products that your little one is sure to love.
Disney Gifts for Every Occasion
Are you looking for a way to make your little one feel extra special around their birthday or the holidays? Create fun Disney items featuring their smiling faces. A custom notebook makes a thoughtful back-to-school gift while frames, blankets, and wall decals make a great birthday present. Present these gifts in true Disney fashion by wrapping them in Disney gift wrap custom designed by you.
Related Products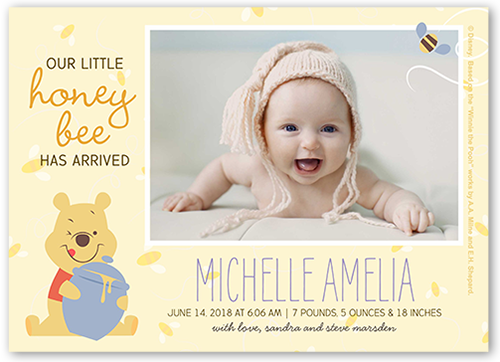 Disney Winnie the Pooh Honey Bee 5x7 Stationery Card by Yours Truly. Announce your newest arrival with this stylish birth announcement. Add your baby's name, a favorite photo and the news everyone's been waiting for.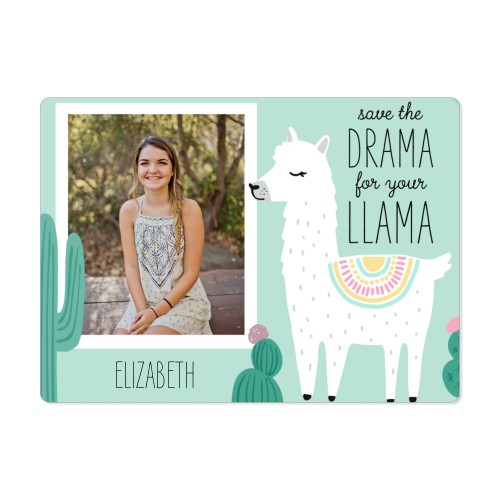 Desert Adventure Drama Llama Magnet by Shutterfly. Add joy to your refrigerator, dishwasher, file cabinets and more with our personalized photo magnets.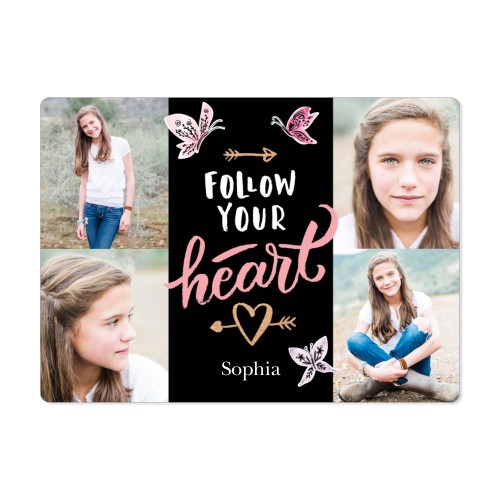 Princess Follow Your Heart Magnet by Shutterfly. Add joy to your refrigerator, dishwasher, file cabinets and more with our personalized photo magnets.