What customers have to say about our Ornaments
January 27, 2019
Going to be a great gift!
"It's great. My niece and family are going to love this. Going to give it to them for Christmas 2019."
January 27, 2019
Love Making Personalized Items
"I love making personalized items for my family and friends. And they love getting them."
January 27, 2019
I buy these every year.
"Each Christmas, I use a holiday picture and make one of these ornaments. Each one I have gotten over the past 5 years has been great quality. I look forward to ordering and receiving mine each year."
January 26, 2019
Ornamental Memories
"Shutterfly strives to make beautiful memories into tangible items that we will not forget!"
January 26, 2019
Looks great
"Gift to daughter and her family"
Glitter Christmas Ornaments
Add a bit of magic to your holidays with Shutterfly's personalized, glitter-filled Christmas ornaments—the perfect addition to everyone's Christmas tree. It's time to let your creativity run free by putting your favorite pictures or your family name inside a stunning clear glass dome, surrounded by sparkly gold glitter. Celebrate the season with a one-of-a-kind ornament that captures your fondest memories.
Simple Ways to Customize Your Glitter Christmas Ornament
Glitter makes the season of light shine. Custom glitter ornaments will shine on the Christmas trees of your family and friends for years to come! When designing an ornament that express your personal style and shows off your favorite photos, consider these themes and ideas:
Special Messages: Choose a glitter-filled Christmas ornament that has a special Christmas message. Shutterfly's glitter ornaments offer messages like, "Love you to the moon and back," "Merry Christmas" and "Love, Joy, Peace." Some options allow for personalized pictures, your family name and the year.
Baby's First Christmas: Celebrating your little one's first Christmas? Commemorate this special milestone with your child's picture, their name and the year so you will never forget how they little they were that first Christmas!
Multiple Photo Options: Have more than one picture that you want to use on your glitter Christmas ornament? Some ornament designs have space for up to four different pictures. Create a miniature collage and make a special ornament for each of your family members.
In Memoriam: Honor the memory of a loved one with a Christmas ornament customized with a treasured picture. Customize a meaningful message to create a heartfelt keepsake for your tree.
Upload Your Own Design: If you already have a design for a Christmas ornament then consider using Shutterfly to bring it to life! Simply upload your design. Shutterfly will add your design to our exquisite glass domes and fill with gold-colored glitter for a truly unique Christmas ornament that's all your own.
More Ways to Spread Holiday Cheer
Our beautiful glass ornament domes are 4.25" in diameter and come with a gold metal topper and a stylish, festive red ribbon for hanging on your tree.
When you're done creating your new glitter Christmas ornament, consider our Santa Christmas cards or holiday gate-fold cards for all your celebrations this holiday season.
Related Products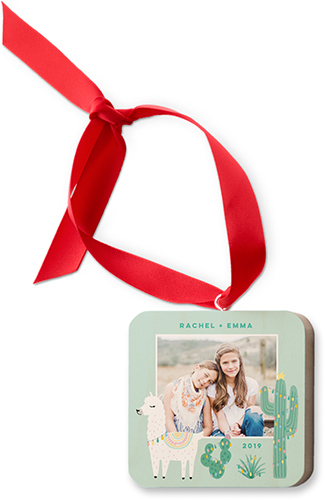 Desert Adventure Falala Llama Wooden Ornament by Shutterfly. Add a rustic vibe to your Christmas tree or holiday hearth with our elegant wooden ornament. Available in square and circle shapes with front photo space on both.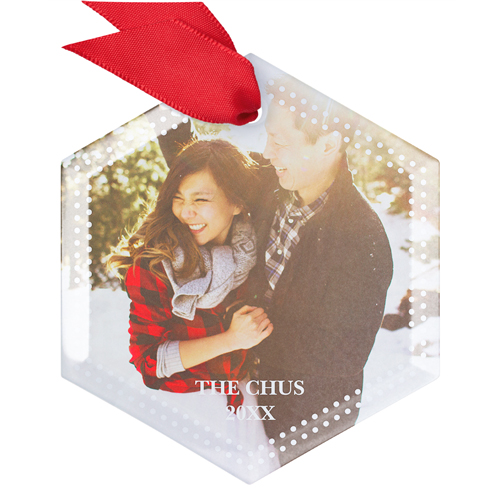 Double Dot Border Glass Ornament by Shutterfly. Clearly, a new way to decorate the tree. These glass ornaments beautifully reflect twinkling lights on the tree. Makes a great stocking stuffer.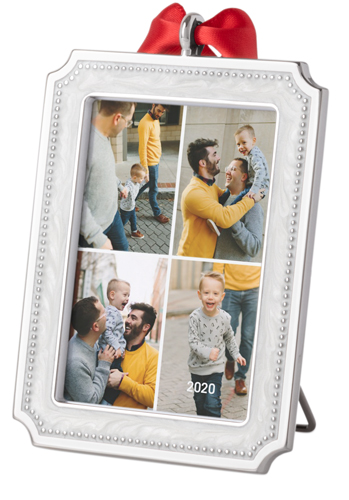 Gallery of Four Picture Frame Ornament by Shutterfly. Add a favorite photo to your Christmas tree with an elegant ornament you'll enjoy year after year. The metal frame holds one photo print, and features a ribbon for hanging and an easel stand ...