What customers have to say about our Magnets
January 27, 2019
Mini Magnet
"One of the better items. The magnets always come out great!"
January 27, 2019
Great way to remember
"I have bought these and other magnets each time a grandchild was born. Great way to commemorate a special occasion in your family. Formatting the magnet is easy and fun. Good quality gift for family & friends at a good price. Customer service was very helpful when I needed to order more than the ordering template allowed."
"It can be put almost anywhere."
January 27, 2019
Perfect for Instagram photos!
"I got a bunch of my favorite photos printed on these to use at my office. They magnetize to my metal desk frame. They look more organized and stay nicer than a paper photo and I dont need frames. So cute!!"
January 27, 2019
Love these magnets!
"I'm very happy with the quality of these magnets. I bought them to get my young grandchildren for Valentine's Day. They have photos of various family members so the kids can remember everyone better while they stick the magnets on the refrigerator or just hold them and look at them."
Share Photos with Custom Grey Magnets
Share your favorite family photos with friends and family by sending them custom grey magnets to hang on their refrigerator. These magnets allow you to showcase a single photo or create a custom photo collage and present it to others in a useful way. Check out the entire collection of designs, to find the one you'll use as the framework for your creation.
Custom Grey Magnets Designed for You
Shutterfly's step-by-step personalization process makes it easy to design eye-catching grey magnets. Follow a series of prompts determined by your design guide you through uploading photos, arranging them, and completing the look with custom names, monograms, initials, and information. The entire process takes but a matter of minutes and produces incredible results. These magnets stick to any metal surface and feature rounded corners for added durability and elegance.
Custom Grey Magnets for Every Occasion
Every holiday or birthday is a grand occasion to send out personalized photo magnets. Choose a holiday design, and they become a custom holiday card that goes from the envelope right to the refrigerator door of the recipient's home. Design your own and send them out to friends and family for:
• Christmas
• The Birth of A New Child
• Party Invitations
• Hannukah
• Engagement Announcements
• Pregnancy Announcements
Mail out your custom grey magnets in a stylish manner by shopping the coordinating stationery items available through Shutterfly. Place your magnet inside an envelope and seal the back with a stylish custom sticker. A personalized stamp and return address label on the front complete the look. The same fun, guided personalization process is used for each of these luxurious stationery items.
Inspiration for Every Celebration
Are you looking for party planning and decorating inspiration for the holidays and throughout the year? Check out the Shutterfly ideas page and discover articles on baby shower themes, Christmas party decor, graduation gift ideas, and more. With so much information available within a few simple clips, you'll seem like the most creative hostess in the neighborhood.
Related Products
Glowing Arrival 5x7 Stationery Card by Poppy Studio. Announce your newest arrival with this stylish birth announcement. Add your baby's name, a favorite photo and the news everyone's been waiting for.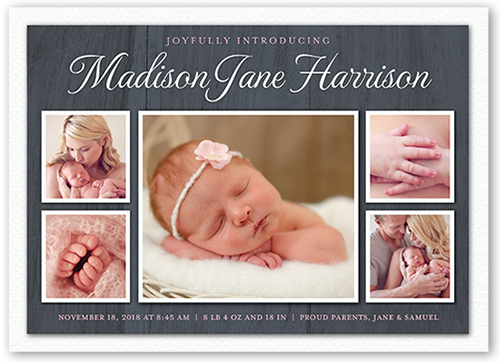 Wooden Newborn Girl 5x7 Birth Announcement Cards. Announce your newest arrival with this stylish birth announcement. Add your baby name, a photo with the news everyone waiting for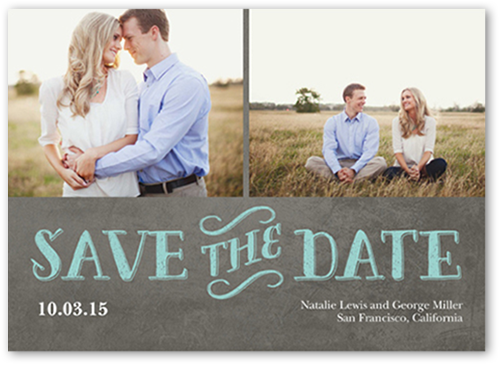 Framed Feelings Save The Dates. Make sure they mark their calendars with stylish Save the Date card. Modern fonts create a clean, crisp design with lovely pictures