Grey Coasters
What customers have to say about our Coasters
January 17, 2019
Excellent Printed Quality
"I've been purchasing these with my artwork on them for the past 8 months now and have had no issues. EXCELLENT print quality and my customers love them."
October 31, 2018
COASTERS... BUT...
"It is toooo pretty to be a coaster. I got these four small coasters but as soon as I saw the pictures with it, I don't want to use it anymore. LoL! It just too cute to use. Satisfied!"
August 28, 2018
Very Nice!
"Beautiful vivid colors on a nice substantial coaster. Excellent!"
August 16, 2018
Much better than Expected
"These turned out way better than expected. They are for gifts, and I do not expect them to be used as "coasters" so much as a memento, so I can't talk to the quality as a "coaster". I will say that the pictures came out way better than I thought- often when I get gifts with pictures, I find that the image I upload is of less quality than I should use- but in this case they came out great. And people complained about losing a bit on the edges- I wasn't sure how much would be lost, but I simply planned for more dead space along the outside. No big deal. Very pleased. I ordered twenty and may do it again for future events!!"
July 24, 2018
I would buy more of these
"Prevents water rings on furniture"
Protect Your Tables with Custom Grey Coasters
Incorporate your favorite family photos into your decor in a fun and stylish way by ordering custom grey coasters customized just for you. These coasters come in a set of four, with each one featuring different photos and text of your choosing. The ability to choose your custom color palette makes it easy to coordinate these coasters with the decor of your home.
Shutterfly designed these coasters with durability in mind. It all starts with a cork backing that protects the finish of your table from moisture. The non-slip backing makes these coasters suitable for both hot drinks and cold drinks. The personalization process makes them your own.
Creating a set of personalized coasters is easy when you rely on the guided Shutterfly design process. A series of steps allows you to select colors, add photos into the framework of the design, and complete the look with names, dates, and custom text. Place your coasters on a coffee table, in your dining room, on a desk, or on a nightstand. At these prices, you can make a set to match every room in your home.
Turning Grey Coasters into Chic Gifts
A set of custom designed coasters is a great addition to a gift basket for any friend or family member. Create a luxe gift basket by pairing a set of coasters with coordinating personalized items. Monogram wine glasses, mason jar mugs, cups, and decanters are all great choices. Take the items you created, add a favorite beverage, and arrange all these elements in a gift basket. Custom coasters and tabletop items make a fun and thoughtful present to make for:
• Newlyweds
• New Parents
• Teachers
• Housewarming Gifts
• Mother's Day
• Father's Day
Decorating with Custom Coasters
With coasters this fun and stylish, you'll want to create a set for every season. Create separate sets for Valentine's Day, Easter, Halloween, Hannukah, and Christmas. As you switch out your decor, change the set of coasters that on your accent tables. Not only will guests marvel at your attention to detail, but they'll also enjoy seeing your favorite family photos displayed in such a whimsical way.
Related Products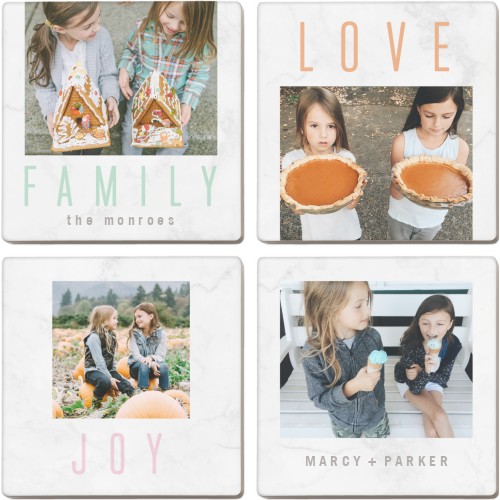 Marble Color Set Ceramic Coasters by Shutterfly. Protect tabletops from scratches and moisture with this set of four custom ceramic coasters. Use your favorite photos, initials or quotes to personalize all four with one design or make each one different. ...