Light Blue Mugs
What customers have to say about our Mugs
January 27, 2019
Wonder Gift
"I purchased 2 mugs with pictures of my granddaughter and her best friends. They opened at Christmas. They were both so surprised and happy. FUN GIFT!"
January 27, 2019
Love it!!
"Love my coffe mug"
January 26, 2019
Perfect thank you gift
"We made a large coffee featuring a photo of us wearing a hand knitted gift and sent it to the friend who knitted our nose warmers. Delivered to US in less than a week. Double the Facebook posts and fun."
"Love these mugs!"
January 26, 2019
Once again, I am satisfied with the quality
"The image was perfect on the mug. Job very well done"
Brighten Up Your Mornings With Light Blue Mugs
A personalized mug is the perfect addition to your kitchen, whether you want to start the day with a cup of coffee or enjoy some hot chocolate before bed. Our collection of light blue mugs does more than let you sip your favorite beverage in style, though – they can also help add to the décor of almost any space.
Office Staples
A good mug is essential for any home office. You can not only use it to hold your drink, giving you the fuel to get through one more email, but also to hold pens, pencils, scissors, and other office supplies. When you're decorating a home office, a little bit of color goes a long way, and a light blue mug can complement a wide range of possible color palettes.
Kitchen Accents
One of the hottest trends in kitchen décor is open shelving, which turns your dishes, utensils, and cooking supplies into part of the room's overall design. If you're going with exposed shelves, though, you'll definitely want to have attractive dishes on display. A light blue mug provides a great pop of color that can make any kitchen more exciting.
Seasonal Décor
Do you adjust your home's decorations every few months? Ceramic mugs are great for the winter. You can use them to dress up a mantle or hold twigs and pinecones; you can also make a dinner party cozier or even create a hot chocolate bar. Blue and white mugs like these are a perfect addition to any winter color scheme.
Unique and Personal
Our selection includes a variety of cute, whimsical, elegant, and classic designs, each of which can be personalized with your own text or photos. They make great gifts or even personal keepsakes, and you can even order them with sweet chocolates or hot cocoa mix. At Shutterfly, we want to help you create the perfect addition to your ceramicware collection – check out some of our favorite light blue mugs!
Related Products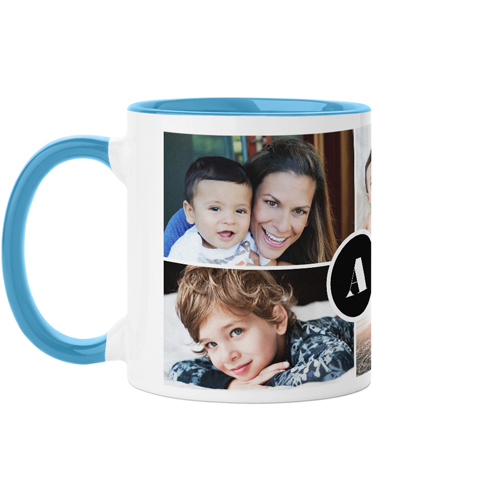 Circle Monogram Ceramic Mug by Shutterfly. Indulge the chocolate lover with a photo mug filled with premium Ghirardelli chocolates. Personalize a mug for yourself or someone special with your favorite photos in a stylish, exclusive design. Chocolates arrive wrapped in ...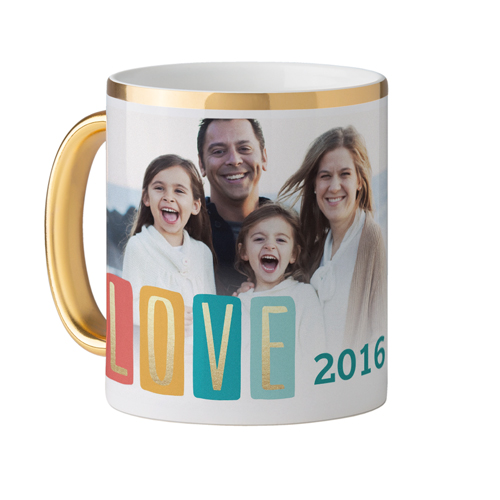 Colorful Love Mug by Shutterfly. Make a unique mug for yourself or someone special with your favorite photos in a stylish, exclusive design. Specifically crafted to contain hot beverages, its personalized style really warms up the morning.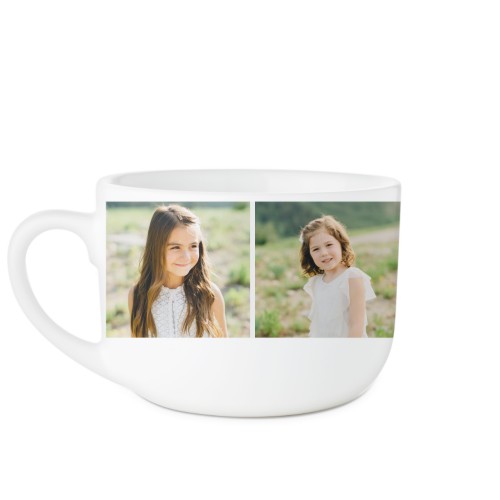 Gallery of Six Latte Mug by Shutterfly. Indulge in an extra-large cup of your favorite coffee or tea with a latte mug personalized with unique designs, favorite photos or a custom message. Great for cereal, soup, dessert and more. Perfect ...