Modern Ornaments
What customers have to say about our All Ornaments
January 27, 2019
Going to be a great gift!
"It's great. My niece and family are going to love this. Going to give it to them for Christmas 2019."
January 27, 2019
Love Making Personalized Items
"I love making personalized items for my family and friends. And they love getting them."
January 27, 2019
I buy these every year.
"Each Christmas, I use a holiday picture and make one of these ornaments. Each one I have gotten over the past 5 years has been great quality. I look forward to ordering and receiving mine each year."
January 26, 2019
Ornamental Memories
"Shutterfly strives to make beautiful memories into tangible items that we will not forget!"
January 26, 2019
Looks great
"Gift to daughter and her family"
Collect Photos for an Elegant Display
Modern ornaments are chic and stylish. You can always count on these great designs to be on trend without ever being dated. The great selection available from Shutterfly makes these the perfect gift for yourself, a loved one, or for friends and relatives living far away. Select your favorite family portrait to make this year's heirloom ornament extra special to the lucky recipient. Giving an ornament gift this holiday is the perfect way to capture the warmth of the season in a truly personal way.
We offer many delightful monogram ornaments that can be easily customized with photos, family portraits, and even messages. Our great designs make it simple to express yourself and your wishes for a wonderful holiday season.
Pristine Modern Designs That Everyone Will Love
The holiday season is the one time of year when families get to revisit their very favorite traditions. This wonderful practice means that every celebration is highly personal. It can feel challenging to select a gift or ornament that will perfectly speak to the tastes of everyone on your list. Modern ornaments are the perfect solution. They are elegantly designed to suit any holiday decorating theme while still standing out as something personal and unique.
Family portraits and other holiday photos are always the perfect complement to any festive celebration. Share an image of your family, a new baby, or children as they grow one year older. Pets also make a great subject for holiday photography; an ornament with pet photographs is a whimsical gift that any animal lover will certainly appreciate.
Adding the Personal Touches That Make the Difference
Adding your family's name and photo to an ornament will make this item stand out from the crowd. This extra-special personal touch brings warmth to the recipient and helps the gift express your true feelings. Consider giving lovely modern or metal ornaments with a customized message to all kinds of people on your holiday shopping list, including:
Coworkers
Employees
Clients and customers
Neighbors
A child's teacher
These metal ornaments make great company gifts and can be customized to include a team portrait. This makes a nice seasonal way of thanking the people you work with for all their extra effort during this busy time of year.
Personalizing a modern ornament is simple with Shutterfly's online design studio. Browse our selection of wonderfully designed options and find one that speaks to your tastes. We offer winter-themed options such as snowflakes and pine trees as well as shapes perfect for every season. Each is strung with a sturdy grey ribbon to allow gift recipients to immediately display their new modern ornaments.
Related Products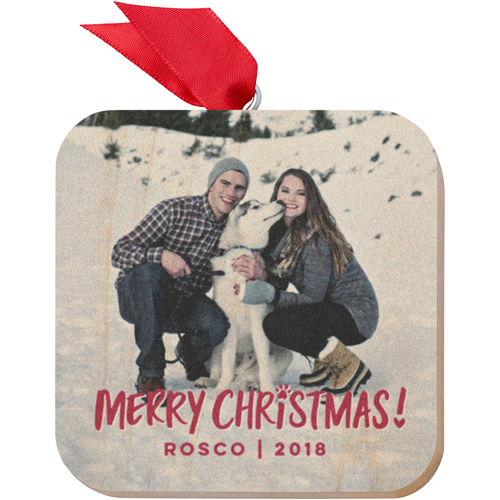 Bold Chirstmas Pet Wooden Ornament by Shutterfly. Add a rustic vibe to your Christmas tree or holiday hearth with our elegant wooden ornament. Available in square and circle shapes with front photo space on both.
Bold Merry Wooden Ornament by Shutterfly. Add a rustic vibe to your Christmas tree or holiday hearth with our elegant wooden ornament. Available in square and circle shapes with front photo space on both.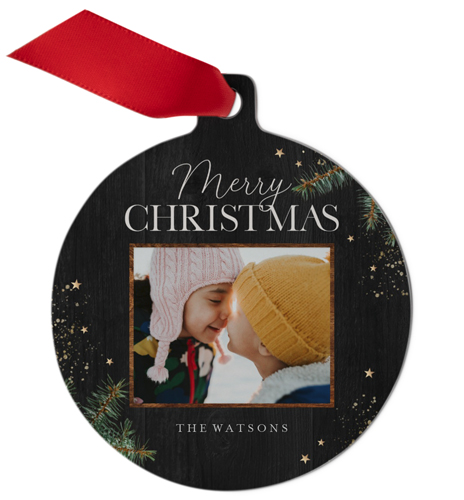 Dark Rustic Foliage Metal Ornament by Shutterfly. Add extra holiday cheer to your tree with a sleek, deco-style metal ornament. With four shapes and a number of designs to choose from, you can create an ornament that's truly one-of-a-kind. Hang ...