What customers have to say about our Puzzles
January 26, 2019
Excellent gift!
"I designed a 500 piece puzzle for my daughter's 14th birthday. I had her text me a bunch of photos of her and her friends, and I made a collage. Where the single "monogram" letter was on the template I instead reduced the size and font until it said "FRIENDS 2018-19." She really liked it. Also, I bought a big, inexpensive black frame she can use to hang the puzzle in her room once she's put it together!"
January 26, 2019
Shutterfly is Awesome!!
"i have been using shutterfly for years now for various photo projects and can't say enough about how much i appreciate the company, products, and services. unless something goes very haywire, i plan to remain a customer for life! -matt, portland OR"
January 26, 2019
Fun For Families
"My grandson is learning how to put together puzzles. He enjoys seeing a picture of himself."
January 26, 2019
Fun puzzle
"Family likes puzzles and this is one of my pictures"
January 26, 2019
My Photo Puzzle
"I enjoyed putting my puzzle together. I love it. Wasn't too happy cause I also ordered 2 8x10 Photos it said I could get 3 free gifts & was Charged for the 2 photos."
Mother's Day Puzzles
When you're looking for the best Mother's Day gift for your mom, look no further than a custom jigsaw puzzle designed with her favorite photos. Unique, fun, and entertaining, you can choose your favorite memory and make it larger than life by creating a personalized photo puzzle that keeps giving year-round. Customize a jigsaw puzzle with pictures of all of your mom's favorite memories to make her smile on her special day. Take the time to figure out how you want the custom photo puzzle to look in its final form and unleash your creativity with the design and layout of your pictures. Shutterfly's Mother's Day jigsaw puzzles allow you to customize everything from size, color, material, and more. For more mom gift ideas, check out our Mother's Day Gift Guide.
Personalized Puzzles Make the Best Mother's Day Gifts
Perfect as a Mother's Day gift, a photo puzzle is a fun activity the whole family can do together. High-quality jigsaw puzzles are both interactive and collaborative. While you celebrate Mother's Day, you can have a blast together because you've created a personalized gift that's memorable, enjoyable, and irreplaceable. Choose from templates with 500 puzzle pieces, 1000-piece puzzles, and more to make sure they're as difficult or and as fun as you want. When you make a Mother's Day puzzle from a photo, you can watch her favorite memories come together piece by piece. Seeing your custom photo puzzle put together with your favorite images will bring a smile to your mom's face as she put the pieces together.
How to Design a Personalized Jigsaw Puzzle for Mother's Day
Say Happy Mother's Day to your mom with a custom puzzle made just for her. Make your own photo puzzle with one or multiple photos; choose colors and a theme that goes along with it. To make a puzzle from a photo, browse through our vast collection of picture puzzle templates and choose your favorite. You can make a Mother's Day jigsaw puzzle with just one photo or a collage of your favorite photos to feature as many memories as possible. Upload a family portrait or a picture of her grandchildren to make a photo jigsaw puzzle that becomes a special keepsake. Consider making Mother's Day personalized puzzles that you can give as gifts or select photos of her most cherished memories to make the perfect gift. You can even celebrate Father's Day with a custom jigsaw puzzle designed just for your dad. For more Mother's Day gifts she'll be sure to enjoy, design her a custom photo mug, stemless wine glass, or the best photo book filled with her most cherished memories that she will treasure forever.
Related Products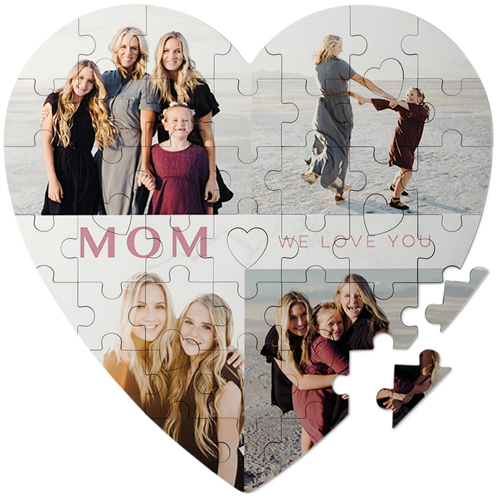 Modern Marble Band Keepsake Puzzle by Shutterfly. Our Keepsake Puzzle is a great way to capture all of life's special memories big or small. This puzzle is a great way to celebrate a wedding or a new baby, to commemorate ...