What customers have to say about our Mouse Pads
January 27, 2019
Love this!
"Bought one this mousepad for my husband and one for me, it's great quality and the pictures look great."
January 26, 2019
Yes, I would buy again each year!
"Yes, a good repeat from last year."
January 26, 2019
Great Product
"We purchased the mousepad from this site because it is nice and thick. Not thin and flimsy like most mousepads you buy online. Being able to pick your own picture is a bonus. I would definitely order from this item again."
January 26, 2019
Absolutely loved both of my mouse pads that I have ordered d
"Absolutely love my mom's pads I can definitely will be ordering them again or ordering through you again"
January 26, 2019
Fun project!
"It was actually fun...and easy...to enter the photos and move them around until I got the look I wanted."
Personalized Mouse Pads For Home And Office
Create custom mouse pads with Shutterfly. Many of us spend a great deal of time sitting and working at our desks, so it's important that we make our workspaces our own with custom mouse pads and other accessories. Warm up your workspace a little more and add a one-of-a-kind touch with a photo mouse pad that makes you smile. A picture mouse pad is super easy to create — just add your own photos, images, designs, or text to make a desk accessory that stands out among the rest. With these personalized mouse pads, you can keep your special memories near you all day long. Plus, the stain-resistant, high-density foam makes the mouse pad easy to keep clean. Custom mouse pads also make great gifts for friends, coworkers, or your all-star employees. Choose one photo design or create a collage with your choice of background color. One thing is for sure: with personalized mouse pads from Shutterfly, there is something for everyone.
Custom Mouse Pad Design Ideas
Add some personality to your home or office with unique mouse pads customized by you. From family portraits to Mother's Day and Father's Day designs, you can create a mouse pad for any occasion. If you're looking for a gift your employees will love, upload your company's logo and design a custom mouse pad they'll love using at the office. For pet parents that miss their furry friends when they're at work, make your own pet mouse pad customized with adorable photos of your pet. Custom mouse pads also make for perfect photo gifts for your kids' teachers at the end of the year. With a unique desk mouse pad, you'll have a stylish and functional office accessory to use for the long term.
How to Create Personalized Mouse Pads
Creating the best mouse pads is easier than you think. With Shutterfly, you can have cool mouse pads in minutes without breaking your budget. To start, filter our different styles for mouse pads to choose the design you like the best. Whether you're shopping for a specific occasion or want anytime styles, we have designs in a variety of colors and layouts. From there, upload the photos you want to use and take the time adding them to the design to see how they look. If you want to add a name or quote, you'll be able to choose the custom fonts you like as well as font colors. When you're done designing the best mouse pad, you'll have time to review before you're ready for a final printed mousepad. Mouse pads make the best kids gifts or gifts for graduations. Just upload your photos to our photo storage service and get started on your one-of-a-kind custom mouse pad for someone you love.
More Custom Desk Accessories You'll Love
Looking for additional ways to liven up a desk or office with customized photo items? Along with photo mouse pads, check out a desk organizer from Shutterfly to keep all of your files, pens, and staples exactly where you need them. Dress up your desk and take notes in a personalized notebook. Add your favorite text or photo for a unique notebook that you'll love using daily as a journal or for everyday notes. Perfect for kids, teacher gifts, or even as a hostess gift. Desk calendars are the perfect gift for late-year holidays or the New Year. Start your calendar on any month and create a custom desk calendar using your favorite photos. Our calendars are stunning and durable, with a built-in easel for display.
Related Products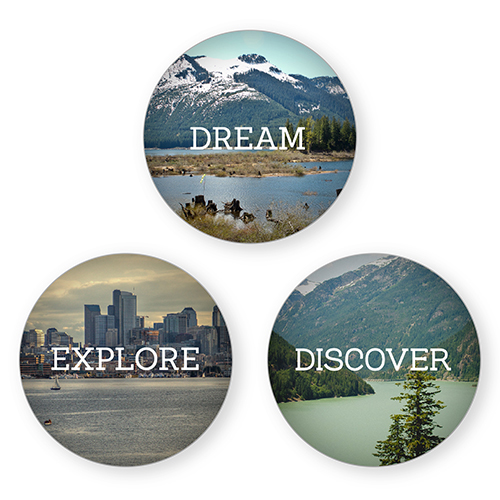 Dream Explore Discover magnet at Shutterfly. Customize your magnet with names or your favorite pictures and sayings. Visit now.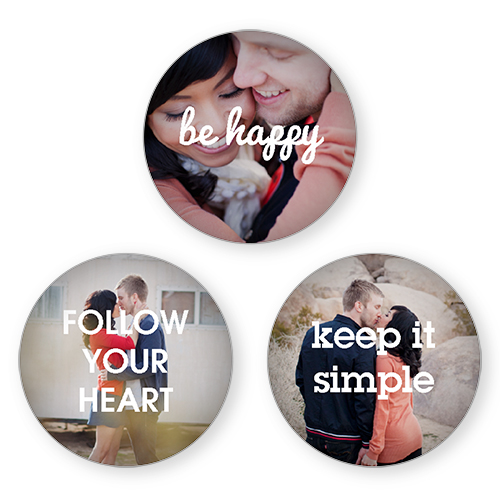 Everyday Sentiments magnet at Shutterfly. Customize your magnet with names or your favorite pictures and sayings. Visit now.
Upload Your Own Design by Shutterfly. A chic addition to the kitchen or office, our glass magnets make images pop.