Personalized Notebooks for Kids
What customers have to say about our Notebooks
January 27, 2019
Wonderful Little Notebook
"I've had one made for almost everyone in the family and some friends. Everyone states their very happy with the product. In fact, my brother told me it was just the right size for him and he was very happy with it. Shutterfly has done fantastic work with everything I've ever purchased from them, and I've been with Shutterfly ever since 2004. Katie"
"My notes or diary"
"Graduation gift"
January 26, 2019
Loved it!
"Perfect little note taking book."
January 26, 2019
Perfect !
"I ordered this and used a picture of my sonogram to use as a journal throughout my pregnancy. It came out perfect. I love it!"
Personalized Notebooks for Kids
Now you can create a stylish, one-of-a-kind notebook for your child that's prefect for home or school! Personalized notebooks from Shutterfly can be customized to match your child's unique style. Add pictures, designs, monograms and more for a notebook that can double as a journal and is big enough for all your child's great ideas.
Not Just Another Notebook
Shutterfly's notebooks are more than unique…they're functional and durable! Some styles of notebook have two interior pockets to store your loose paper and a tough chipboard back to ensure it's strong enough to last until they've filled every page! Others have stylish black coil binding and 150 lined pages. Other options include 80ct college ruled lines and perforated pages to make for easy tear outs. Which ever option of notebook best fits your child's needs, some exciting ways to personalize your new notebook are to add:
Pictures: Let your child shine with a notebook featuring all of their favorite pictures. Some fun ideas for pictures to use include images of your child's participation in clubs or sports, a special trip your family took or a recently celebrated birthday party. With the option to add multiple pictures, you won't have to choose between your favorites – you can upload them all!
Messages: Help inspire your child to do their best every day with a positive message written on their notebook or journal! Shutterfly's notebooks have messages meant to encourage like, "You got this," "With brave wings, she flies," Be brave, be kind and move mountains" and "Dream big." Or write you can write your own personal message.
Texture, Patterns & Color: Add your child's favorite color to their new notebook for to create a notebook that matches their style! Modern and contemporary patterns and texture are also available such as bold black and white stripes, paint splatters, woodlands forests and XOXOs to name a few!
Graphics: In addition to adding personal pictures and text, some Shutterfly notebooks also have graphics your child is sure to love. Choose from images like rocket ships, donuts and sprinkles, trucks and planes, emojis or unicorns.
Disney: Share the magic of Disney with a notebook featuring all your child's favorite Disney characters next to their picture! Choose from popular characters like, Mickey Mouse, Minnie Mouse, Donald Duck, Sheriff Woody, Buzz Lightyear, Princess Elsa, Snow White, Princess Tiana and more!
Whether these amazing notebooks are used for school, as a journal, for notes or even for doodles your child will love using a notebook that reflects their interests! Notebooks come in two sizes: 5x8 and 8.5x11. When you are done, check out some other personalized kids gear such as kids personalized pencils, personalized lunch boxes and personalized backpacks.
Related Products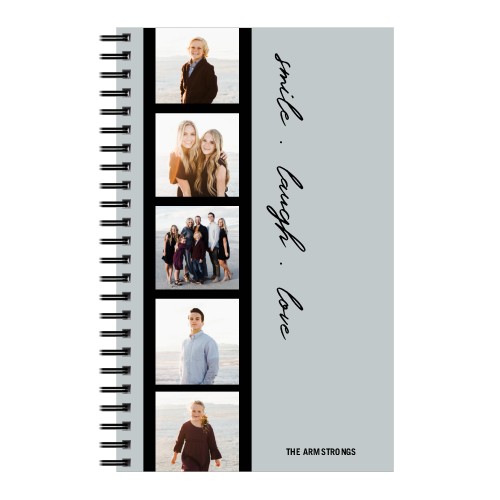 Filmstrip Script 5x8 Notebook by Shutterfly. Stylish, personalized notebooks perfect for everyday use.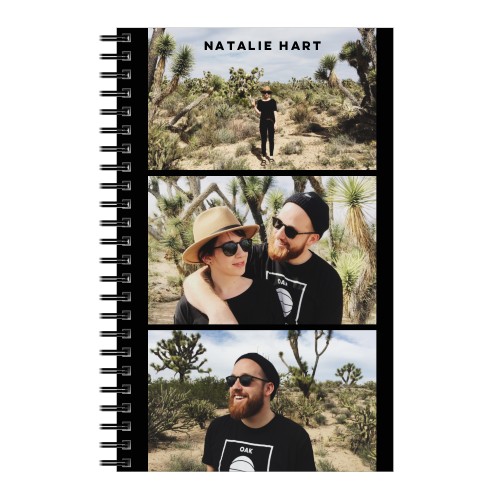 Gallery of Three Vertical 5x8 Notebook by Shutterfly. Stylish, personalized notebooks perfect for everyday use.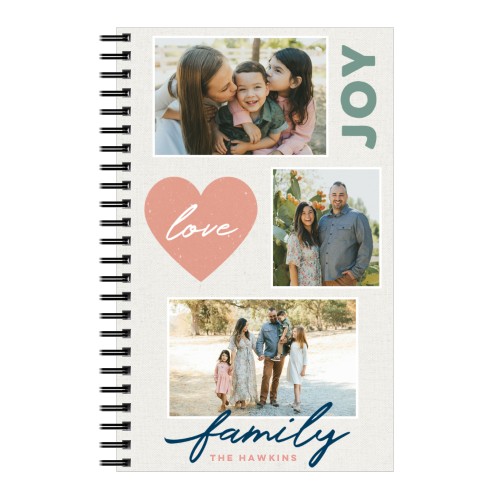 Joyful Heart 5x8 Notebook by Shutterfly. Stylish, personalized notebooks perfect for everyday use.