What customers have to say about our Fleece Photo Blankets
January 27, 2019
Beautiful blanket
"The blanket turned out amazing!! Very happy with the project!!"
January 26, 2019
Love this blanket
"Bought this blanket for my three sons. They love it so much we are going to make one for each of them with pictures of them and their brothers 🤗"
January 26, 2019
Can't wait to order again
"Had a blanket made from a photo and the quality of the print on the blanket was outstanding. Very easy to upload a photo and design a product. By far the best online service I've ever used for anything."
January 25, 2019
my family loves the blankets
"My daughters absolutely love the blanket. Definitely will order again in the future. thank you"
January 24, 2019
Just Beautiful
"It was for my mothers' birthday and she was moved to tears when she saw her whole family together on this beautiful blanket. Thank you Shutterfly."
Personalized Pet Blankets
There's nothing better than cuddling up with a warm, cozy fleece blanket on a cool night—and we're sure your four-legged friends will agree. Whether you have a dog or a cat, you can give them their very own personalized bedding with custom fleece blankets from Shutterfly. Of course, our custom photo blankets make excellent gifts for pet-loving humans, too. No matter who the lucky recipient is, give the gift of coziness in a custom way.
A Gift for Any Occasion
No matter the occasion, a beautiful, comfy fleece blanket personalized with favorite photos makes a thoughtful gift for anyone in your life. Here are just a few occasions when a fleece blanket would be perfect:
Christmas—It's cold, it's snowy, and there's no better time to curl up with a blanket and a mug of cocoa (or, for our canine friends, a favorite toy). For a fun gift idea for a friend or family member, show off how much Fido has grown over the years with a collage of favorite photos of the pup.
Mother's Day—If your mom also happens to be a dog or cat mom, personalize a fleece blanket for her this Mother's Day. Use it to display some of her favorite shots and selfies with her four-legged babies.
Father's Day—Dog is man's best friend, and if your dad has a sweet spot for his pooch, give him a Father's Day gift he's sure to love and use.
Birthdays—Whether you're celebrating the birthday of a human or a beloved pet, bring a touch of comfort with a fleece blanket made just for the birthday boy or girl.
Memorials—Our pets are never with us for long enough. If someone in your life is grieving the loss of a beloved four-legged family member, help them remember the good times with a thoughtfully made photo blanket.
Choosing the Best Blanket for You
Our custom fleece blankets are available in two sizes and three cozy materials. Wondering which to choose? Here's a simple breakdown to help you decide:
50x60 is the traditional "throw blanket" size. Choose this option if you're looking for a light throw or lap blanket to keep on your sofa, or if the blanket is a gift for a child or pet.
60x80 is twin size. Are you looking for a larger blanket you can fully wrap yourself in or share with someone? Do you want something large enough to be used as bedding? Is this blanket a gift for a taller person? Choose this size.
Fleece blankets are made with soft microfiber fleece—great for a lighter, all-season throw.
Plush fleece blankets are made with premium fleece for added warmth and softness.
Sherpa is our luxe option. If you're looking for a super-warm, extra-thick, ultra-cozy blanket that's sure to keep you warm throughout the winter, this is the blanket for you.
No matter which size or material you choose for your fleece blanket, rest assured it's machine-washable for ultimate convenience.
Related Products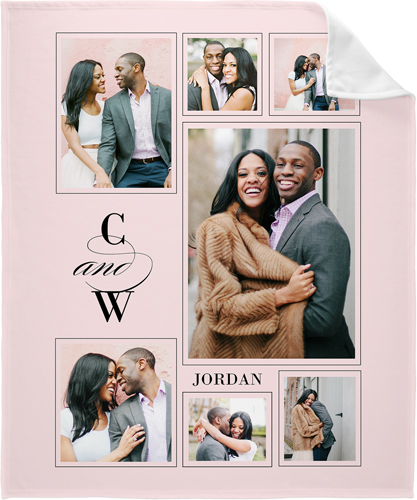 Couple Monogram Vertical Collage Fleece Photo Blanket by Shutterfly. Cozy up to a fleece blanket with your favorite photos. Choose your background and layout.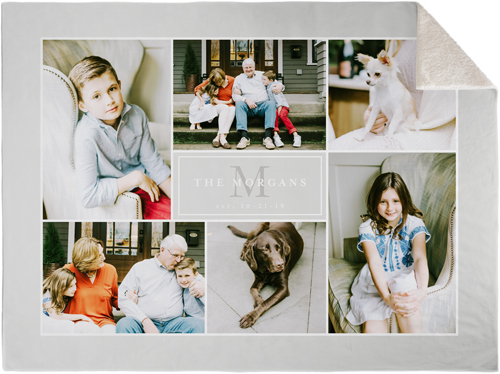 Monogram Match Collage Fleece Photo Blanket by Shutterfly. Cozy up to a fleece blanket with your favorite photos. Choose your background and layout.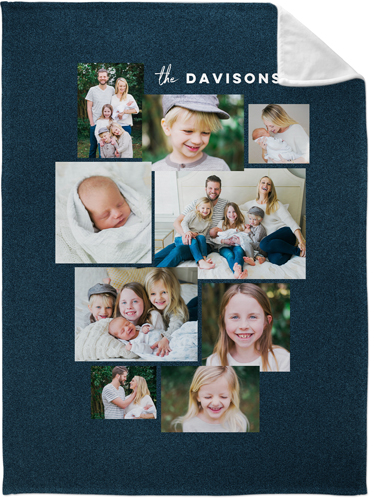 Organic Collage Of Nine Fleece Photo Blanket by Shutterfly. Cozy up to a fleece blanket with your favorite photos. Choose your background and layout.