What customers have to say about our Ornaments
January 27, 2019
Going to be a great gift!
"It's great. My niece and family are going to love this. Going to give it to them for Christmas 2019."
January 27, 2019
Love Making Personalized Items
"I love making personalized items for my family and friends. And they love getting them."
January 27, 2019
I buy these every year.
"Each Christmas, I use a holiday picture and make one of these ornaments. Each one I have gotten over the past 5 years has been great quality. I look forward to ordering and receiving mine each year."
January 26, 2019
Ornamental Memories
"Shutterfly strives to make beautiful memories into tangible items that we will not forget!"
January 26, 2019
Looks great
"Gift to daughter and her family"
Create Personalized Christmas Ornaments
Shutterfly's personalized photo ornaments allow you to hang your most precious memories right on your Christmas tree. Year after year, you and your family will love taking a trip down memory lane when hanging your one-of-kind Christmas ornaments and enjoying them throughout the season. Whether you're getting photo ornaments for your own tree or giving them as a gift to a family member or friend, you can personalize them with photos from a momentous occasion like an engagement, wedding, anniversary or baby's first Christmas. Or mark other special occasions and events such as a birthday or family vacation. No matter which photos you decide to use, your personalized Christmas ornament will be a truly unique reminder of your favorite memories—and a perfect addition to your holiday home décor.
How to Make Custom Christmas Ornaments
No matter what size, shape or material you choose, Shutterfly has the perfect custom Christmas ornament design to match your style and personality. We offer our customized ornaments in a variety of beautiful shapes, including round, rectangle, square, cube and more. Our ornaments also come in materials to suit all tastes, such as glass, metal, pewter, ceramic and wood, which is an ideal option for those who love a rustic look. Shutterfly makes it quick and easy to turn all your favorite photographs into custom ornaments that will brighten any tree. Once you select the material for your personalized Christmas ornaments, you can play with our various customization options, including size, shape, the number of photos you want to use, accent colors and custom text. Our easy-to-use online design assistant will guide you through the entire creation process of creating the perfect photo ornament for you.
Unique Personalized Christmas Ornament Themes
From graduation presents to wedding gifts, you can create the perfect personalized Christmas ornament that reflects every style and personality. Choose from our vast selection of designs, including wedding ornaments, baby's first Christmas ornaments, dog ornaments, and more. Personalize memorial ornaments to honor a family member or loved one who has passed, or family ornaments to showcase the snapshots you took for your Christmas cards. Show off your new home with a one-of-a-kind photo ornament featuring a picture of your house. From elegant glass ornaments to adorable paw print designs, each one-of-a-kind tree ornament will love on as a treasured keepsake that can be enjoyed year after year.
Photo Ornaments Make the Best Christmas Gifts
Did we mention that our personalized Christmas ornaments make fabulous gifts? Grandparents and godparents will love receiving custom ornament gifts that showcase their favorite pictures of your little ones. Newlyweds will love a thoughtful photo ornament that features a sentimental picture from their wedding day. Pet lovers will cherish a personalized ornament with a charming photo of their furry family member. No matter who you're shopping for, a custom photo ornament is a thoughtful way to bring a little extra joy to a loved one's holiday season. Plus, they make the best stocking stuffers that they can hang on the tree next year! And if you're looking for more personalized gifts, check out our wide array of unique Christmas gifts and Gifts for Mom and Dad, with something available to suit every personality. Shutterfly makes it convenient to find meaningful gifts for everyone on your list.
Related Products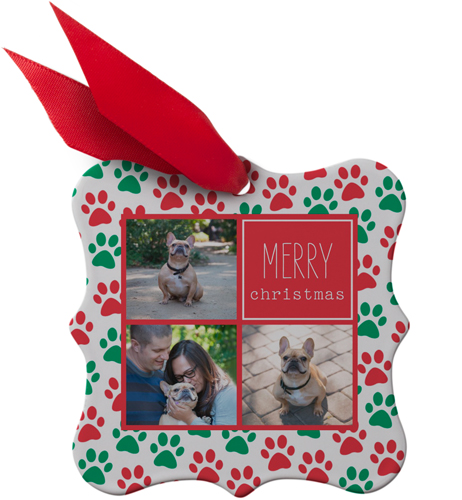 Best In Show Holiday Pawprints Rectangle Metal Ornament by Shutterfly. Trim the tree with a deco-style ornament personalized with the photos you love.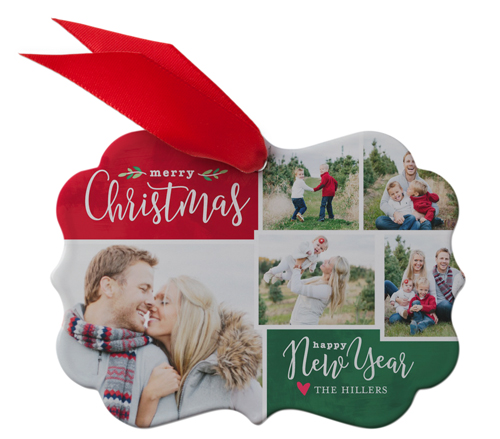 Classic Christmas Collage Rectangle Metal Ornament by Shutterfly. Trim the tree with a deco-style ornament personalized with the photos you love.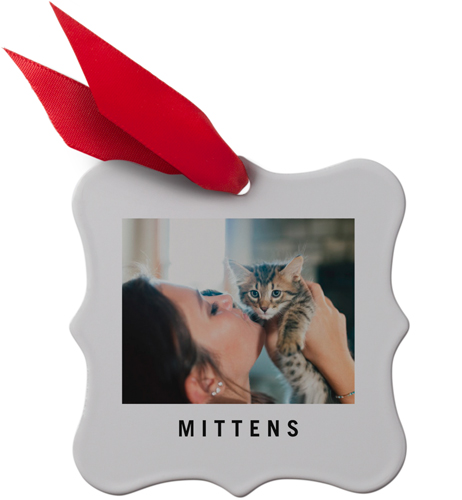 Gallery of One Border Rectangle Metal Ornament by Shutterfly. Trim the tree with a deco-style ornament personalized with the photos you love.