Bone Pet Tags
What customers have to say about our Pet Tags
January 26, 2019
Very nice
"I added a key ring to attach tag to the collar. Perfect. We ordered one for our 2nd pet"
January 25, 2019
Loved it !
"Loved it Shutterfly always does a good job !"
January 23, 2019
I love seeing my cat's tag!
"I love all products that I have gotten from Shutterfly. I usually get deals on them, because otherwise they are expensive. However, the app has good sales and perks. Customer service, when used, was very helpful, so I feel confident that if I had an issue again, they'd help. This is my cat's second tag, and his first on is on my keys!"
January 22, 2019
A Hit!!!
"My niece loved the picture of her Corgi, Franklin. I told her I keep my on my key chain.. My sister loved her's too.."
January 22, 2019
Great buy!
"Really nice quality dog tag!"
Adding Style to Your Pup
You want to keep your pup protected, and one step in doing just that is placing identification on your pet's collar. This identification helps you track down your dog, should it escape out the front door or sneak out of the fence. With Shutterfly's pet tags, this important identification can also double as a stylish addition to your dog's collar.
These two-sided, metal powder-coated tags are completely customizable on the front and the back. They hook onto your dog's collar using S-hook or O-ring attachments. Plus, the bone shape is an adorable addition to your pet's collar. Adding text and photos to these versatile pet tags makes them one of a kind.
Personalizing Your Pet
Use pet tags to identify your pet in case of emergency. These pet tags are completely customizable, allowing you to add important information to the tags. In addition to including your pet's picture or a cheerful background, you can also print its name on the front of the bone tag. The back is customizable as well, and it serves as an ideal spot to add your contact information, including full name, address, and phone number, so that you can easily be reunited with your lost pup.
Pet tags make thoughtful gifts for the pet lover in your life. Celebrate a friend's adoption of a new puppy with the gift of a bone-shaped pet tag. Great for birthdays and holidays as well, these pet tags are ideal gifts for any occasion -- or no occasion at all.
Creating a Pet Tag
Personalizing your bone-shaped pet tag is a simple process, thanks to Shutterfly's user-friendly design tool. Choose a design you love, or create a one-of-a-kind pet tag featuring your pup's friendly face. Select a layout for your tag; this layout may include a photo on the front and a photo or background and text on the back, for example. Then, upload a favorite photo of your pet or choose one of Shutterfly's hundreds of free backgrounds. The final step is inputting the text, such as your pet's name or your contact information, on the tag.
Keeping Your Pup Safe
Shutterfly's personalized pet tags help you keep your pet safe. A lost dog can be a stressful, even heartbreaking, experience for any family. With a personalized pet tag on its collar, your dog is more likely to find its way home. Enjoy this personalized product for your pet. While you're at it, explore Shutterfly's other personalized pet products, including personalized dog bows and heart shaped pet tags.
Related Products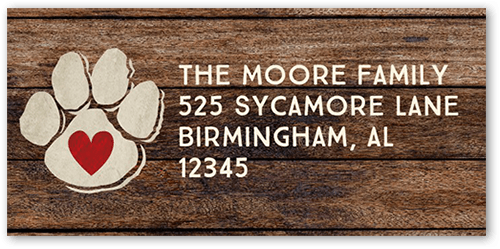 Pawprint Address Label by Éclair Paper Company. Address your envelopes with stylish address labels. Corresponding invitations, gift tags and thank you cards are also available.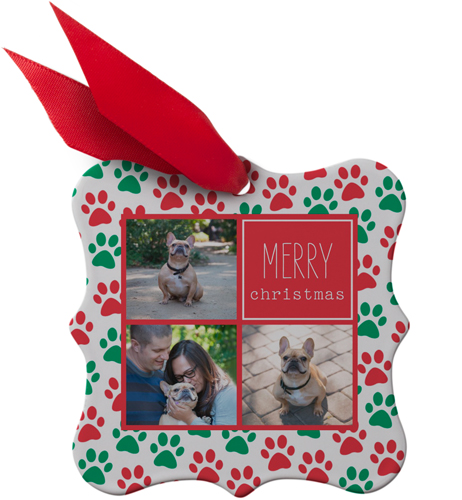 Best In Show Holiday Pawprints Rectangle Metal Ornament by Shutterfly. Trim the tree with a deco-style ornament personalized with the photos you love.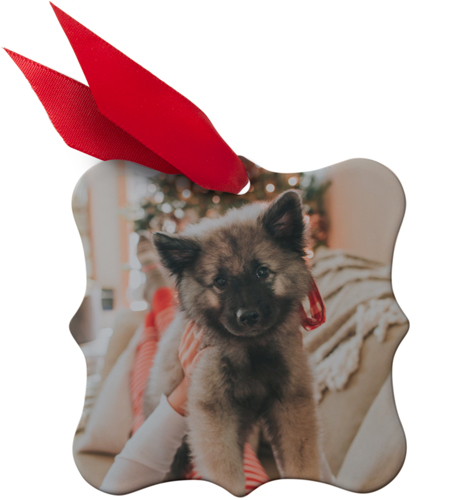 Photo Gallery Pet Rectangle Metal Ornament by Shutterfly. Trim the tree with a deco-style ornament personalized with the photos you love.