Pewter Ornaments
What customers have to say about our All Ornaments
January 27, 2019
Going to be a great gift!
"It's great. My niece and family are going to love this. Going to give it to them for Christmas 2019."
January 27, 2019
Love Making Personalized Items
"I love making personalized items for my family and friends. And they love getting them."
January 27, 2019
I buy these every year.
"Each Christmas, I use a holiday picture and make one of these ornaments. Each one I have gotten over the past 5 years has been great quality. I look forward to ordering and receiving mine each year."
January 26, 2019
Ornamental Memories
"Shutterfly strives to make beautiful memories into tangible items that we will not forget!"
January 26, 2019
Looks great
"Gift to daughter and her family"
Color the Holidays Your Way
At Shutterfly, we know silver and gold decorations are a common metallic theme for the holidays, so if you want to stand out, try something different like pewter. Unlike silver, pewter is a grey color without too much shine and creates a wonderfully subdued look. Our pewter ornaments have a matte finish that goes well with any color. Here are some tips to use this great metallic tone.
How to Pair Pewter
Pewter makes red really pop because it will not need to compete with other bright colors like green and blue. When you add white snowflake ornaments to the mix, then your red accents and decorations can really shine.
When you pair pewter ornaments with dark blue, you create a cold, winter atmosphere. This can be a great way to beat the heat if you live in a warm area that doesn't experience snow during the holidays. Use some personalized blue candles to stick with the chilly winter theme.
Green goes great with everything, and it is a good thing since your holiday tree will most likely be green. Using pewter ornaments and decorations on your deep evergreen centerpiece can highlight the natural aspect of bringing a tree into your home. This holds true even if you have chosen a synthetic tree due to allergies or other reasons.
Pewter even matches with non-traditional colors. Get a white or frosted tree and deck it out with pewter, lavender and pink to create a bubbly look that pairs well with a cocktail party. Serve your holiday favorites in some personalized glassware to make the season even merrier.
To create a dark and cozy atmosphere, we recommend using burgundy and orange with your pewter ornaments. A dark holiday atmosphere has a classic feel which you can bring out more by using sienna or black-and-white photographs.
Great Gift Pairings
Some gift ideas that use the metallic theme to great effect include jewelry, flasks and pet tags. Look through our attention-getting stocking stuffers for even more ideas. Get these gifts when you need them with our multiple shipping options. Choose to receive everything in one bulk package or as individual ones at no extra cost.
Get Ready for the Holidays
Start customizing your holiday look today. We at Shutterfly enjoy offering multiple color options to suit any theme. Choose pewter ornaments in a variety of shapes, including oval, snowflake and square. Take the season one step further by matching your decor with your gifts by getting customized gift wrapping paper.
Related Products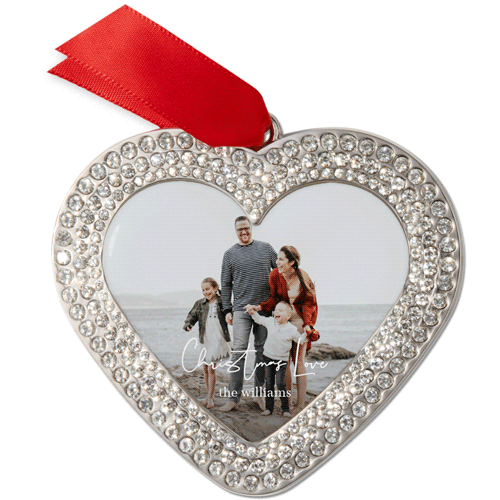 Christmas Love Jeweled Ornament by Shutterfly. Add sparkle to your tree with this personalized jeweled ornament. Personalize with your favorite photo or monogram.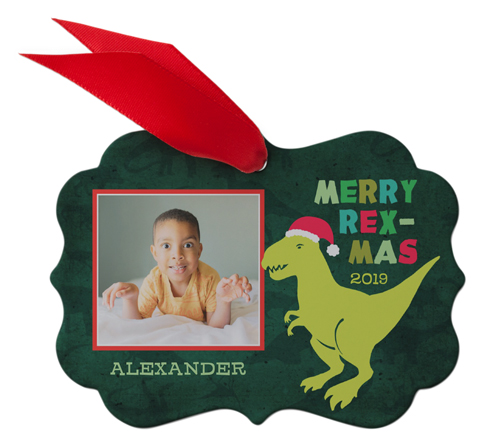 Dinosaur Merry Rexmas Metal Ornament by Shutterfly. Trim the tree with a deco-style ornament personalized with the photos you love.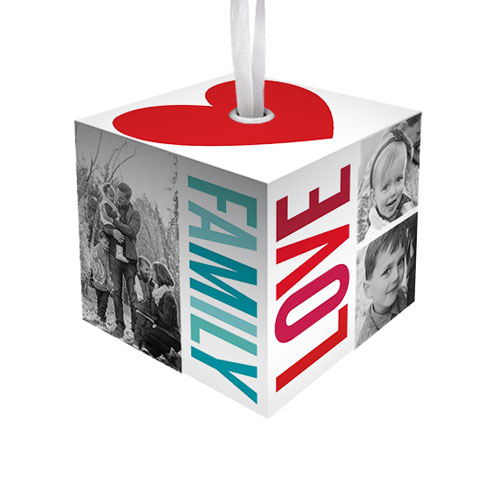 Family Love Hugs Cube Ornament by Shutterfly. Make a personalized ornament for yourself or someone special with your favorite photos on an exclusive design.