What customers have to say about our Fleece Photo Blankets
January 27, 2019
Beautiful blanket
"The blanket turned out amazing!! Very happy with the project!!"
January 26, 2019
Love this blanket
"Bought this blanket for my three sons. They love it so much we are going to make one for each of them with pictures of them and their brothers 🤗"
January 26, 2019
Can't wait to order again
"Had a blanket made from a photo and the quality of the print on the blanket was outstanding. Very easy to upload a photo and design a product. By far the best online service I've ever used for anything."
January 25, 2019
my family loves the blankets
"My daughters absolutely love the blanket. Definitely will order again in the future. thank you"
January 24, 2019
Just Beautiful
"It was for my mothers' birthday and she was moved to tears when she saw her whole family together on this beautiful blanket. Thank you Shutterfly."
Plush Fleece Photo Blanket
When the cold arrives, stay warm under a plush fleece blanket. With Shutterfly, you can create personalized blankets with photos of your favorite memories, family portraits, pets, and more. It's easy to create custom picture blankets online with Shutterfly's template. To make your own photo blanket, just upload your pictures, choose your layout and materials, and customize with different messages, fonts, layouts, and colors. Fleece photo blankets make the perfect gift for birthdays, Christmas presents, holidays, and other special occasions.
Gift a Unique Personalized Plush Blanket
Custom throw blankets make a wonderful present for any family member or friend. Shutterfly lets you create your very own unique design, so you'll always give the best blankets based on personality and style. Give the college student in your life a custom blanket and cover it in photos of their friends and family. New parents love our photo blankets, too since baby photos make the best memories. Is someone in your life getting married? Our soft plush fleece blanket is perfect for snuggling couples - just pick out a layout and add wedding photos. Personalized blankets for mom are always a great gift on Mother's Day, and a custom pet blanket can make an excellent birthday gift for anyone's special day. To complete the set, gift your fleece photo blanket with personalized pillows. With custom pillows that match your personalized photo blankets, you can create a unique ambiance for a living room or family room.
How to Make Create a Plush Photo Blanket
Order picture blankets from Shutterfly is much easier than creating a photo quilt from hand. To create your plush fleece custom blankets, first choose the photos you want to use. Next, select your background and layout that will go well with your photos. The Shutterfly Art Gallery collection offers unique designs, and the custom photo blankets come in a myriad of fun prints. If you prefer to design your own custom blankets, you can always upload a totally unique design. Choose a single photo design or go with a collage blanket. Add initials and monogramming for a personal touch. Inspirational quotes and graphics can also help make a custom photo blanket more special. With so many designs, it's easy to create a plush fleece blanket that lasts forever.
Personalized Blankets Guarantee Happiness
At Shutterfly, we have a 100% Happiness Guarantee. When the orange box arrives with your fleece photo blanket, you will feel the excitement. If you need help, don't hesitate to contact us. We are here to help you every step of the way. These snuggly plush fleece blankets warm the body and the heart. When you add special photos, they become something truly unique. Give the gift of precious memories made to last with a soft throw. The bright prints will add color to your home décor. Toss them on a sofa or take them with you to the park. Your beautiful throw is sure to become a favorite treasured accessory.
Related Products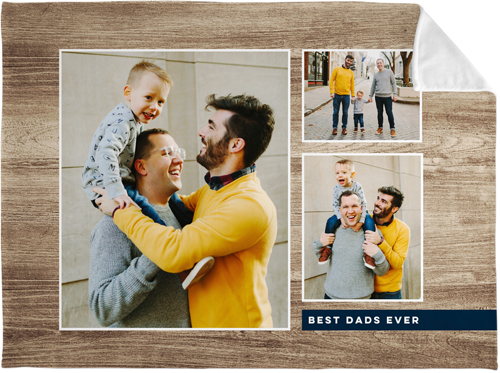 Framing Wood Collage Fleece Photo Blanket by Shutterfly. Cozy up to a fleece blanket with your favorite photos. Choose your background and layout.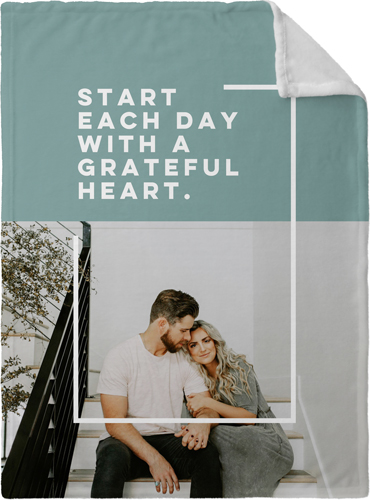 Grateful Heart Frame Fleece Photo Blanket by Shutterfly. Cozy up to a fleece blanket with your favorite photos. Choose your background and layout.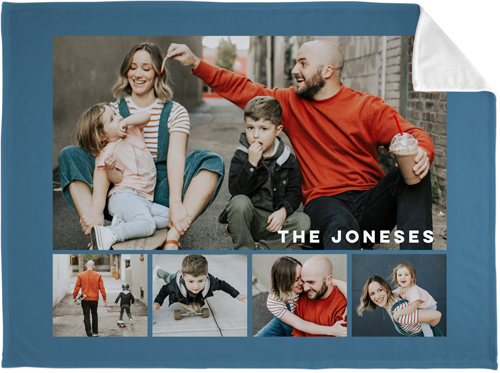 Hero Gallery Collage of Five Filmstrip Fleece Photo Blanket by Shutterfly. Cozy up to a fleece blanket with your favorite photos. Choose your background and layout.