Personalized Photo Puzzle Boards
What customers have to say about our Puzzles
January 26, 2019
Excellent gift!
"I designed a 500 piece puzzle for my daughter's 14th birthday. I had her text me a bunch of photos of her and her friends, and I made a collage. Where the single "monogram" letter was on the template I instead reduced the size and font until it said "FRIENDS 2018-19." She really liked it. Also, I bought a big, inexpensive black frame she can use to hang the puzzle in her room once she's put it together!"
January 26, 2019
Shutterfly is Awesome!!
"i have been using shutterfly for years now for various photo projects and can't say enough about how much i appreciate the company, products, and services. unless something goes very haywire, i plan to remain a customer for life! -matt, portland OR"
January 26, 2019
Fun For Families
"My grandson is learning how to put together puzzles. He enjoys seeing a picture of himself."
January 26, 2019
Fun puzzle
"Family likes puzzles and this is one of my pictures"
January 26, 2019
My Photo Puzzle
"I enjoyed putting my puzzle together. I love it. Wasn't too happy cause I also ordered 2 8x10 Photos it said I could get 3 free gifts & was Charged for the 2 photos."
Personalized Photo Puzzle Boards
For a unique gift idea that's perfect for any kid (or kid at heart!) in your life, Shutterfly offers a fun collection of beautiful, personalized photo puzzle boards. Our puzzles are always well received and make a playful gift that will get used again and again. Whether you're in need of gifts for a birthday, holiday or any other special celebration (or for no reason at all!), our creative personalized photo puzzle boards are a thoughtful option. Your recipient will be mesmerized as they put photos of their favorite memories together piece by piece in a personalized jigsaw puzzle.
Highlight Your Memories With Custom Jigsaw Puzzles
Kids will have a blast putting together a personalized message or picture with any of our personalized jigsaw puzzles made out of puzzle boards. Choose from our variety of eye-catching puzzle designs that are perfect for any occasion. Or puzzle board jigsaw puzzles are each 11 inches by 14 inches, so there's plenty of space to fit several of your favorite photos within your puzzle. Jigsaw puzzles made with puzzle boards have thick pieces compared to a standard puzzle, making assembly easy, even for tiny hands. Highlight pictures from a favorite family vacation, your kid's sports games, or even a collage of images of your little one glowing up. When you're done designing your custom puzzle, it will live on as a cherished keepsake for years to come.
Design a Personalized Photo Puzzle Board
Our photo puzzle boards are available in a variety of designs, making it easy to find the perfect match for your child's personality and interests. Choose from a variety of themes, including ocean, space, unicorns, dinosaurs and more. We also have an "All-Star" option that's a great choice for any kid who loves sports. Alternatively, you can choose to upload your very own design! Once you've selected a puzzle design that's perfectly suited for the child you have in mind, personalize it even further by uploading a family portrait, vacation photos or other favorite photos. Our customization options make it easy to design one-of-a-kind puzzles quickly and efficiently. You can create your own personalized messages, add the child's name to the puzzle and choose from our gorgeous selection of design colors. Whether you go with one photo as the focal point of the puzzle's design or choose to create a collage of several photos that depict your design theme, you'll create a personalized design that will be loved and make the child receiving it feel special.
Puzzle Board Jigsaw Puzzles and More Personalized Gifts
Shutterfly carries a diverse selection of personalized kids gifts. Some favorites that pair wonderfully with a personalized puzzle are our playing cards and memory games. Custom jigsaw puzzles are also fun and creative baby shower gifts, bridal shower gifts, and gifts for graduations. You'll have a blast putting together your most treasured memories piece by piece when you design a one-of-a-kind personalized puzzle with Shutterfly.
Related Products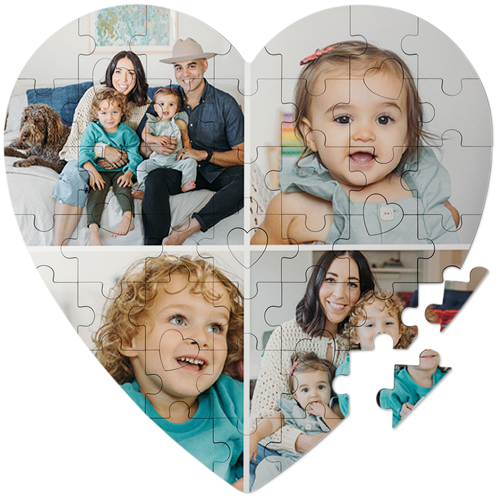 Gallery of Four Keepsake Puzzle by Shutterfly. Our Keepsake Puzzle is a great way to capture all of life's special memories big or small. This puzzle is a great way to celebrate a wedding or a new baby, to commemorate ...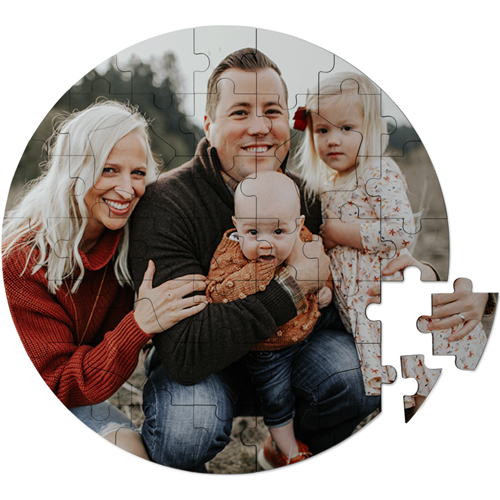 Photo Gallery Keepsake Puzzle by Shutterfly. Our Keepsake Puzzle is a great way to capture all of life's special memories big or small. This puzzle is a great way to celebrate a wedding or a new baby, to commemorate a ...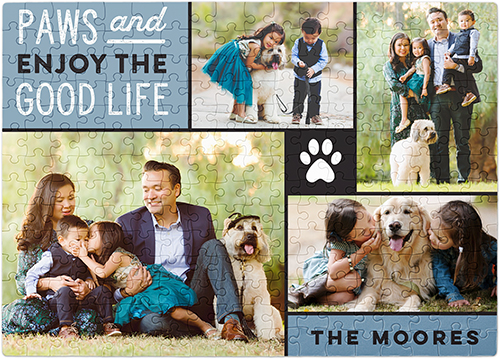 Best In Show Paws Collage Puzzle. It's easy to create a gift from the heart. Make a personalized photo puzzle, and your loved ones can enjoy the memory again and again. A matching photo box stores your puzzle.