What customers have to say about our Puzzles
January 26, 2019
Excellent gift!
"I designed a 500 piece puzzle for my daughter's 14th birthday. I had her text me a bunch of photos of her and her friends, and I made a collage. Where the single "monogram" letter was on the template I instead reduced the size and font until it said "FRIENDS 2018-19." She really liked it. Also, I bought a big, inexpensive black frame she can use to hang the puzzle in her room once she's put it together!"
January 26, 2019
Shutterfly is Awesome!!
"i have been using shutterfly for years now for various photo projects and can't say enough about how much i appreciate the company, products, and services. unless something goes very haywire, i plan to remain a customer for life! -matt, portland OR"
January 26, 2019
Fun For Families
"My grandson is learning how to put together puzzles. He enjoys seeing a picture of himself."
January 26, 2019
Fun puzzle
"Family likes puzzles and this is one of my pictures"
January 26, 2019
My Photo Puzzle
"I enjoyed putting my puzzle together. I love it. Wasn't too happy cause I also ordered 2 8x10 Photos it said I could get 3 free gifts & was Charged for the 2 photos."
Personalized Wooden Photo Puzzles
If your toddler loves doing puzzles, your family will adore Shutterfly's wooden photo puzzles. Our puzzles can be personalized, enabling you to create beautiful, one-of-a-kind puzzles for your family. Personalized photo puzzles also make thoughtful and fun gifts that any kid will be excited to receive. They are ideal for birthdays or any other type of special celebration and make a creative addition to the bedroom, playroom or family room.
Features of Our Wooden Photo Puzzles
Your little one's hands will enjoy putting our photo puzzles together. These 12-piece puzzles display eye-catching designs and are made with thick wooden pieces for easy assembly. Create easy puzzles for kids that include photos of animals, your family, or even your kids' pictures. When you add your own photos to the design, these puzzles will quickly become a favorite activity for your toddler.
Personalized Photo Puzzles
Our wooden photo puzzles are available in some of the most adorable designs that any kid will love. We have a variety of themes to choose from, such as woodland animals, ocean, space, unicorns, dinosaurs, alphabet animals, ballet slippers and more. Of course, you can choose to upload your very own design as well and make a completely original puzzle! Shutterfly makes it convenient for you to create a personalized design that will be treasured by your recipient. You'll find that our customization options make it easy to design one-of-a-kind puzzles quickly and efficiently.
How to Design Custom Photo Puzzles
Once you've selected a puzzle design that's perfectly suited for your toddler or the child who will be receiving it as a gift, have fun personalizing it by uploading a family portrait, vacation photos or other snapshots of favorite memories that will not only be enjoyed by the child receiving it, but also by the entire family. Another design idea is to upload a combination of posed family pictures and candid photos to our anytime puzzle styles, giving a fun little snapshot of your family in different scenarios. You can create your own personalized messages, add the child's name to the puzzle and choose from our gorgeous selection of design colors. Browse our kids puzzle designs for options that feature animals, the alphabet, and other popular styles like unicorns and space. Whether you go with one photo as the focal point of the puzzle's design or choose to create a collage of several photos around the design theme, the end product will be something that's treasured for many years.
Add Another Personalized Gift
Looking for one or more personalized gift options to include with the puzzle? Shutterfly offers a diverse selection of personalized gift ideas for kids. Some of our favorites are our playing cards and memory games. If you're looking for kids' gift ideas, consider bundling a kit with a jigsaw puzzle and a custom fleece blanket. Along with a personalized art kit, you'll have the perfect toy box for a night in.
Related Products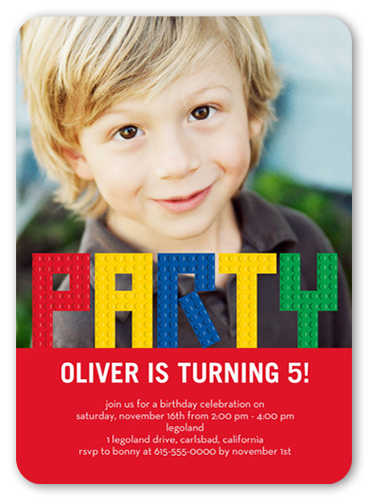 Lego Party 5x7 Boy Birthday Invitations. Invite all the guests with this stylish birthday invitation. Just add your favorite photos and all the event details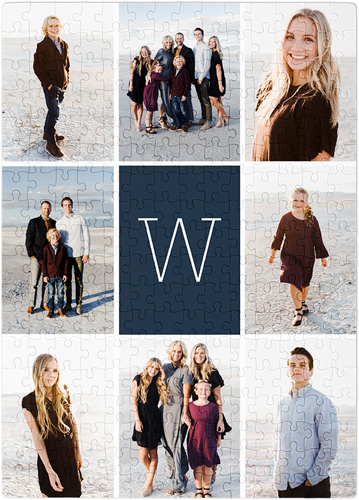 Gallery Monogram Portrait Puzzle. Turn favorite photos into hours of fun with a one-of-a-kind photo puzzle. Made of high-quality paperboard, it makes for a delightful addition to game night, a special gift, or a fun treat for yourself. Comes in ...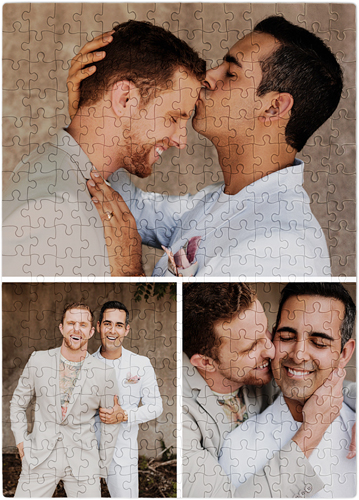 Gallery of Three Portrait Puzzle. Turn favorite photos into hours of fun with a one-of-a-kind photo puzzle. Made of high-quality paperboard, it makes for a delightful addition to game night, a special gift, or a fun treat for yourself. Comes ...