What customers have to say about our Reusable Shopping Bags
"Love this bag."
January 22, 2019
Great Bag
"I use these all the time. Great quality."
January 21, 2019
Shopping made "Happy!"
"I love using my reusable shopping bag with the picture of a delightful time spent with my girls."
January 20, 2019
I would buy this bag again
"A good carry all bag"
January 20, 2019
This bag made the BEST birthday bag for my Grandaughter.
"My grandaughter will use if for a dance bag!"
Personalized Reusable Shopping Bags
Create an eco-friendly gift with custom reusable shopping bags. These days, we are all trying to do our part to reduce waste. Reusable shopping bags are one of the easiest eco-friendly methods to adopt. Did you know you can custom design your own bags? Shutterfly offers unique design options to create a reusable shopping bag you will want to use for more than just grocery shopping. Upload your favorite photos to make a reusable grocery bag that you'll proudly display as you use it for shopping. Say goodbye to plastic bags and design your own custom reusable grocery bags that double as a special keepsake.
Designing Your Custom Reusable Shopping Bag
Shutterfly makes it easier than ever to customize a reusable shopping bag. Choose from one of the unique templates and upload your favorite photo or photographs. The template will make arranging your photos a snap. You can add a custom message to make your bag match your unique personality. Reusable shopping bags from Shutterfly are eco-chic. They are made of water-resistant polyester and can hold up to 50 lbs. in each one. Unlike paper bags, reusable shopping bags from Shutterfly are machine washable. The glory of reusable shopping bags is that they are collapsible and compact and can fit into nearly any other bag. Never get caught at the grocery store without it. These bags are perfect for picnics and beach trips. You can design one for each of your kids to have a bonus bag for carting stuff from school and sports. Pack one in your suitcase while traveling to help bring back treasures from your adventures.
Personalized Reusable Grocery Bags Make Great Gifts
Get your little ones excited about returning to school with their own custom bag. Design grandma a special satchel with photos of your darling little ones so she can show them off when she is out and about with friends. Give your favorite teacher a place to put her work that features a class photo. Personalized, reusable shopping bags are a great gift for every occasion. Eco-friendly gifts do not have to be impersonal or boring. Photo water bottles, latte mugs, and engraved jewelry make great gifts that your loved ones will use time and time again. These thoughtful gifts will bring a smile to your loved one's face with every hydrating sip. Just like a personalized shopping bag, it is easy to upload your favorite photos to Shutterfly. Shutterfly makes it easy to carry your memories with you. Reusable shopping bags make being eco-friendly chic and also make great gifts. For more bag gifts, design cotton tote bags, canvas tote bags, and more with Shutterfly.
Related Products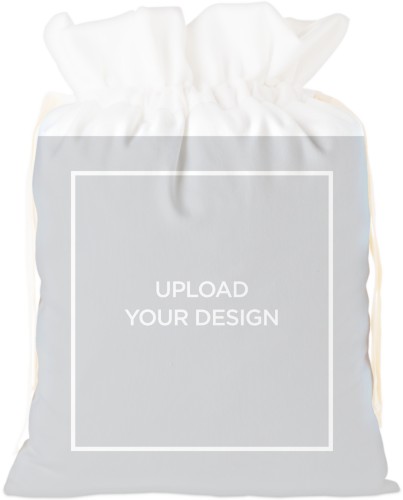 Upload Your Own Design Drawstring Bag by Shutterfly. Personalize a drawstring bag with your favorite photos or monogram. Perfect for everyday needs like laundry, travel, storage or just about anything!