Photo Christmas Stockings
What customers have to say about our Christmas Stockings
January 23, 2019
Love my Christmas Stockings
"I absolutely love these very nice, beautiful stocking. I have even made them for friends...who also love."
January 20, 2019
I would definately buy this again
"If you have never seen or held one of these stockings prepare to be impressed. They are of great quality and are beautiful !"
January 15, 2019
I love having stockings for my kids with their pictures!
"By far the best stocking to have for my kids"
January 10, 2019
Christmas stockings
"ordered 7 Christmas stockings for my grandchildren after the holiday. was extremely happy and excited when they arrived !!!!"
January 4, 2019
Really nice stocking
"These came out so nice. I was hesitant about what the pictures would look like on stockings, but after receiving them they look as great as everything else I've ordered. I've bought a number of prints, books, and other items. The only downside is the shipping cost are very high."
Turn Precious Pictures into Holiday Décor
Christmas is a time for making memories. Every year, you think back fondly to holidays past. Adding photos to your holiday décor makes the season special. You can look back on special moments while you decorate for the season. Those precious pictures will help to make the room feel merrier. One way to add pictures to your decorations is with a photo Christmas stocking. Shutterfly can help you create one in no time and give you a treasured keepsake to display every Christmas.
So Many Photo Christmas Stocking Designs
A photo Christmas stocking is a holiday decoration that shows off one or more photographs. At Shutterfly, we have many to choose from. You can select a design that showcases one image. A single photo Christmas stocking may have other artwork or focus on the picture. Collage photo Christmas stockings include two or more images. You can use the left-hand menu to shop for photo stockings by number of photos.
Our selection of custom photo Christmas stockings includes traditional, modern and cute designs. All of the styles feature velvet cuffs and gold trim. The stockings come with loops for hanging and are 16 inches long. Their 6-inch wide openings allow you to easily stuff presents inside.
Create Your Stocking in a Flash
You can create a photo Christmas stocking in minutes. Click "Personalize" to get to work. Add images from your computer, Flickr, Instagram or Facebook. Use the photo editor to apply filters, crop the shots and more. Drag the photos into place. Click the text and type to change it. You can even change the color of the cuff. Complete your design and then add it to your cart.
Have your own idea for a photo Christmas stocking? We can bring it to life. Choose the "Upload Your Own" stocking and import your artwork. Like all of our stockings, your purchase will come with our 100% Happiness Guarantee. We are not happy until your order is perfect.
Make the Holidays Memorable
Make this Christmas one they will never forget. Give everyone on your list a custom photo Christmas stocking. You can stuff the stockings with gifts like custom jewelry or custom iPhone cases. Another option is to wrap them with our custom gift wrap. Order a custom holiday greeting card to present with your gift. Photographs make gift-giving more personal and will please everyone.
Related Products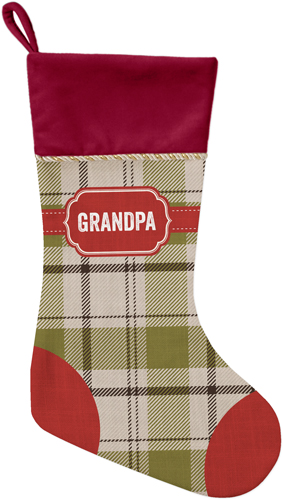 Classic Badge Name Personalized Christmas Stockings by Shutterfly. Decorate your wall, or fireplace and mantel, with a lovely stocking that you created. Start now!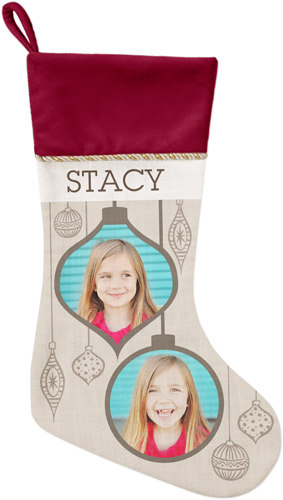 Stylish Ornaments Personalized Christmas Stockings by Shutterfly. Decorate your wall, or fireplace and mantel, with a lovely stocking that you created. Start now!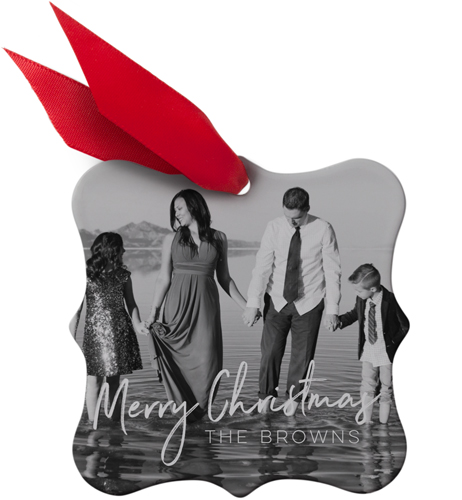 Christmas Script Snowflake Metal Ornament by Shutterfly. Trim the tree with a deco-style ornament personalized with the photos you love.