Beige Christmas Stockings
What customers have to say about our Christmas Stockings
January 23, 2019
Love my Christmas Stockings
"I absolutely love these very nice, beautiful stocking. I have even made them for friends...who also love."
January 20, 2019
I would definately buy this again
"If you have never seen or held one of these stockings prepare to be impressed. They are of great quality and are beautiful !"
January 15, 2019
I love having stockings for my kids with their pictures!
"By far the best stocking to have for my kids"
January 10, 2019
Christmas stockings
"ordered 7 Christmas stockings for my grandchildren after the holiday. was extremely happy and excited when they arrived !!!!"
January 4, 2019
Really nice stocking
"These came out so nice. I was hesitant about what the pictures would look like on stockings, but after receiving them they look as great as everything else I've ordered. I've bought a number of prints, books, and other items. The only downside is the shipping cost are very high."
Beige Christmas Stockings Make the Holidays Merrier
Filling stockings with special gifts is a fun part of holiday festivities. Stockings add a festive touch to your decorations for the season. Beige Christmas stockings match many color palettes. As a result, they are very popular for the season. You can hang them over the fireplace or on a wall to wait for Santa's arrival. At Shutterfly, you can find a wide range of Christmas stockings in beige to complete your décor. Our stockings are all custom one-of-a-kind designs.
A Special Holiday Keepsake
You can choose from a wide range of beige Christmas stockings to get the perfect look for your décor. Many of our stockings are photo designs. With these stockings, you can have one or more cherished photographs printed right on your beige Christmas stocking. Other designs feature patterns. You can select modern, traditional or playful styles.
Most stockings have room for a name. Personalize the designs and each member of the family can have their own beige stocking ready for stuffing. To find beige Christmas stockings in a hurry, use the menu at the left. You can narrow down the options by photo number, collection and more.
Design Your Stocking Now
Once you have found that perfect beige Christmas stocking, you can personalize it within minutes. Click the orange button to get started. For photo stockings, you can upload images from your computer or social media account. Drag and drop the picture or pictures into place. The preview image will change instantly. The editor will show you how the beige Christmas stocking will look. Add the name you desire and make any changes to the color scheme that you desire.
When you love what you see, add the finished product to your cart. We'll make your stocking just for you. Then, we'll ship it right to your door. Our 100% Happiness Guarantee ensures you will love what arrives.
Perfect for Everyone on Your List
Beige Christmas stockings make one-of-a-kind gifts for the holiday season. There are options available to suit the tastes of everyone on your list.
Fill your personalized beige Christmas stockings with stocking stuffers for extra fun. You can also simply wrap them up as standalone presents. If you're looking for stocking stuffers, Shutterfly can help. We have a huge selection of personalized gifts and custom photo gifts available.
Related Products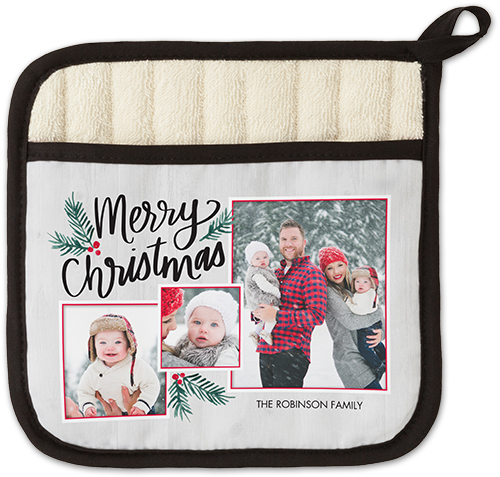 Merry And Bright Christmas Pot Holder by Shutterfly. Give your favorite chef a pot holder made just for them. Personalize the front pocket with one of our designs or your own favorite photos. Goes great with our personalized tea towels. ...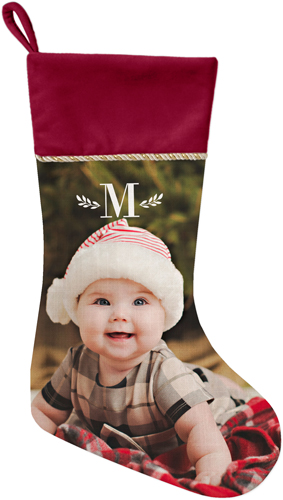 Keyline Monogram Personalized Christmas Stockings by Shutterfly. Decorate your wall, or fireplace and mantel, with a lovely stocking that you created. Start now!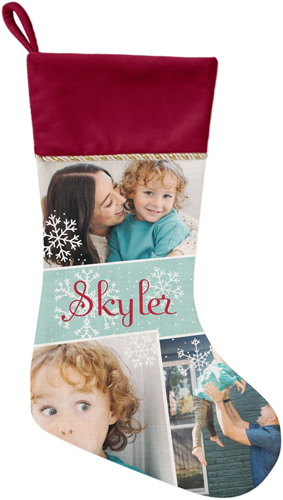 Snowflake Collage Personalized Christmas Stockings by Shutterfly. Decorate your wall, or fireplace and mantel, with a lovely stocking that you created. Start now!