Black Christmas Stockings
What customers have to say about our Christmas Stockings
January 23, 2019
Love my Christmas Stockings
"I absolutely love these very nice, beautiful stocking. I have even made them for friends...who also love."
January 20, 2019
I would definately buy this again
"If you have never seen or held one of these stockings prepare to be impressed. They are of great quality and are beautiful !"
January 15, 2019
I love having stockings for my kids with their pictures!
"By far the best stocking to have for my kids"
January 10, 2019
Christmas stockings
"ordered 7 Christmas stockings for my grandchildren after the holiday. was extremely happy and excited when they arrived !!!!"
January 4, 2019
Really nice stocking
"These came out so nice. I was hesitant about what the pictures would look like on stockings, but after receiving them they look as great as everything else I've ordered. I've bought a number of prints, books, and other items. The only downside is the shipping cost are very high."
Stuff a Personalized Black Christmas Stocking This Season
Stuffing stockings is a fun holiday tradition. Stockings have become a traditional part of Christmas décor. You can hang up one for each family member at the start of the season and leave the stockings in place until Christmas.
A black Christmas stocking is a great choice for decorating. The neutral color goes with everything. Black is always in fashion, so you can show off your stocking every year. Shutterfly has a selection of black Christmas stockings for you to choose from. Our stockings are customizable for added fun.
Designs That Make the Holidays Merry
You can make the holidays merry with a black Christmas stocking that you design yourself. You can use the menu at the left to find the right stocking to suit your tastes. Many of the black stockings are photo designs. You can add pictures stored on your computer or social media account. The photos will remind you of special memories and make your black Christmas stocking one of a kind. Some of our stockings have text that you can edit. This way, you can add a name for each member of the family. You can also select the color of trim that you prefer for your stocking.
Personalize Your Black Christmas Stocking in No Time
Personalizing a black Christmas stocking only takes a few minutes. When you decide which stocking you like, click "Personalize" to begin. For photo stockings, you can drag and drop pictures onto the design. Leave them in color or edit them to black and white to match your color theme. Click on the trim and wording to make changes. Keep an eye on the preview to see how your personalized black Christmas stocking will look. When you finish, add the stocking to your cart. You can then check out and leave the rest to us. We offer a 100% Happiness Guarantee on our custom Christmas stockings. If you're not satisfied with your order, we'll make things right.
Put Custom Photo Gifts Under the Tree
Custom photo gifts make the holiday season extra special. You can fill your black Christmas stocking with a personalized Christmas ornament or custom jewelry for that special someone. The stockings also make great gifts all on their own. Along with black stockings, we have many other colors and designs. See all of our custom Christmas stockings and start personalizing today.
Related Products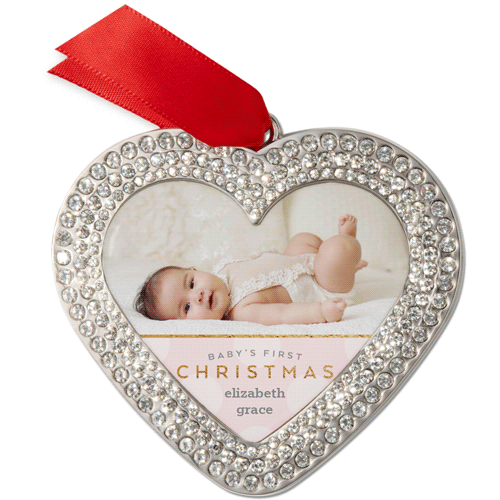 Baby's First Christmas Dots Jeweled Ornament by Shutterfly. Add sparkle to your tree with this personalized jeweled ornament. Personalize with your favorite photo or monogram.
Christmas Glitter Script Jeweled Ornament by Shutterfly. Add sparkle to your tree with this personalized jeweled ornament. Personalize with your favorite photo or monogram.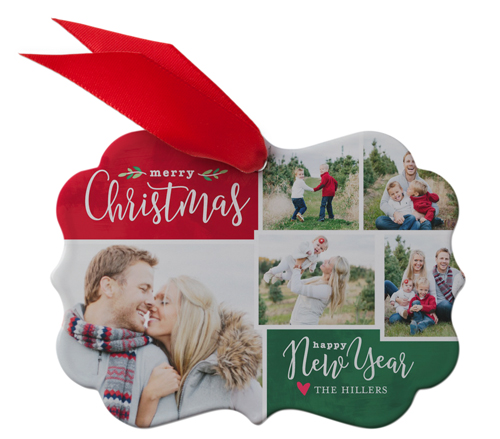 Classic Christmas Collage Rectangle Metal Ornament by Shutterfly. Trim the tree with a deco-style ornament personalized with the photos you love.