Brown Christmas Stockings
What customers have to say about our Christmas Stockings
January 23, 2019
Love my Christmas Stockings
"I absolutely love these very nice, beautiful stocking. I have even made them for friends...who also love."
January 20, 2019
I would definately buy this again
"If you have never seen or held one of these stockings prepare to be impressed. They are of great quality and are beautiful !"
January 15, 2019
I love having stockings for my kids with their pictures!
"By far the best stocking to have for my kids"
January 10, 2019
Christmas stockings
"ordered 7 Christmas stockings for my grandchildren after the holiday. was extremely happy and excited when they arrived !!!!"
January 4, 2019
Really nice stocking
"These came out so nice. I was hesitant about what the pictures would look like on stockings, but after receiving them they look as great as everything else I've ordered. I've bought a number of prints, books, and other items. The only downside is the shipping cost are very high."
Hang Brown Stockings by the Chimney With Care
Hanging stockings is a favorite Christmas tradition. Even before stuffing, stockings make holiday décor merrier. Using stockings as decorations makes your home look festive for the season.
When choosing stockings for decorating, you want to select something that will match your décor. Brown Christmas stockings can blend in with many color schemes. This makes them a great choice to hang by the chimney or on the wall. A brown Christmas stocking from Shutterfly is extra special because you get to design it yourself.
Special Keepsakes for the Season
Custom brown Christmas stockings are more than just a place to put gifts. The stockings are keepsakes that you can treasure for years to come. Photo Christmas stockings are very personal. You can decorate one with a favorite photo. Collage styles let you add more than one picture to the brown Christmas stocking design.
At Shutterfly, we only carry the finest holiday decorations. Our brown Christmas stockings feature luxurious velvet cuffs. Many of the designs feature elegant cording trim. Hanging loops at the top make displaying the Christmas stockings simple. Our brown Christmas stockings are 16 inches long to hold many gifts. Their 6-inch openings simplify stuffing.
A Custom Design in Minutes
You won't have to spend hours creating your own custom brown Christmas stockings. Our design tool lets you get the job done in minutes. First, find the stocking that you want to personalize. You can use the menu at the left to refine your choices as needed.
Click the "Personalize" button to start using the design tool. You can add photos from your Shutterfly gallery. Import more photos from your computer, Facebook, Instagram or Flickr. Drag and drop the photos into place. Change the trim color, edit text and make other edits to the design. Use the "Preview" feature to see how your brown Christmas stocking will look. Then, add it to your cart and let us bring your design to life. Your purchase comes with a 100% Happiness Guarantee to make sure you love it.
Make the Holidays Merry for Everyone
Surprise everyone on your holiday shopping list this year. Order custom Christmas stockings just for them. In addition to our brown Christmas stockings, we have many other colors available. Check out our seasonal gifts collection. We have many other personalized home decor and gifts to make the holidays merry.
Related Products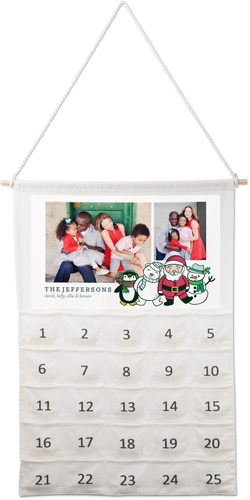 Santa and Friends Advent Calendar by Shutterfly. Countdown to Christmas with sweet treats, handwritten sentiments and tiny trinkets! Twenty-five daily pockets are perfect for storing these surprises.
Vintage Santa Advent Calendar by Shutterfly. Countdown to Christmas with sweet treats, handwritten sentiments and tiny trinkets! Twenty-five daily pockets are perfect for storing these surprises.
Foliage Banner Personalized Christmas Stockings by Shutterfly. Decorate your wall, or fireplace and mantel, with a lovely stocking that you created. Start now!