Christmas Stockings
What customers have to say about our Christmas Stockings
January 23, 2019
Love my Christmas Stockings
"I absolutely love these very nice, beautiful stocking. I have even made them for friends...who also love."
January 20, 2019
I would definately buy this again
"If you have never seen or held one of these stockings prepare to be impressed. They are of great quality and are beautiful !"
January 15, 2019
I love having stockings for my kids with their pictures!
"By far the best stocking to have for my kids"
January 10, 2019
Christmas stockings
"ordered 7 Christmas stockings for my grandchildren after the holiday. was extremely happy and excited when they arrived !!!!"
January 4, 2019
Really nice stocking
"These came out so nice. I was hesitant about what the pictures would look like on stockings, but after receiving them they look as great as everything else I've ordered. I've bought a number of prints, books, and other items. The only downside is the shipping cost are very high."
Personalize Your Christmas Stockings
Christmas stockings are more than just places to put gifts. They also serve as decorations. Hanging stockings makes a home look festive for the season. If they have special meaning to your family, they can even be sentimental. At Shutterfly, you can design your own Christmas stockings. This way, you will have one-of-a-kind decorations to display every year. Their custom designs are sure to make the season extra special.
Designs You Can Make Your Own
With custom Christmas stockings, you are free to create your own unique holiday decor. We have provided a wide range of designs to get you started. You can customize each stocking. Add one or more photos of your family. Change the color of the soft velvet cuffs. Have each family member's name printed on their stocking. If you have your own design idea, you can upload it and have it printed on a stocking. You can let your creativity run wild at Shutterfly.
All of our personalized Christmas stockings are 16 inches long and have 6-inch openings. You can fit many gifts inside them. Loops allow you to hang the stockings on the wall or by the chimney. Best of all, each one comes with our 100% Happiness Guarantee. We are not satisfied until you love your order. This means that you can order a custom Christmas stocking with confidence.
Personalize Your Custom Stocking in No Time
Personalizing our custom Christmas stockings is simple. Begin by clicking the one you like best. We offer classic, modern and fun options for the whole family. Click the "Personalize" button on the product page. When the design editor loads, select photos from your Shutterfly account. You can also import photos from your computer or social media. Click text to change it and use the left-hand menu to edit the design. The "Preview" button will give you a final view of your stocking. When you love what you see, add it to your cart.
Holiday Gifts They'll Treasure
Give everyone on your list something they can treasure with personalized gifts from Shutterfly. You can stuff gifts into your Christmas stockings or wrap them in a custom photo gift wrap. We have keepsake gifts for men, women, kids, and pets. Such as these personalized iPhone cases, Christmas ornaments and, plush photo blankets. Complete all of your holiday shopping in one place, and you can focus on enjoying the holidays. Explore our custom stockings and our huge selection of gifts now.
Related Products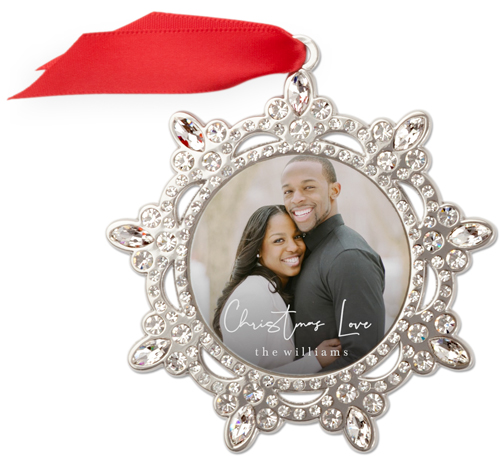 Christmas Love Jeweled Ornament by Shutterfly. Add sparkle to your tree with this personalized jeweled ornament. Personalize with your favorite photo or monogram.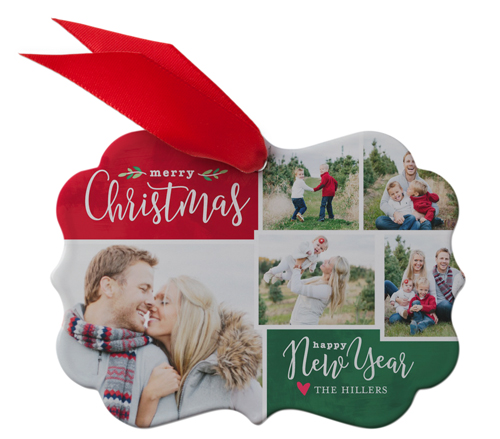 Classic Christmas Collage Rectangle Metal Ornament by Shutterfly. Trim the tree with a deco-style ornament personalized with the photos you love.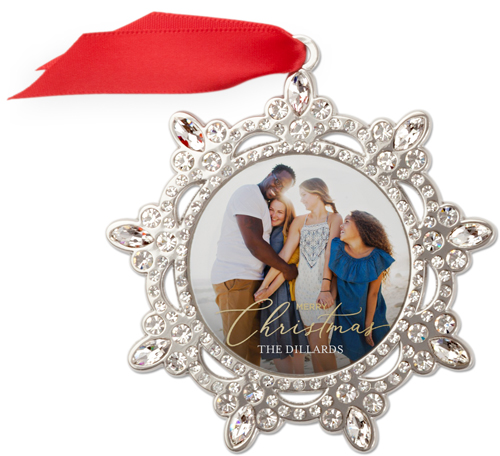 Classic Delicate Christmas Script Jeweled Ornament by Shutterfly. Add sparkle to your tree with this personalized jeweled ornament. Personalize with your favorite photo or monogram.