Pink Christmas Stocking
What customers have to say about our Christmas Stockings
January 23, 2019
Love my Christmas Stockings
"I absolutely love these very nice, beautiful stocking. I have even made them for friends...who also love."
January 20, 2019
I would definately buy this again
"If you have never seen or held one of these stockings prepare to be impressed. They are of great quality and are beautiful !"
January 15, 2019
I love having stockings for my kids with their pictures!
"By far the best stocking to have for my kids"
January 10, 2019
Christmas stockings
"ordered 7 Christmas stockings for my grandchildren after the holiday. was extremely happy and excited when they arrived !!!!"
January 4, 2019
Really nice stocking
"These came out so nice. I was hesitant about what the pictures would look like on stockings, but after receiving them they look as great as everything else I've ordered. I've bought a number of prints, books, and other items. The only downside is the shipping cost are very high."
Add Girly Style to Your Holiday Decor with Pink Christmas Stockings
Show off your feminine side this holiday season by displaying custom pink Christmas stockings on your mantel. Women and children alike will love the fun designs Shutterfly has created. Whether you're looking for a festive stocking featuring your favorite Disney princess or a chic photo collage with elegant pink accents, you're sure to find a design you love in the Shutterfly gallery. Picking your favorite is the hardest part
Pink Christmas Stockings Designed for You
Adding your own personal touch to pink Christmas stockings couldn't be easier. Click the orange "Personalize" button and allow Shutterfly to guide you through the process. Each design offers a different combination of family photos and custom text. Continue following the prompts until you have uploaded your images and arranged them within the design. Shutterfly allows you to preview your design along the way, so you are sure of what you' ll receive.
When you see them in person, you can't help but appreciate the incredible detail and quality. Luxurious velvet fabric in your choice of festive color comprises the cuff and back of each design. The wide cuff features cording for a sophisticated finishing touch. Hang the pink Christmas stockings you designed from your mantel, staircase, or wall hooks using the sturdy tab in the corner. The spacious design allows Santa to load them with great Christmas gifts.
Hosting the Ultimate Christmas Party
Are you the host of Christmas day or a festive holiday party for friends and family? Make everyone feel welcomed into your home by creating custom Disney Christmas stockings for them. Shutterfly offers designs with and without photo options, making it easy to find one for everyone on your guest list. Use the stockings as a unique way to wrap a bottle of wine or few fun Christmas gifts. Order the same design for everyone on your list or choose a design unique to each personality.
Shutterfly isn't just a great resource for personalized gifts. Their ideas page is a treasure trove of inspiration for holiday decorating, party hosting, and gift giving ideas. Shutterfly adds new blogs all the time with great ideas, so check it out as a starting point for your planning process. You'll even find customizable party invitations that will let everyone know about your special event.
Related Products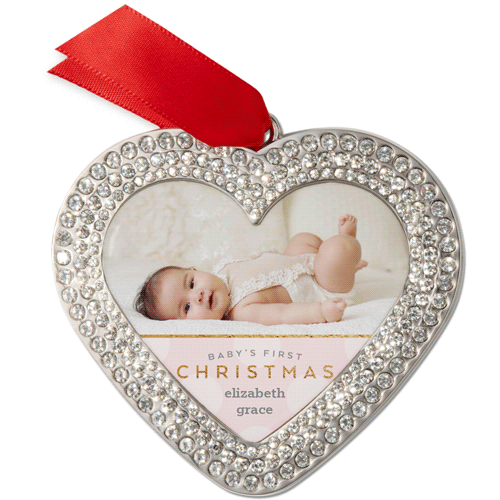 Baby's First Christmas Dots Jeweled Ornament by Shutterfly. Add sparkle to your tree with this personalized jeweled ornament. Personalize with your favorite photo or monogram.
Christmas Glitter Script Jeweled Ornament by Shutterfly. Add sparkle to your tree with this personalized jeweled ornament. Personalize with your favorite photo or monogram.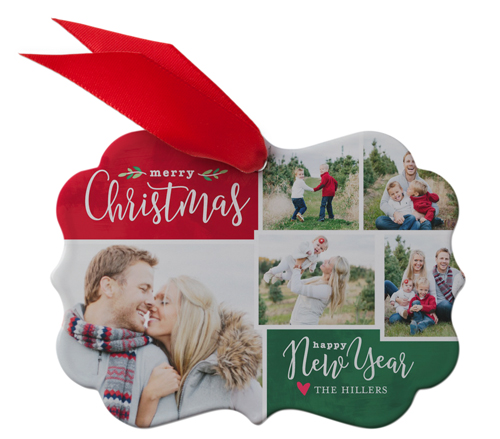 Classic Christmas Collage Rectangle Metal Ornament by Shutterfly. Trim the tree with a deco-style ornament personalized with the photos you love.