Wedding Magnets
What customers have to say about our All Magnets
January 27, 2019
Mini Magnet
"One of the better items. The magnets always come out great!"
January 27, 2019
Great way to remember
"I have bought these and other magnets each time a grandchild was born. Great way to commemorate a special occasion in your family. Formatting the magnet is easy and fun. Good quality gift for family & friends at a good price. Customer service was very helpful when I needed to order more than the ordering template allowed."
"It can be put almost anywhere."
January 27, 2019
Perfect for Instagram photos!
"I got a bunch of my favorite photos printed on these to use at my office. They magnetize to my metal desk frame. They look more organized and stay nicer than a paper photo and I dont need frames. So cute!!"
January 27, 2019
Love these magnets!
"I'm very happy with the quality of these magnets. I bought them to get my young grandchildren for Valentine's Day. They have photos of various family members so the kids can remember everyone better while they stick the magnets on the refrigerator or just hold them and look at them."
Wedding Magnets to Celebrate Your Big Day
Looking for a unique way to send out your wedding save the dates, invitations or announcements? Shutterfly's collection of wedding photo magnets are a fun alternative to traditional announcements. You'll make a statement when you send these modern and memorable wedding magnets. These simple yet stylish magnets are a lovely way to tell everyone about your upcoming wedding - or any wedding related event! Loved ones will be delighted when they receive your beautiful wedding magnets and will proudly display them on their refrigerator as a joyous reminder of your special celebration.
Personalized Wedding Photo Magnets
With your personal touches, you'll create the perfect wedding magnet recipients will love. Browse our selection of magnet designs to find the option that best matches your style and personality. Once you've found your favorite style, personalize it with our easy-to-use customization tool, making the design process a quick and extremely convenient one. Choose from various color options, font styles and sizes, magnet sizes and more. Then upload your photo and add a custom message. Our personalized photo magnets enable your friends and family members to easily display your announcement or invitation in their homes. Every time they see your magnet, it will put a smile on their faces and get them excited about celebrating with you.
Create Stylish Custom Envelopes
Once you have a wedding magnet design you love, complete your look by dressing up the envelopes with coordinating stationery accessories. Deliver your unique magnets in style by dressing up the envelopes with personalized address labels and custom stickers. These extras will not only add some pop and personality to plain envelopes, but they'll make sure your magnets stand out, so they don't get overlooked in a pile of mail.
Additional Wedding Stationery
If you still need to design your other important wedding stationery items, you'll find Shutterfly has all your wedding stationery needs. We offer a wide selection of items with original designs for save the dates, wedding invitations and much more. We also have lovely options for wedding day needs, from programs and guestbooks to menu cards and place cards and more.
Related Products
Floret Charcoal 5x7 Photo Wedding Announcement Cards. Elegant leaves and blooms accent a pretty picture. Include a special greeting and/or event details against a charcoal background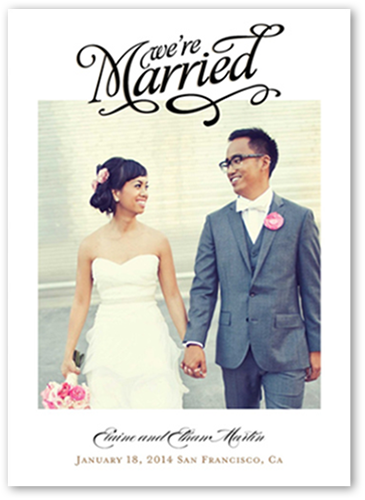 Our Big News 5x7 Photo Card | Wedding Announcements. I thee wed. Announce your wedding in style with a favorite photo and the celebration details on this wedding announcement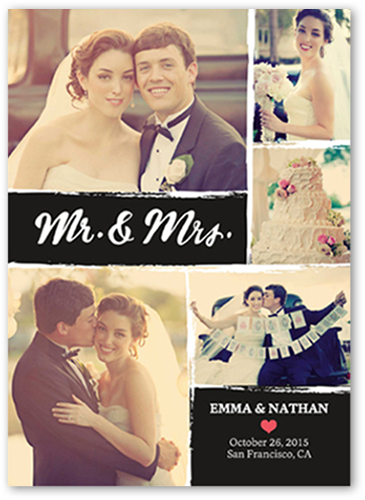 Sweet Union 5x7 Photo Wedding Announcement Cards. I thee wed. Announce your wedding in style with a favorite photo and the celebration details on this wedding announcement