Wooden Ornaments
What customers have to say about our All Ornaments
January 27, 2019
Going to be a great gift!
"It's great. My niece and family are going to love this. Going to give it to them for Christmas 2019."
January 27, 2019
Love Making Personalized Items
"I love making personalized items for my family and friends. And they love getting them."
January 27, 2019
I buy these every year.
"Each Christmas, I use a holiday picture and make one of these ornaments. Each one I have gotten over the past 5 years has been great quality. I look forward to ordering and receiving mine each year."
January 26, 2019
Ornamental Memories
"Shutterfly strives to make beautiful memories into tangible items that we will not forget!"
January 26, 2019
Looks great
"Gift to daughter and her family"
Crafting New Traditions With Your Family for the Holidays and Special Occasions
For many people, the holiday season is just not complete without favorite traditional holiday decorations. Wooden ornaments are among the most favored heirloom decorations, and this year you can add to your collection of traditional décor with the help of the great selection of items from Shutterfly. We offer a wide selection of ornament choices to make it easy to find the perfect new addition to your collection. In fact, you might find the inspiration to start a brand new ornament collection featuring beautiful photos of your loved ones. No matter how you like to celebrate the holidays, the Shutterfly team of design experts has something to add a little light and warmth to this special time of year.
Personalized Gifts Speak to the Heart
A personalized gift is one that brings a little something extra to the recipient beyond the item itself. Adding photos, names, dates, and other custom features is a great way to bring warmth to the heart of everyone on your holiday gift list. With the wide selection of gift options we offer, you can easily find personalized gifts that are perfect for any special occasion and days you want to make special. Look for great gift ideas such as:
Art for the home
Children's toys and puzzles
Women's jewelry
Men's accessories
Coffee mugs and dinner plates
Soft fleecy blankets
When it comes to customizable gift options, ornaments are just the beginning. Many people prefer to display ornaments only during the holiday season but still want to enjoy family portraits. Choosing neutral wooden ornaments is a great way to give someone the freedom to display their photo gift during every month of the year. Flat ornaments can be hung on the wall or on bulletin boards with ease.
Everything You Need for Great Gift Giving
Shutterfly makes it easy to find the perfect gift for any occasion. If you want to stretch your creative muscles, try our online design studio and upload your own design for placement on your choice of dozen different items. Explore the creative work of other Shutterfly designers to get inspiration and style tips for your next exciting project. We offer a 100 percent happiness guaranteed. Simply put, if you are not happy, then neither are we.
If you need your gift items even faster than our usual turnaround time, select the super-rush service or next-day shipping option. Your gift will be given our top priority so you can begin enjoying the pleasure of seasonal gift giving even faster.
Related Products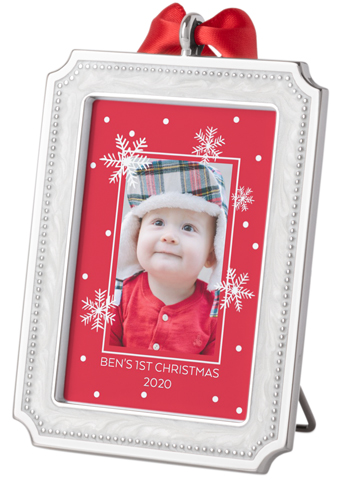 Baby's First Year Christmas Picture Frame Ornament by Shutterfly. Add a favorite photo to your Christmas tree with an elegant ornament you'll enjoy year after year. The metal frame holds one photo print, and features a ribbon for hanging and an easel ...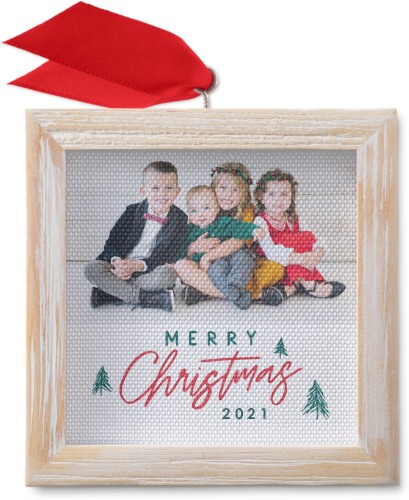 Christmas Tree Sparkle Framed Canvas Ornament by Shutterfly. Your favorite wall art is now an ornament! Bring unforgettable moments to life every holiday season, from treasured family memories to last year's epic cookie fail. Measuring 3.25" square, the textured canvas ...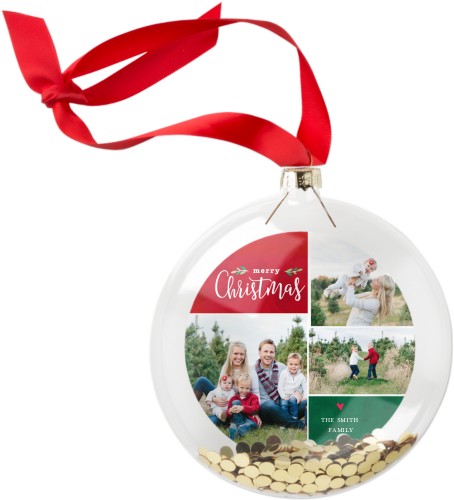 Classic Christmas Collage Glitter Ornament by Shutterfly. Trim the tree with a touch of sparkle! Personalize a glitter ornament with a favorite photo or message as a special addition to your tree or for a truly memorable gift.