Collage Calendar Posters
What customers have to say about our Collage Poster Prints
January 8, 2019
Collage Poster
"I was expecting it to be flimsy like regular posters, but it's not! Its just a big piece of photo paper. Definitely something you shouldn't tape to the wall, it's worth getting a frame."
"i received the poster with a protective paper taped around it. photos came out nice. overall im happy with the product."
June 4, 2018
Absolutely LOVE this layout
"Beautiful quality and looks amazing in a gallery 16 x 20 frame. Plan to do several of these from family trips. I only wish there was a high count vertical one as well."
November 22, 2017
Beautiful Pet Memorial
"I have used the 11x14 to make Pet Memorials for 3 of my dogs that passed away. I picked the layout for one large picture and three smaller pictures. I was also able to add their names at the top and years they were born and passed at the bottom. All turned out just beautiful and look so nice in barnwood frames. I would like to suggest to Shutterfly to use a pet memorial as an example in their collage photos. I believe a lot of people would like to do the same thing for their pets. Thank you!"
Collage Calendar Posters
Calendar posters make great holiday gifts to help celebrate the New Year. Display your favorite photo on your personalized photo calendar, that features all of 2021's months in collage calendar format. Hang your collage poster calendar with a custom magnet on your kitchen fridge, or frame your collage calendar and display it above your desk in your home office. A photo collage calendar is a fantastic option for those who like to get a glimpse of their entire year to plan events accordingly.
Make Your Own Collage Calendar
With Shutterfly's photo poster calendars, the design options are endless. Make a calendar that is perfect for your style and taste, and showcase your favorite photos of your loved ones. Shutterfly's custom photo calendars allow room for a variety of personalization elements, from customizing the calendar size, changing the number of photos in your collage calendar, color options, and more.
Printed on high-quality photo paper, your custom collage poster calendar will stand the test of time and will look great displayed on your wall or desk. For other office decor options, Shutterfly has a number of other personalized stationery options that can make your workspace feel like your perfect fit. Choose from other office decor options such as custom notepads, monthly planners, or even desktop plaques that can elevate your office space.
Give a Custom Photo Calendar as a Gift
Customized photo collage calendars make the perfect holiday gift to give to your loved ones. Help your loved ones prepare for the upcoming year with a thoughtful and personalized gift that can help them plan out the next year. For more ideas on holiday gift ideas, check out our holiday gift guide to find some last minute holiday gifts for your friends and family members. For other calendar options, check out our selection of family birthday calendars or calendars for kids.
Create the Perfect Collage Calendar Poster
Made from archival-quality paper and easy to design, collage calendar posters come in your choice of landscape or portrait orientation. Shutterfly calendar posters also come in two different sizes to fit your unique space needs: 16 x 20 or 20 x 30. Customize your collage calendar poster in a range of unique ways, including:
Photos: Add all your favorite family photos to create the perfect collage for your calendar poster. Depending on poster style choice you can add up to 12 different photos to your poster for an entertaining way to keep organized.
Designs: From contemporary frames around your photos to whimsical watercolor images designed to match the mood and themes of each month, Shutterfly offers a range of designs to help you create a fun and stylish calendar poster.
Backgrounds: Backgrounds come in bold black, bright white or rustic wood frames.
Looking for something a little different? Take a look at some of Shutterfly's other personalized calendars like a calendar magnet, desk calendar or calendar mouse pad.
Related Products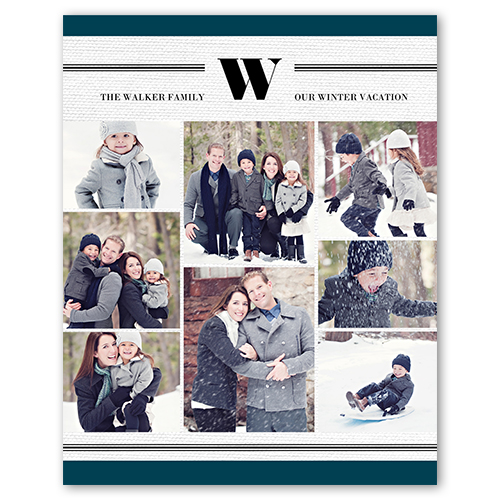 Classic Monogram Collage Poster Print by Shutterfly. Upload your own photos and easily make custom posters for a piece of wall art. Create photo collage posters out of your favorite memories and images. Add your monogram and family name to ...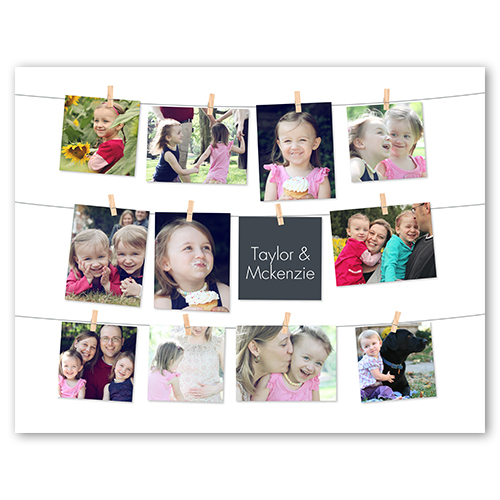 Clothing Pins Collage Poster Print by Shutterfly. Upload your own photos and easily customize templates to create a unique piece of wall art. Create photo collage posters out of your favorite memories and images.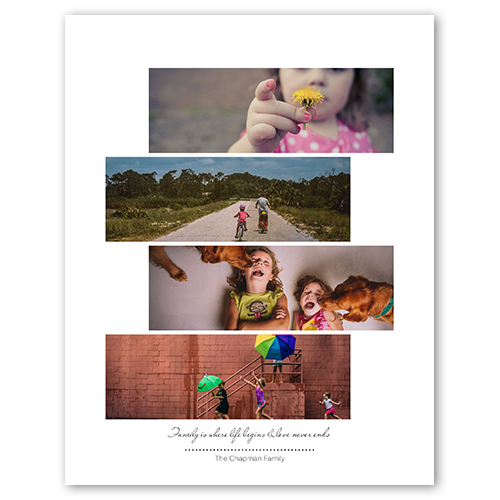 Showcase your best photos with a panoramic collage poster. Add unique layouts, backgrounds, and custom text to make your panoramic photo collage your own. Upgrade the walls of your house with custom panoramic posters perfect for any occasion.